Pope Speaks of 'Cruelties of Today' After Auschwitz Visit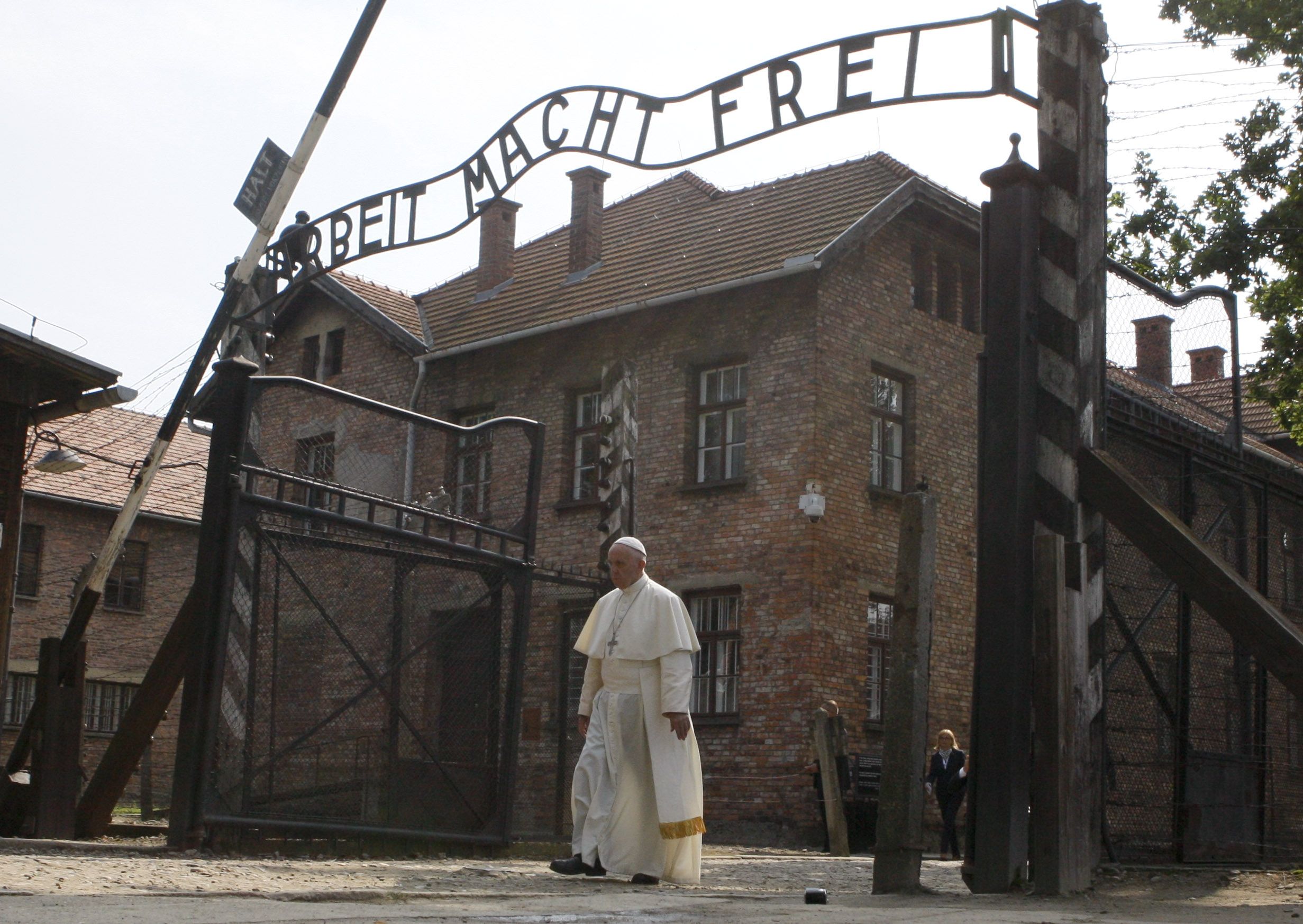 After Pope Francis became the third pontiff to visit Auschwitz, walking through and praying at the infamous concentration camp complex that is a grim symbol of the horrors of the Holocaust, he spoke about his experience Wednesday.
The pope had said prior to his visit last Friday that he "would like to go to that place of horror without speeches, without crowds," and would go "alone, enter, pray." He added: "And may the Lord give me the grace to cry."
An estimated 1.1 million people died at the camps and subcamps of Auschwitz in Nazi-occupied Poland, including at Auschwitz-Birkenau. The vast majority of the victims were Jews, but Poles, Roma, Soviet prisoners of war and others were also sent there and killed.
Francis barely uttered a word as he met with survivors, visited Block 11 (where prisoners were punished and sometimes executed against a wall in the yard), walked through the iconic gate reading Arbeit Macht Frei ("Work sets you free"), signed the guest book (writing, in Spanish, "Lord, have mercy on your people. Lord, forgive so much cruelty") and traveled to nearby Auschwitz-Birkenau, arriving alongside another well-known image: the railroad tracks in front of the brick gatehouse.
During his General Audience on Wednesday—the first he has held since June after canceling the weekly event throughout the month of July—he reflected on his silence at Auschwitz and shared the thoughts his visit had stirred.
"The great silence of the visit to Auschwitz-Birkenau was more eloquent than any word spoken could have been," Francis said, according to Vatican Radio. "In that silence I listened: I felt the presence of all the souls who passed through that place; I felt the compassion, the mercy of God, which a few holy souls were been able to bring even into that abyss. In that great silence, I prayed for all the victims of violence and war.
As he has done often before, the pope connected the past to the present and future. "And there, in that place, I realized more than ever how precious is memory," he said, "not only as a record of past events, but as a warning, and a responsibility for today and tomorrow, that the seed of hatred and violence not be allowed to take root in the furrows of history."
"Looking upon that cruelty, in that concentration camp," he added, "I thought immediately of the cruelties of today, which are similar: not as concentrated as in that place, but everywhere in the world; this world that is sick with cruelty, pain, war, hatred, sadness; and this is why I always ask you for the prayer: that the Lord give us peace."