The Pope Thinks Capitalism Is a Sin, Michael Moore Says: 'The Poor Must Always Come First'
Pope Francis thinks capitalism is a sin, documentary filmmaker Michael Moore said while speaking with television host Seth Meyers on Thursday.
"I went to the weekly audience, and then he asked to speak to me privately. It was an amazing moment, and I asked him if I could ask him a question. And he said, "Yes," Moore said, recounting his visit with the pope last month.
"And I said, 'Do you believe that an economic system that benefits the few, the wealthy at the expense of the many is a sin?' And he said to me, 'Si' in Italian. And I said, 'So you believe capitalism, the kind of -- the capitalism we have now is a sin?' He goes, 'Yes, it is.' He said, 'The poor must always come first.'"
Moore described Pope Francis as a humorous figure. "He grabbed my hand and he said, 'Please, pray for me.' And I said, 'I will, and please pray for me.' And he said, 'No, you have to make more movies.' And I'm like, 'I just wanted a prayer.' He's like, 'No, you go back to -- you go back work.' He has a sense of humor."
Pope Francis has pushed back against Church doctrine. He has denounced the idea that Catholicism offers the singular path to salvation, saying that God "has redeemed all of us, all of us, with the Blood of Christ: all of us, not just Catholics. Everyone!"
He offered tacit approval for parish priests to give communion to people who have been divorced and remarried in 2016, when he sent a letter to Argentinian bishops praising a document allowing priests to offer sacraments to individuals in "irregular family situations."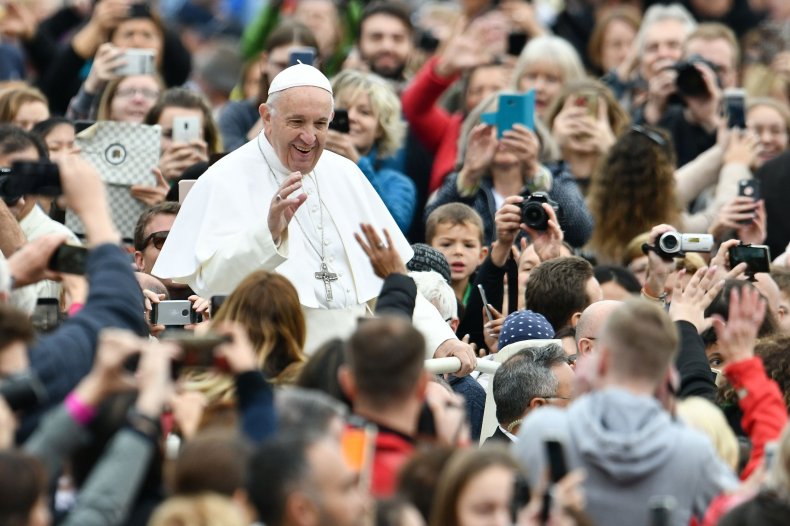 Earlier this year, he altered the Catholic Church's teachings by denouncing the death penalty.
"Recourse to the death penalty on the part of legitimate authority, following a fair trial, was long considered an appropriate response to the gravity of certain crimes and an acceptable, albeit extreme, means of safeguarding the common good," an August press release said. Stating more effective detention methods exist, the statement continued to say "the Church teaches, in the light of the Gospel, that 'the death penalty is inadmissible because it is an attack on the inviolability and dignity of the person,' and she works with determination for its abolition worldwide."
His reformist stances have angered conservative Catholics, who disagree with his leadership. Critics have accused him of unilaterally altering policy and uprooting the power structure of the Catholic Church by bypassing its institutional structure.