Vatican Good Friday Services 2019 Watch, Stream Them Live as They Happen With the Pope
As Holy Week draws to a close, there are still a few big holidays left for Christians. Good Friday and Easter Sunday are two of the biggest holy days of the year honoring the sacrifices and suffering of Jesus.
Last year, Pope Francis urged people to feel shame for the state of the world and the hand they have in it. in 2017, he prayed for everyone who was "struck down," Crux reported. What the pope would discuss this year was unclear ahead of the event, but he frequently chooses to center his prayers on current events.
The recent fire that burned a significant portion of Notre Dame Cathedral in Paris is a possible topic the pope would touch on. After the fire, the pope said, "The gratitude of the whole church goes to those who did everything they could, even risking their lives, to save the basilica."
The pope is expected to hold services from the Vatican for Good Friday. Those services will be broadcast live online for those who cannot attend in person but still want to participate.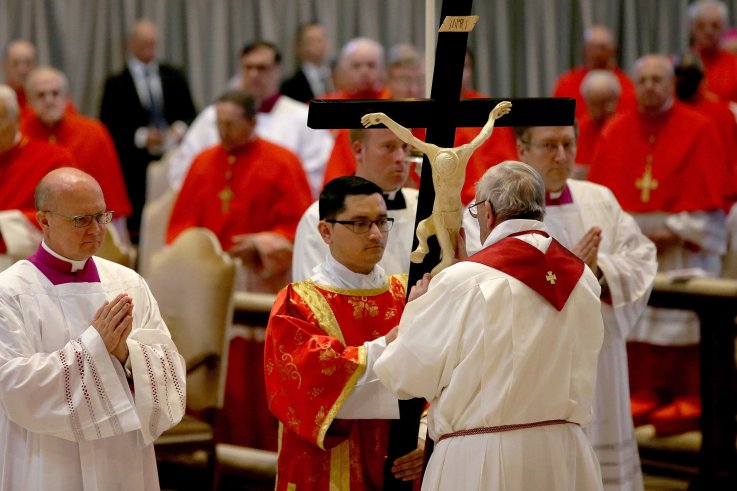 The Vatican has a constant live stream from its Vatican News YouTube channel online where anyone can watch the current view of Vatican City. The stream also includes coverage of events that take place there. This is where viewers will be able to find coverage of the Passion of the Lord. The CatholicTV Network will also be broadcasting the services liveon its channel.
Good Friday schedule:
The Pope is expected to preside over the Liturgy of the Word, the Adoration of the Cross and the Communion Rite at St. Peter's Basilica at 5 p.m. (11 a.m. EDT) in Italy. After that, the Way of the Cross at the Colosseum is expected at 9:15 p.m. (3:15 p.m. EDT) in Italy.
How to attend Good Friday services in person:
The Good Friday mass in the basilica, which can hold 15,000 people, requires tickets, though they are free. Visitors can get tickets the day before the mass by visiting the Swiss guards are located near the bronze doors by security inside the square.
Vatican Good Friday Services 2019 Watch, Stream Them Live as They Happen With the Pope | World