Pope Warns Putin's Actions Raise Threat of Nuclear Attack: 'Catastrophic'
Pope Francis on Sunday warned Russian President Vladimir Putin's actions in Ukraine are raising the risk of a nuclear attack.
Putin launched his "special military operation" on Ukraine on February 24, immediately raising concerns that he could order the use of nuclear weapons in the Eastern European country. After more than seven months of fighting, nuclear anxiety has grown as Russian troops struggle to achieve their substantial goals and have been forced to retreat from key cities.
Experts fear that Putin, facing defeat, could resort to using nuclear weapons if he believes he has no other option to attain victory against Kyiv.
Pope Francis joined in on voicing concerns about nuclear weapons use on Sunday. He has often condemned Putin's invasion, raising concerns about its humanitarian impact, but he offered his most direct plea yet with the Russian leader during the Sunday Angelus prayer.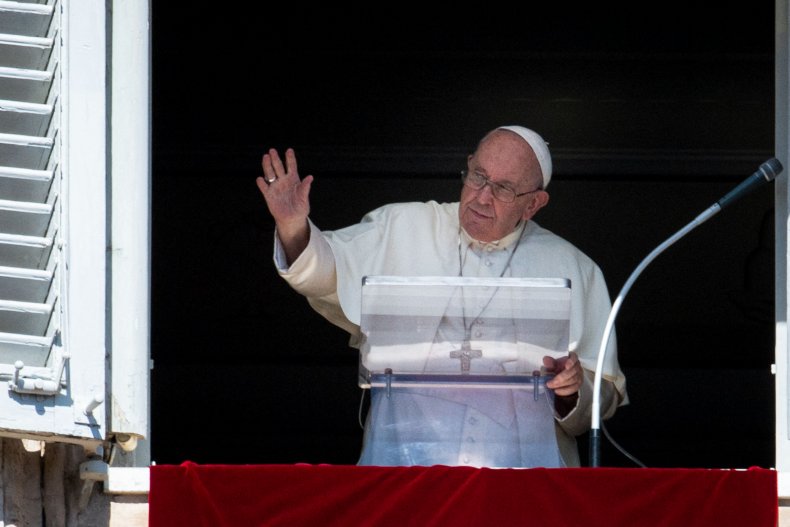 "I deeply deplore the grave situation that has arisen in recent days, with further actions contrary to the principles of international law. It increases the risk of nuclear escalation, giving rise to fears of uncontrollable and catastrophic consequences worldwide," Pope Francis said, according to The Moscow Times.
He added that "actions that are contrary to the principles of international law" are raising the risk of the use of nuclear weapons. His remarks were an apparent reference to Russia annexing several regions of Ukraine after referendums, dismissed by the West as shams, last week.
Beatrice Fihn, executive director of the International Campaign to Abolish Nuclear Weapons, praised the Pope's remarks in a statement to Newsweek.
"We share His Holiness's concern about the possibility of nuclear escalation. Any use of nuclear weapons would have catastrophic humanitarian consequences. Putin's nuclear threats, coupled with his illegal annexation of Ukrainian territory, show how dangerous it is to allow nuclear weapons to continue to exist," Fihn said. "We call on all world leaders to condemn these threats and to urgently join the UN Treaty on the Prohibition of Nuclear Weapons."
Putin Ally Pushes for Nuclear Strike
The Pope's plea comes just one day after a key Putin ally called for him to use nuclear weapons following the Russian military's latest defeat in Lyman, a city in the Donetsk region Russia claimed to have annexed.
Ramzan Kadyrov, the head of Russia's Chechen Republic, on Saturday wrote in a Telegram post that he would turn to "more drastic measures."
"I don't know what the RF Ministry of Defense reports to the Supreme Commander-in-Chief, but in my personal opinion, more drastic measures should be taken, up to the declaration of martial law in the border areas and the use of low-yield nuclear weapons. It is not necessary to take every decision with an eye on the Western American community - it has already said so and done a lot against us," he wrote in a Telegram post.
Newsweek reached out to the Russian Ministry of Foreign Affairs for comment.