Papal visits are typically filled with the joyful pageantry, excitement and emotion of a big event. But Pope Francis' trip to Canada next month will likely have a rather dour feel. The pope will make the transatlantic trip in part to apologize in person for past abuses suffered by Indigenous people at the hands of the Catholic Church.
The pope will be in Canada July 24 to 29, with stops in Edmonton, Quebec City and Iqaluit, the northernmost city in Canada, where nearly half the population of 8,000 is Inuit.
Canada is home to 12.7 million Catholics, representing nearly 39 percent of the country's population. Overall, a growing number of Canadians identify as Christian, according to Pew Research, mirroring a trend reflected across much of the West. Immigration has also changed the country's religious landscape, with faiths such as Islam and Hinduism growing in recent years.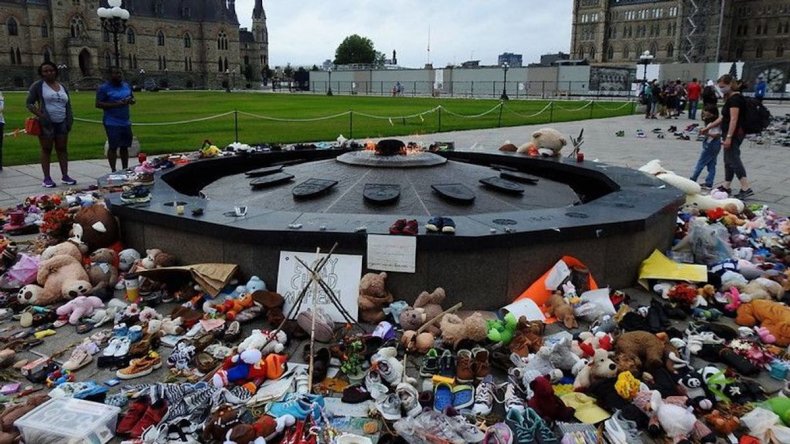 The last papal to visit Canada was Saint John Paul II in 2002, part of World Youth Day that was held in Toronto. His papal Mass attracted more than 800,000 people at Downsview Park.
"We are immensely grateful that the Holy Father has accepted our invitation to continue the journey of healing and reconciliation with Indigenous peoples of this land," Bishop Raymond Poisson, president of the Canadian Conference of Catholic Bishops, said. "In late July, Pope Francis will have the opportunity to visit Indigenous peoples here in their homeland, as he promised when he met them recently in Rome. We pray for the health of the Holy Father as we undertake the intensive planning for this historic visit."
The trip also comes after the Canadian government commemorates June as National Indigenous History Month in an effort "to recognize the rich history, heritage, resilience and diversity of First Nations, Inuit and Métis Peoples."
Abuse survivors met with Catholic bishops in Winnipeg on June 2 to discuss what they'd like to hear from the pope.
"He's coming to our homeland. He's coming to Canada. He's coming to treaty land, and he has to say, 'I am sorry for what happened to your people and your children, on behalf of the Catholic Church,'" said former Assembly of First Nations Regional Chief Ken Young, who is also an abuse survivor.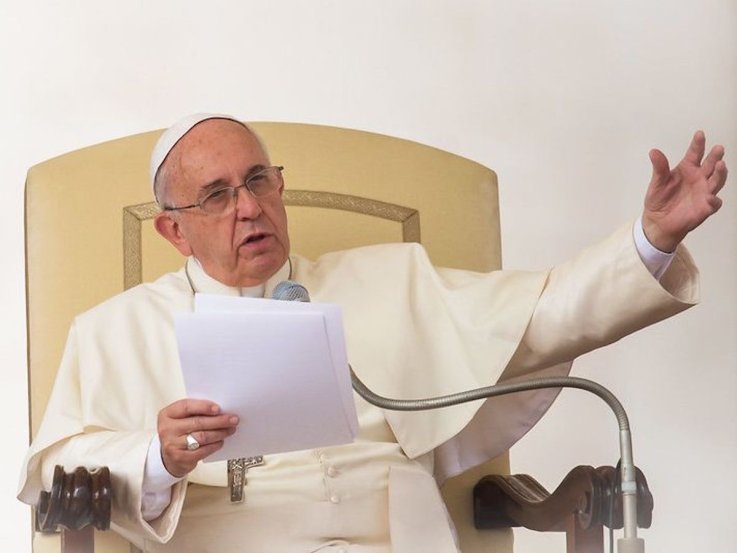 Pope Francis plans to visit Canada in July to apologize for past abuses suffered by Indigenous people at the hands of the Catholic Church.
Mazur/catholicnews.org.uk
Young said the church "has to accept ownership and responsibility for what happened to First Nations people and their families, the negative experiences that we all had."
In April, the pope apologized for the church's involvement in a system of Canadian boarding schools that abused Indigenous children. From the 1880s to the 1990s, the Canadian government ran a system of such schools that in 2015 a National Truth and Reconciliation Commission called a form of "cultural genocide."
Nearly 150,000 Indigenous children were separated from their families and sent to these residential schools — 70 percent of which were run by Catholic religious orders — where abuse and neglect were widespread. Canadian officials reported in 2021 that more than 1,000 people, a majority of them children, were buried in unmarked graves on the grounds of some former schools. The Canadian government and Protestant churches that ran some of those schools apologized and paid reparations under a 2006 class-action settlement.
"I feel shame — sorrow and shame — for the role (of Catholics) in the abuses you suffered and in the lack of respect shown for your identity, your culture and even your spiritual values," the pope said at the time.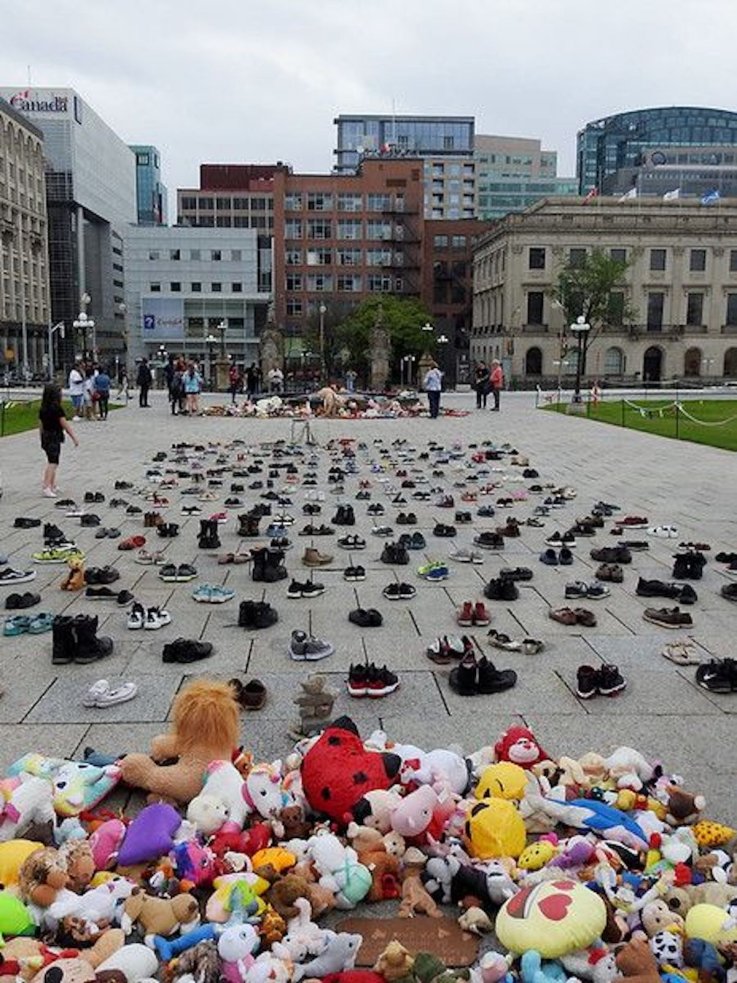 Pope Francis will be in Canada next month in part to apologize in person for past abuses suffered by Indigenous people at the hands of the Catholic Church. Pictured: A total of 215 pairs of shoes were displayed in June 2021 on Parliament Hill in Ottawa, Ontario, in memory of the 215 Indigenous children's remains found on the grounds of the former Kamloops, British Columbia, Indian Residential School.
Ullysses/Flickr via Zenger
Pope Francis made those remarks following a meeting at the Vatican with a delegation from the country's three largest Indigenous groups.
The Vatican announced in May that the pope would be making the trip. Pope Francis was "accepting the invitation of the civil and ecclesiastical authorities and the Indigenous communities," Vatican spokesman Matteo Bruni said.
The pope will limit his travel while in Canada because of a bad knee and won't be visiting more sites in British Colombia and other places, leading some Indigenous groups to express disappointment with the pope's itinerary. Chief Rosanne Casimir of the Tk'emlúps te Secwepemc Nation told reporters that the past year has been "very traumatic" after the announcement on May 27, 2021, that some 200 unmarked grave sites of children had been found using ground-penetrating radar at the Kamloops Indian Residential School.
The papal visit does not include a stop in Tk'emlúps territory, a "missed opportunity," for Pope Francis to make amends, Casimir said.
"Following up on the apology is a good thing," British Columbia Assembly of First Nations Regional Chief Terry Teegee said. "It is a good thing to come to Canada on Indigenous soil to make an apology here, but I think for myself as part of the Assembly of First Nations, we were not involved to which places they would visit in Canada, which is disappointing."
After last summer's revelations, churches in Canada saw a rash of suspicious fires. Prime Minister Justin Trudeau said then that he understood the anger behind the church burnings, adding it was "not something we should be doing as Canadians."
Clemente Lisi is a senior editor and regular contributor to Religion Unplugged. He is the former deputy head of news at the New York Daily News and teaches journalism at The King's College in New York City. Follow him on Twitter @ClementeLisi.
Produced in association with Religion Unplugged.
This story was provided to Newsweek by Zenger News.