When Does Popeyes' Chicken Sandwich Come Back? Viral Meal Returns to 150 Locations in November
Popeyes' chicken sandwich will return to stores in November after it sold out in just 15 days. The popular chicken sandwich, which sold for $3.99, was originally launched on August 12, 2019, and was sold out by August 27.
Soon after it had sold out, Popeyes announced that it would be returning and urged customers to keep up to date with the Popeyes app, and now it seems as though the time is almost here.
As reported by Bloomberg, Chief Executive Officer Guillermo Perales said that the chicken sandwich would be back in 150 stores in early November. Popeyes is hiring 400 staff and may dedicate two staff members per store to keep up with the anticipated demand.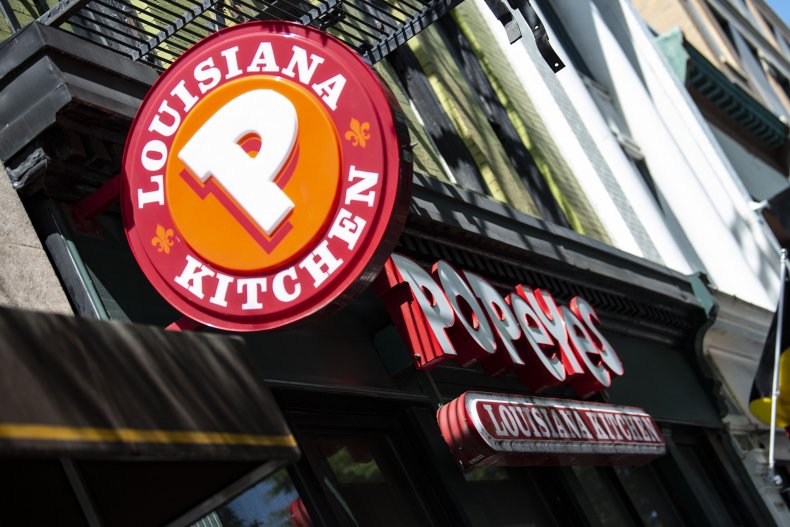 Why was Popeyes' chicken sandwich sold out?
When Popeyes' new chicken sandwich launched, supplies couldn't keep up with the demand after it went viral on social media.
In a tweet, Popeyes launched the chicken sandwich, made with breaded chicken, pickles, and mayo on a brioche bun, and received more than 30,000 likes.
The sandwich went viral, and competitors Chick-fil-A and Wendy's joined the hype, with Chick-fil-A tweeting, "Bun + Chicken + Pickles = all the [love] for the original," to which Popeyes responded, "... yall good?" gaining more than 320,000 likes.
Wendy's commented "Y'all out here fighting about which of these fools has the second best chicken sandwich," but Popeye came back with "Sounds like someone just ate one of our biscuits. Cause y'all looking thirsty," gaining a huge 370,000 likes.
Not only was Popeyes' new chicken sandwich a huge social media success, but it quickly sold old nationwide. By August 27, Popeyes announced that they had run out of the famous sandwich.
When is Popeyes chicken sandwich coming back?
Perales announced that the chicken sandwich would be coming back in November. However, there is no release date just yet.
According to Bloomberg, Restaurant Brands International Inc, Popeyes' parent company, said in a statement: "Our franchisees have worked to increase staffing. We have been working diligently to bring the sandwich back to our restaurants soon, as we know our guests are anxiously anticipating its return.
"As soon as we're ready to announce a date, we will let the world know!"
In the meantime, customers are urged to download the Popeyes app to be alerted when the chicken sandwich is back in stock. Popeyes' menu on its website currently has a "...be back soon!" banner on the chicken sandwich.
Popeyes describes the sandwich as "A tender all-white meat chicken breast fillet, marinated in an authentic blend of Louisiana seasonings, then hand battered and breaded in our all new buttermilk coating. Served with crisp barrel cured pickles and Classic or Spicy Mayonnaise, served on a warm and toasted buttery brioche bun."