Popeyes Chicken Sandwich Return Date: Chain Confirms Meal is Coming Back on National Sandwich Day
Popeyes' beloved chicken sandwich will return next month on November 3, just months after it sold out in August nearly immediately after it was introduced.
The relaunch, which coincides with National Sandwich Day, confirms the chicken sandwich as a permanent addition to Popeyes' menu, as confirmed in a post by the official Twitter account of the chain which noted: "Y'all...the sandwich is back Sunday, November 3rd. Then every day."
"The Popeyes Chicken Sandwich was launched in August as a permanent addition to our menu," Felipe Athayde, president of Popeyes for the Americas, told USA Today. "We sold through our inventory due to unprecedented demand, so the product was temporarily unavailable, but now we're excited to say it's back for good."
The initial debut of the popular item sparked a sandwich war on social media among Chick-fil-A, Wendy's, Bojangles and other establishments over which chain offered the best sandwich.
The Twitter spat saw Popeyes receive a storm of engagement, with more than 85,000 retweets and 300,000 likes at the time, Reuters reported.
Popeyes reportedly sold as many as 1,000 sandwiches per day at the time, according to figures from KeyBanc Capital Markets, CNBC reports. The chain made around $23.25 million in equivalent ad value, Reuters reported. It generated around $65 million in equivalent media value, according to Apex Marketing Group, Forbes reported.
The announcement of the fried chicken sandwich's return has received an enthusiastic welcome so far, with several fans of the sandwich posting their excitement on Twitter.
"I been wait for this moment," wrote Twitter user @BoyHeFunny2x, while @yoyotrav wrote: "The Popeyes Chicken Sandwich is back! Chick-fil l-A is crying in the car."
Another user, @IUfanAdam, suggested keeping the news quiet in the hopes of being able to bag a sandwich this time around, saying: "Let's keep this to ourselves this time. It's only several hundred of us that know so far."
"Popeyes is not top five when it comes to naming restaurants in the U.S.," Eric Smallwood, president of Apex Marketing Group, told Reuters when the popular chicken sandwich originally launched in August. "But this sandwich is putting them on the map in areas that don't have them," he added.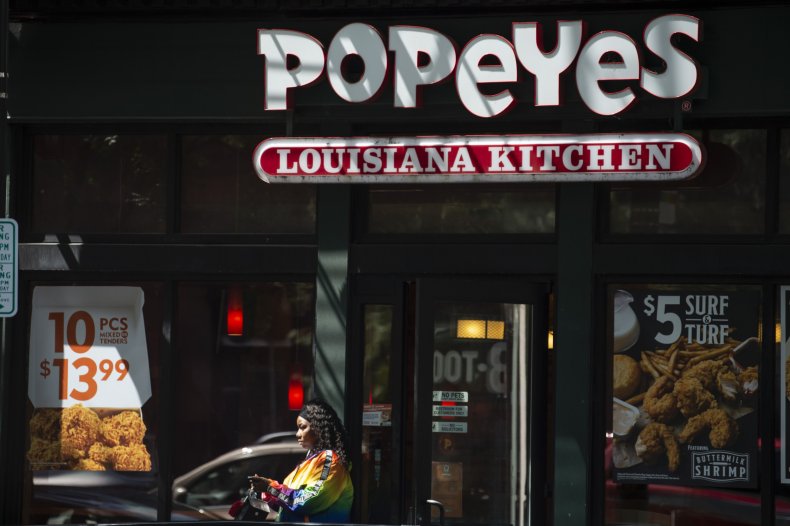 Popeyes can be found in more than 3,000 locations across 40 states in the country as well as in Washington, D.C. and Puerto Rico. The first branch of the Cajun-inspired chicken chain was opened in the New Orleans suburb of Arabi in 1972.
"It's there that Popeyes distinguished itself with our unique New Orleans style menu featuring spicy chicken, chicken tenders, fried shrimp and other regional items. Our passion for our Louisiana heritage and flavorful authentic food has allowed Popeyes to become one of the world's largest quick-service restaurant chicken concepts in the U.S. and around the world," the restaurant chain claims on its official website.