PETA Says Popeyes' 'Emotional Support Chicken' Box Mocks Mental Illness, 'Animals Who Died Gruesome Deaths'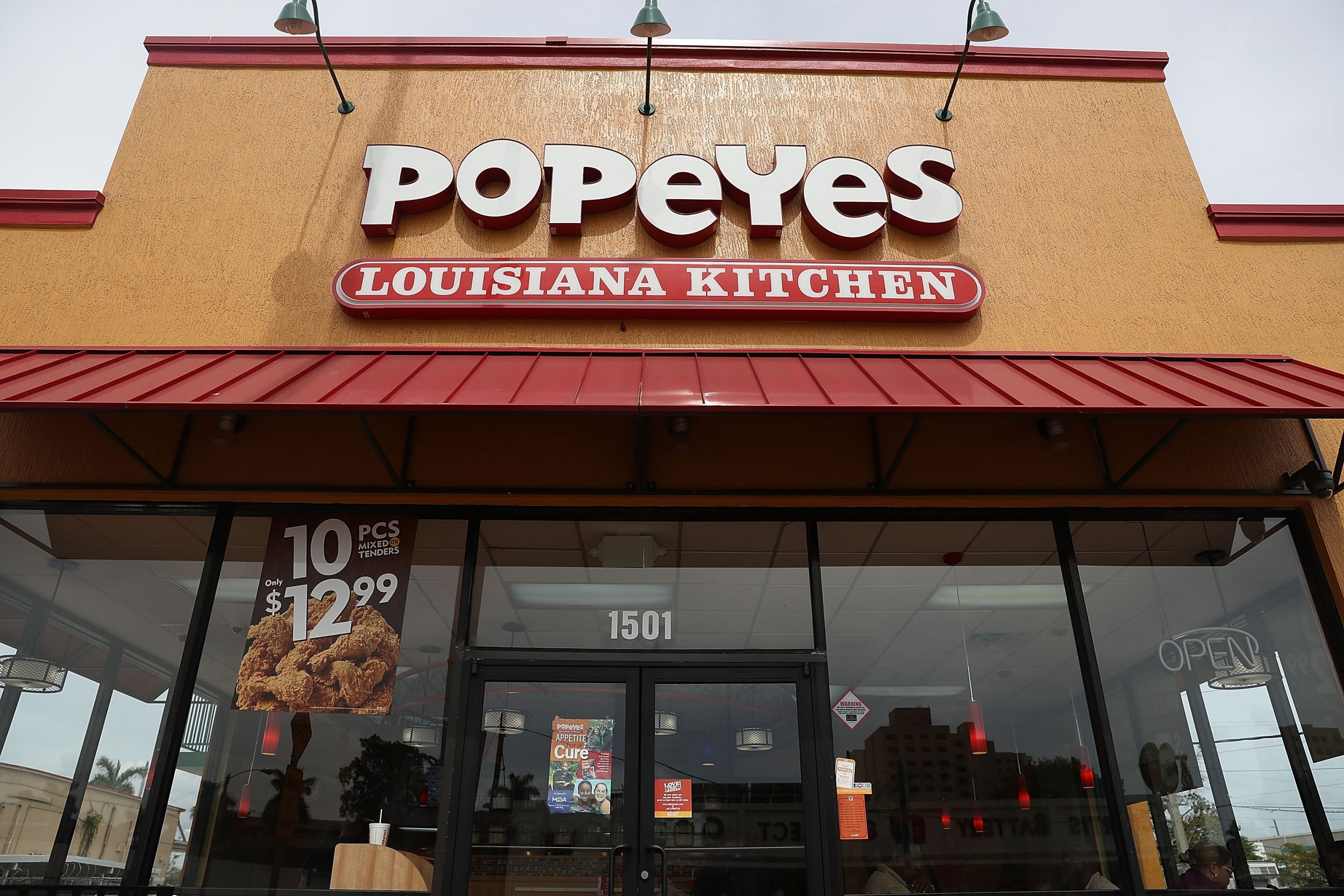 After Popeyes Chicken put out an advertisement for a new establishment at the Philadelphia International Airport, People for the Ethical Treatment of Animals (PETA) shared a graphic of their own.
To promote the fact that Popeyes would be available at the Philadelphia airport, the fast food restaurant showed a to-go box in the shape of a chicken with the words "Emotional Support Chicken" on the side. The chicken shaped carrier was part of a limited time promotion for customers who purchased a three-piece chicken tender combination meal.
"This chicken provides comfort and nourishment during stressful air travel. Unlike other chicken, it is marinated in real Louisiana spices for 12 hours and must be permitted to fly without restriction," the box also stated, according to WTXF. "Do not leave unattended, as Popeyes is not responsible for lost or stolen chicken."
In the graphic posted on Twitter, a person is seen in the foreground holding the take-out box and an emotional support dog is in the background.
"Sorry, Fido," Popeyes Chicken wrote on Twitter. "Popeyes #EmotionalSupportChicken doesn't bark on the plane."
In response to the campaign, PETA shared its own take on Popeyes's "emotional support chicken." On Wednesday, the company wrote on Twitter that the restaurant was selling "boxes of dead 'emotional support chickens' for the holidays."
PETA claimed this proved Popeyes was not above mocking mental illness, as well as, animals who died gruesome deaths. Instead of a take-out container, PETA shared an illustration of what the box would look like if Popeyes "told the truth about what goes into their food."
The graphic showed a to-go container but instead of the paper chicken head Popeyes had, it had an illustrated chicken head with sad eyes and a red underbelly. In lieu of the words, "Emotional Support Chicken," which Popeyes had written on the side of the box, PETA wrote, "This chicken needs emotional support."
"She had no comfort or nourishment during her incredibly stressful life. Like all Popeyes chickens, she was abused and killed and constantly restricted – never able to roam or fly," the side of PETA's updated take-out container said. "Popeyes is responsible for the slaughter of millions of chickens per year."
As of Wednesday afternoon, Popeyes Chicken had not publicly responded to PETA's criticism of the marketing tactic.