Your everyday cleaning products could be releasing hundreds of hazardous chemicals into your home, scientists warn.
In a study published in the journal Chemosphere on September 13, researchers from the United States-based non-profit organization, the Environmental Working Group, analyzed 30 common cleaning products for hazardous volatile organic compounds. In total, 193 unique hazardous chemicals were identified with potential impacts on the respiratory system, development, reproduction and cancer risk.
"This study is a wake-up call for consumers, researchers and regulators to be more aware of the potential risks associated with the numerous chemicals entering our indoor air," Alexis Temkin, Ph.D., a senior toxicologist at EWG, said in a statement.
The researchers were searching for a specific class of molecules called volatile organic compounds, carbon-based compounds that evaporate easily at room temperature. Not all of these compounds are thought to be harmful to humans, but the ones that are can carry serious risks when inhaled.
In total, the team found 530 unique volatile organic compounds in the 30 products tested, 193 of which were considered to be hazardous to human health.
The products with the longest list of "chemicals of concern" included Glade Clean Linen air freshener, Lestoil Heavy Duty Multi-Purpose spray, HDX glass cleaner, and Scott's Liquid Gold wood cleaner.
For people working in the cleaning industry, repeated exposure to these chemicals can have serious health implications. A study published in the Journal of Occupational and Environmental Medicine in 2020 found that cleaners have a 50 percent greater risk of developing asthma and a 43 percent increased risk of chronic obstructive pulmonary disease, likely due to their exposure to these chemicals.
One study in 2018 found that inhaling household cleaning products could be as damaging as smoking a 20-pack of cigarettes a day in terms of its impacts on women's lungs—this study specifically looked at a cohort of women so it is unclear if the same effects would be seen in men. Children's health may also be at risk, especially during the early stages of development.
Human health is not the only concern posed by these chemicals. "They may also harm the environment," Samara Geller, EWG senior director of cleaning science, said in a statement. When these chemicals diffuse into our outdoor environment, they can contribute to existing air pollution.
The American Cleaning Institute told Newsweek that many manufacturers have already taken steps to reduce the VOC emissions from their products.
"Industry has been working with government and regulators to minimize VOC concentrations to keep them below levels that would be considered hazardous," an ACI spokesperson told Newsweek. "In California—which is referenced in the study—regulators have placed limitations on the VOCs in most consumer products over the past three decades.
"The proper use of cleaning products contributes to public health and quality of life in homes, offices, schools, health care facilities, restaurants and throughout our communities every single day."
The study also revealed that there are certain steps you can take as a consumer to reduce your exposure to hazardous chemicals in cleaning products: opt for green and fragrance-free alternatives.
In general, products labeled as being "green" produced half as many volatile organic compounds as conventional brands analyzed in this study. Those that were green and "fragrance-free" produced even fewer emissions—nearly eight times less than conventional products and four times less than fragranced green products.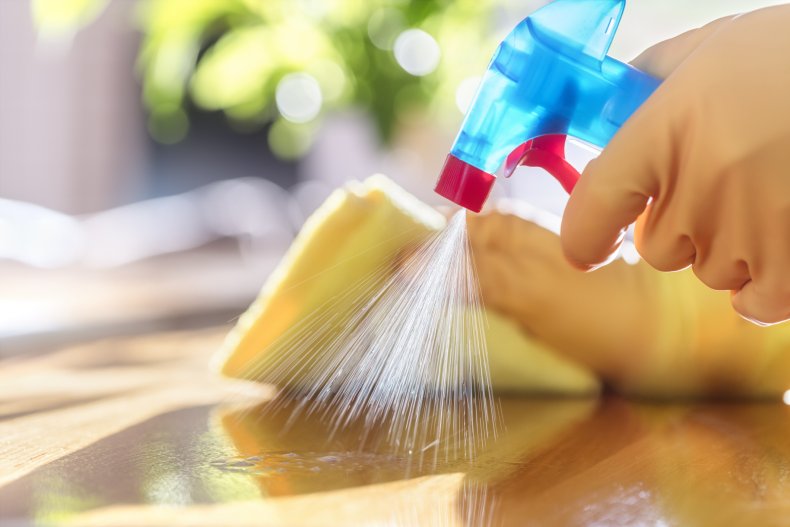 The same was true when looking at volatile organic compounds that are known to be hazardous to humans. The fragrance-free green products emitted just four of these hazardous chemicals, compared to 15 in the fragranced green products and 22 for conventional products.
"Going green with your cleaning products is an easy way to reduce exposure to harmful chemicals," Geller said. "This may be especially important for women's and children's health."
To stay safe when cleaning, the American Lung Association also recommends opening windows and doors when using cleaning products and never using these products in small, enclosed spaces.
Update 09/14/2023, 2:11 p.m. ET: This article was updated to include specific brands analyzed in the study and a statement from the American Cleaning Institute.
Uncommon Knowledge
Newsweek is committed to challenging conventional wisdom and finding connections in the search for common ground.
Newsweek is committed to challenging conventional wisdom and finding connections in the search for common ground.
About the writer
Pandora Dewan is a Newsweek Science Reporter based in London, UK. Her focus is reporting on science, health and technology. Pandora joined Newsweek in 2022 and previously worked as the Head of Content for the climate change education start-up, ClimateScience and as a Freelance writer for content creators such as Dr Karan Rajan and Thoughty2. She is a graduate in Biological Sciences from the University of Oxford. Languages: English.
You can get in touch with Pandora by emailing p.dewan@newsweek.com. or on Twitter @dewanpandora.