Most Popular Halloween Costumes in 2019: Where to Buy Pennywise, Forky, Demogorgon and Fat Thor
The most popular Halloween costumes this year are varied, from movie-inspired costumes like Pennywise and Forky to classics like witches and pirates. According to Google Trends, many of the most popular costumes for Halloween 2019 have their origins in pop culture.
With Halloween coming up fast, there are only a few weeks to get your costume ready. If you're planning on going as a character from your favorite movie or TV show, you need to know where to buy that all-important costume.
Find out below where to buy your Halloween costume, whether you're going as Spider-Man, Harley Quinn, Fat Thor, or even a can of White Claw.
The most popular pop-culture Halloween costumes 2019 include:
IT
Spider-Man
Descendants
Fortnite
Chucky
Stranger Things
Harley Quinn
Forky
Fat Thor
White Claw
It: Pennywise costume
With the release of IT Chapter 2 this year, it is no surprise that Pennywise is a popular costume choice. There are tons of options if you want to dress as everyone's least favorite dancing clown, such as this Pennywise costume, this women's Pennywise costume and a plus-size Pennywise costume.
Kids who want to dress like Pennywise have options too — there's this girl Pennywise costume, this child Pennywise costume that would work as a toddler outfit, and check out this guide to creating a Pennywise baby costume. There's even a dog Pennywise costume—10/10, would follow into the sewer.
Spider-Man costume
Spider-Man is a great choice for Halloween this year. Try this Spiderman Far From Home costume or go for something a little different with this Spiderman Into the Spider-Verse costume.
Descendants costumes
Descendants is a popular Disney movie series, and Descendants 3 came out this year. There are lots of characters with distinct looks, so kids have tons of options. Check out this evil Audrey from Descendants 3 costume, this Mal Descendants 3 costume and this Dizzy costume from Descendants 3.
Fortnite costumes
Fortnite is a cultural phenomenon, so it's no surprise that its characters are some of the most popular costumes for Halloween this year. Some options are this celebrity Fortnite fan DJ Marshmello costume and this Fortnite iKONIK costume for kids. There's also a Fortnite Pink Bear costume and a Fortnite DJ Yonder costume.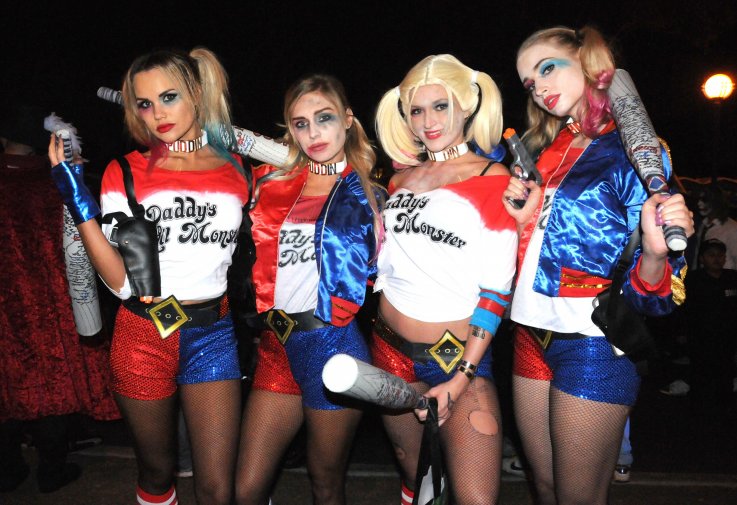 Chucky costume
As a new Chucky movie was released in 2019, it makes sense that it's one of this year's trendiest costumes. After the video of the dog in a Chucky costume went viral, Chucky costumes for dogs are sure to popular this Halloween. Humans can join in the fun too, with this Bride of Chucky costume, men's Chucky costume, and a Chucky costume for women.
Stranger Things costumes
Dressing up as Eleven and the gang can be achieved by a quick trip to the thrift store—find some trendy 80s outfits and you're good to go. But if you're looking to go as a creepier character, there is this Demogorgon costume for kids and adults.
Harley Quinn costume
Harley Quinn has been a popular Halloween costume since 2016 when Suicide Squad was released. But this year, there's a new Harley Quinn costume — the Harley Quinn Birds of Prey costume is the one to wear in 2019. Though the movie is yet to be released, fans are excited about the sneak peeks of Quinn's new look in the Birds of Prey trailer. Another option is this Harley Quinn prison costume.
Forky costume
Everyone's favorite Toy Story 4 character has to be Forky. Dress up as the piece of trash (not a toy) with a Forky Halloween costume. There is a kids' Forky costume, and a baby Forky costume.
Fat Thor costume
Why go as Thor when you can go as Fat Thor? This Fat Thor Halloween costume is a great nod to Avengers Endgame and is a little different from your average superhero look.
White Claw costume
If you want to dress up as your favorite alcoholic beverage this year, check out this White Claw Halloween costume. Yandy's "Outlaw — Party Hard" is inspired by the drink's striking design, or wear this White Claw logo T-shirt.
Most Popular Halloween Costumes in 2019: Where to Buy Pennywise, Forky, Demogorgon and Fat Thor | U.S.