When planning your costume for Halloween 2019, you'll want to know what the most popular costumes will be this year. Whether you want to scope out the competition or stand out from the crowd, it's worth knowing what the most popular Halloween costumes will be in your state.
According to data from Google Trends, these are the most popular costume ideas for Halloween 2019, by state. This year, expect to see lots of classic costumes such as pirates, witches, and dinosaurs. But California will get lots of Chucky costumes, and D.C. residents will be dressed up like Scooby-Doo. Unsurprisingly, you can expect to see lots of Pennywise costumes.
So what's the most popular costume in your state?
The classic witch costume is a top choice and is popular with residents in Alabama, Arkansas, Connecticut, Michigan, Missouri, North Dakota, New Jersey, New York, Oregon, Utah, and West Virginia.
Many residents of Colorado, Massachusetts, Minnesota, New Hampshire, Oklahoma, Rhode Island, South Dakota, and Washington will be going as dinosaurs, so you'll probably be bumping into inflatable dinosaur morphsuits all Halloween.
Arizona and Montana will be dressed up as clowns, but will they go for a happy clown or something more sinister?
States that know for sure what kind of clown they're dressing up as are Georgia, Iowa, Illinois, Kentucky, Louisiana, North Carolina, New Mexico, Nevada, Ohio, Pennsylvania, South Carolina, Tennessee, Texas, Virginia, and Wisconsin. Residents from these states will be going as characters from IT, so get ready for Pennywise to make an appearance or two.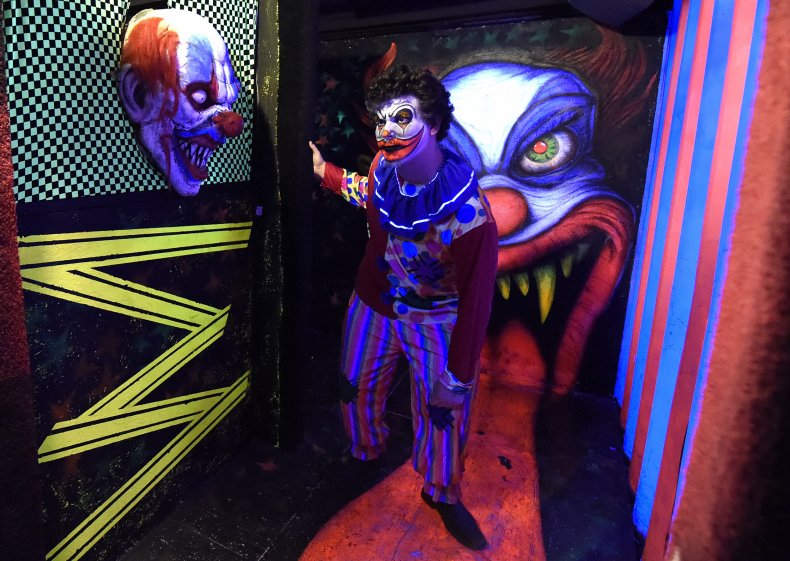 Alaska and Maine's costume of choice is a pirate. Delaware and Mississippi are inspired by the 1980s, so perhaps you'll bump into Marty McFly or Ferris Bueller while out trick-or-treating. Hawaii and Nebraska will be going as "Fortnite" video game characters, like the creepy Skull Trooper.
Keep an eye out for the Mystery Machine in Washington, D.C.—residents will be dressing up as Scooby-Doo and the gang.
Maryland will be going as Spider-Man, and Wyoming will host a tea party and dress up like the Mad Hatter. Florida is also taking costume inspiration from the movies and residents will be going as characters from the popular Disney movie Descendants.
Mythical creatures are a popular option this year: Dragons are Vermont's costume of choice and Idaho will be going as mermaids. Thanks to the movie that came out this year, Chucky is a popular costume choice in California and Indiana.