Popular Kia Telluride SUV Gets a Facelift for 2023 Model Year
One of America's favorite SUVs is getting a redo. The Kia Telluride is getting a refresh for the 2023 model year. Since debuting three years ago, the three-row SUV has taken the segment by storm, selling more than 93,000 units in 2021.
As part of the revamp, Kia is introducing two new trim levels: X-Line and X-Pro. Both are for the off-road inclined, featuring all-wheel drive and upgraded traction control. The X-Line level replaces the Telluride's Nightfall Edition.
The exterior has been overhauled from front to back for a more rugged look. The bumpers, grille, wheel designs and rear fascia are all new. Headlamps and lower side sills have been redesigned, and now each trim level has a different wheel design.
The 2023 Kia Telluride is available in three new colors: Midnight Lake Blue, Dawning Red and Jungle Wood Green.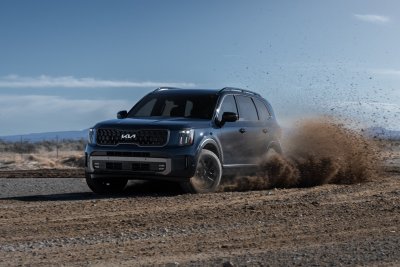 Under the hood, the power unit is largely the same. A 3.8-liter V6 is coupled with an eight-speed automatic transmission to put out 291 horsepower and 262 pound-feet of torque.
On the inside the dashboard has been redesigned with revised trim panels. The steering wheel has also been updated.
The X-Line and X-Pro levels are available with exclusive color packages. The trim name on both levels are embossed on the front seat upper backrest. A 110-volt inverter outlet is added to the cargo area.
A self-leveling automatic rear suspension makes adjustments to ride height for better control and stability, says Kia. Smart, Eco, Sport and Comfort are the four drive modes available, with AWD Lock available on models with all-wheel drive.
The infotainment screen has been updated to 12.3 inches from the previous model year's 10.3 inches. An optional full-display rear view mirror is available in place of the standard mirror as well. A smart power liftgate is now available with an "auto close" function.
Kia is beefing up its advanced driver assistance system (ADAS) in the Telluride with two new standard features: Intelligent Speed Limit Assist (ISLA) and a Junction Turning function on its Forward Collision Mitigation technology.
ISLA warns the driver of the speed limit on the current road and will limit the speed of the car, depending on the settings. Junction Turning detects oncoming vehicles when making a left at an intersection, braking if it determines a vehicle is approaching.
The company has yet to release pricing figures on the 2023 model The 2022 Telluride starts at $33,090 and goes up to more than $50,000 with all the option boxes checked. It is expected that the 2023 model will have a similar price point.