New Video of XXXTentacion Allegedly Shows Rapper Assaulting Woman Amid Soaring Album Sales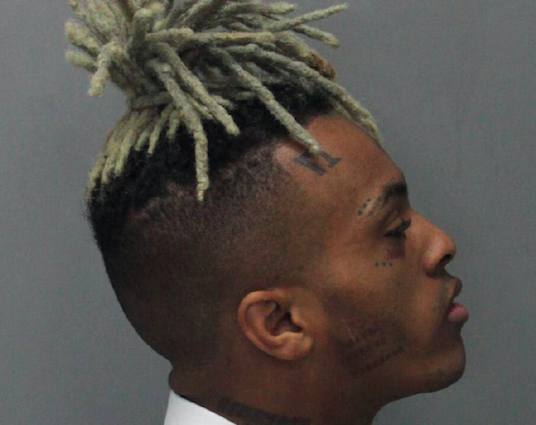 SoundCloud rapper XXXTentacion—real name Jahseh Dwayne Onfroy—has been convicted of violent crimes over and over since 2015, and yet his streamable music has seen a meteoric rise amid his arrests.
The 20-year-old wildly popular artist is currently awaiting trial in Broward County, Florida, for armed home invasion robbery and aggravated battery with a firearm. When he was initially arrested in October 2016, the charges against him were aggravated battery of a pregnant woman, domestic battery by strangulation, false imprisonment, and witness-tampering, all of which he denied in court.
The full list of arrests and accusations lodged against Onfroy has been meticulously spelled out by Vulture's Corinna Buford, but there's been a recent update. On Tuesday morning, a disturbing Snapchat video was published on TMZ, one which appears to show Onfroy punching a woman in the back of the head. Prosecutors in his domestic assault case are reportedly reviewing the video as possible evidence against his character, but Onfroy's defense team says the "the video was taken completely in jest."
If Onfroy's defense team has been attempting to keep him quiet, their work has been in vain. In April 2016, the rapper appeared on the popular podcast "No Jumper" and told host Adam22 (also accused of violence against women) that he had beat up a man who shared his prison cell. Onfroy admitted he had painted his own face with this unidentified inmate's blood and Adam22 replied, "Warpaint. That's tight."
Then again, if the overall mission is to sell music, then Onfroy's plan is going swimmingly. Rappers like A$AP Rocky and Danny Brown have publicly supported him, Diplo has produced some of his music, and R&B singer Drake has been accused of stealing a riff from Onfroy's most successful single to date, "Look at Me." In August 2017, even Kendrick Lamar recommended his fans listen to "17," Onfroy's latest album.
Onfroy's latest album, ?, which he released via an arm of Capitol Records in March 2018, debuted at No. 1 on the Billboard chart. On March 21, Onfroy was released from house arrest to go on tour, and on Monday, his single "Sad" reached No. 7 on the Billboard Hot 100, marking his most successful track to date.
If this new video ends up being valuable to the prosecution, Onfroy may have to cut his tour short, but there's been no update regarding the state of his house arrest since last week.