Popular Texas Beaches Closed, Restricted for Fourth of July to Limit COVID Spread
Beaches along the Texas Gulf Coast will be closed for the Fourth of July weekend as state officials work to halt the recent surge of COVID-19 cases, the Houston Chronicle reported.
Galveston Mayor James Yarbrough signed an emergency declaration order on July 1 that closes the beaches for Independence Day weekend.
"At this time, based on the current health situation and the guidance of medical professionals, I do not feel it is prudent or responsible to have thousands of visitors descending on Galveston beaches," Yarbrough said in a statement on Thursday. "Galveston has and always will be a welcoming destination, but the ongoing public health crisis demands our attention and response. We have to prioritize health and safety."
The order, which goes into effect on July 3 at 5 a.m. and expires at 12:01 a.m. on Monday, July 6, "or until further Order of the City," can be enforced by state and local law enforcement officials and is punishable by a fine of at least $500 for each violation.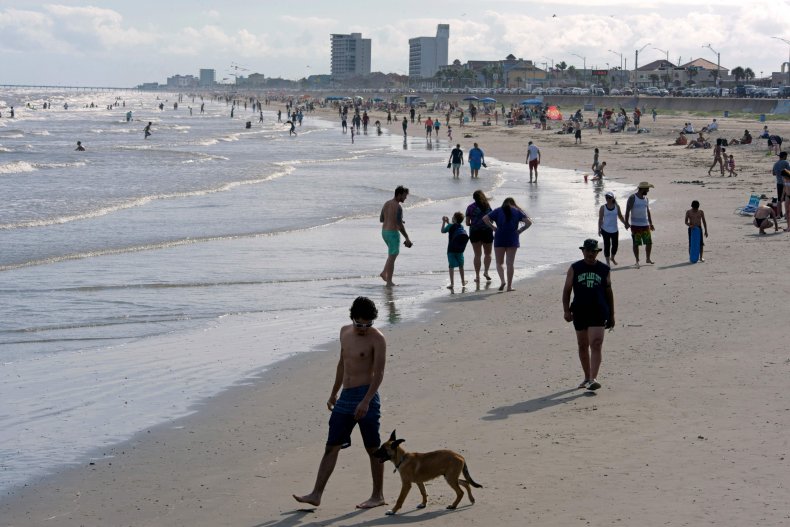 South Padre Island, located outside of Brownsville, became the first of the state's beaches ordered closed for Independence Day weekend, when Cameron County Judge Eddie Treviño Jr. announced the beach closure during a press conference on June 30.
"The last thing I wanted to do was see huge groups of individuals this weekend at the beach," Treviño said.
The beaches at South Padre Island will remain closed through at least July 13, Cameron County officials said in a Brownsville Herald report.
Meanwhile, beaches managed by the National Park Service are also closed.
On July 2, the National Park Services announced on July 2 that Padre Island National Seashore would be closed from 8 p.m. on Thursday, July 2, until 6 a.m. on Tuesday, July 7.
However, some public beaches in Corpus Christi and Port Aransas will be closed only to parking and vehicle traffic, allowing beach access by foot, the Corpus Christi Caller-Times reported.
Texas beaches were closed in March when Governor Greg Abbott issued a statewide stay-at-home order to curb the spread of the virus. Beaches reopened May, and social distancing measures were encouraged.
But the Memorial Day weekend drew large numbers of people to the beaches, which many believe led to a surge in cases that began in mid-June.
The state has experienced a surge over the past two weeks in new coronavirus cases. According to the Texas Department of State Health Services, there were 33,842 new cases of the new coronavirus reported between June 23 and June 28. On July 1, the state recorded 8,076 new cases of COVID-19, its highest single-day number.
Since the start of the worldwide health crisis, 168,062 cases of the new coronavirus have been reported in the state, with more than 87,000 recoveries and 2,481 deaths.
Newsweek reached out to the offices of Yarbrough and Treviño for comment but did not hear back in time for publication.