Popular 'Young' Chinese Vlogger's Filter Glitches, Reveals She's 58 Years Old
Fans of a popular Chinese vlogger, who refers to herself as "Your Highness Qiao Biluo," was caught using a filter over her face to represent herself as a "young" woman, despite being 58 years old. Worshipped by her 100,000-plus followers on the streaming platform Douyu, the Chinese internet celebrity was giving a routine live broadcast when the software that altered her features glitched.
Biluo, known for her soft voice and cute features, experienced a technical glitch during a live stream on July 25 while fans asked her to take the filter off. She considered the offer, but only if her viewers sent her large donations first. Some particularly loyal fans send her more than 100,000 yuan (about $15,000).
Before her target donations amount was reached, technical issues temporarily disabled the filter and revealed her true age. Biluo only noticed her filter was gone when viewers began leaving the stream en masse, many demanding refunds, the BBC reported.
Chinese online influencers of her stature are known as "wanghong," and often attract huge sums of money or virtual gifts from followers, Vice News noted.
Global Times, a popular Chinese tabloid, suggested that most of these followers were "indoorsman" or people who spend a lot of time sitting in front of computers as an opportunity to interact with "dreamy women."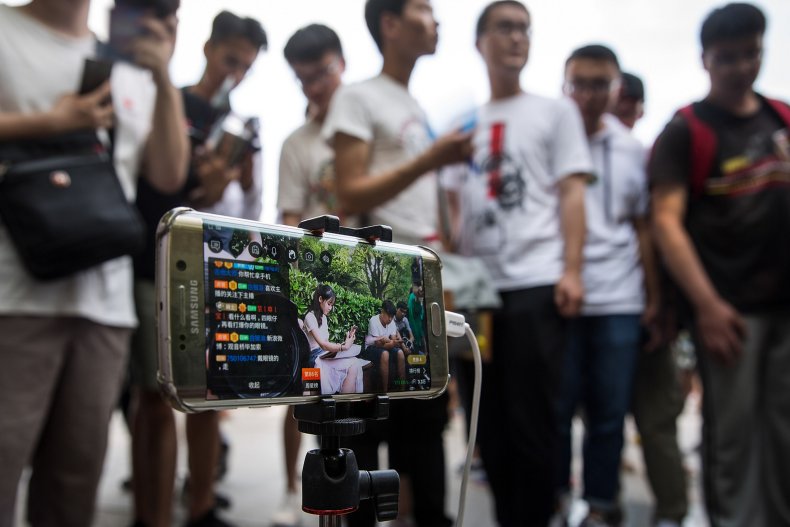 The revelation has led to discussions about standards of beauty across the country's social media platforms. The story has been popular across Chinese social networks, a hashtag related to the event—that has been used more than 50,000 times — translates to "female vlogger experiences bug showing her old lady face."
In the wake of the incident, however, Biluo's Douyu profile accrued some 650,000 followers — and she's since claimed that the ordeal was actually a powerplay to attract more fame than she already had.
China has more than 425 million live-streamers, and the use of face filters is something that is common across all social platforms, the BBC wrote. The country's officials are growing increasingly nervous about the growing popularity of live-streaming because broadcast media in China is strictly controlled and—with the exception of news coverage—footage on TV needs weeks of approval before it can be aired.
Live-streamers in China are often discouraged from broadcasting in a public sphere, and are harshly restricted on what they can and cannot say. Expressing their opinions could result in a backlash from the authorities if the content is judged to be politically sensitive.
Popular 'Young' Chinese Vlogger's Filter Glitches, Reveals She's 58 Years Old | Culture