Pork-Loving Christian Area in Indonesia Fights Halal Tourism with Pig Festival
A two-day pig-centered festival has been planned for October 25 and 26 in the Lake Toba region of Indonesia to protest the North Sumatra administration's plan to focus on halal tourism in an effort to attract more Muslim tourists.
Lake Toba was formed 74,000 years ago after a massive supervolcanic eruption, the largest-known eruption on Earth in the last 25 million years. It's now home to a large Christian minority, which is resisting initial plans to transform the region into a Muslim tourist destination, reports the Los Angeles Times.
A majority of the Christian people who live around Lake Toba are ethnically Bataks. The dominant theology in the area was brought by Lutheran German missionaries in the 19th century.
This remote part of Sumatra has been a travel destination for adventurers and tourists alike, though in recent years they've been hit with a few major setbacks: The Asian financial crisis in 1997, the 2002 Bali bombing and the sinking of a ferry that drowned over 160 passengers in Lake Toba last year.
With these considerations in mind plus an uptick in Muslim tourism, North Sumatra Governor Edy Rahmayadi proposed that the administration should promote halal tourism to bring more Muslim people from neighboring countries.
Ideas included introducing halal certification for restaurants and building more mosques. He also said the plan would entail a policy regarding food vendors that sell pork-based food.
Reception for the plan began to go downhill when he he suggested regulating the non-halal practice of slaughtering pigs in public. Many residents around Lake Toba will typically kill and carve pigs for special occasions like birthdays or weddings.
"If [Muslim] tourists see that, they'll never come back to Lake Toba again," Rahmayadi told reporters.
One of the popular dishes of the Christian Batak Toba and Batak Karo of North Sumatra is Babi panggang Toba. Pigs are slaughtered and used in their entirety for the dish: bones for a clear soup, meat (including offal) to be grilled and a bowl of pig's blood mixed with spices for the meat to be dipped in.
While the Batak have farmed pigs for generations, and their cuisine is synonymous with pork, many suspect the real agenda behind the halal campaign is to boost "Islamization" in their areas.
Rapidin Simbolon, the regent of Samosir Island in the middle of Lake Toba, stated he would defy the governor's "halal and sharia" plan.
"The very notion of halal tourism contravenes local cultures and traditions. Samosir is for Indonesia; Samosir is also for the world. We need to preserve its cultural significance," he said.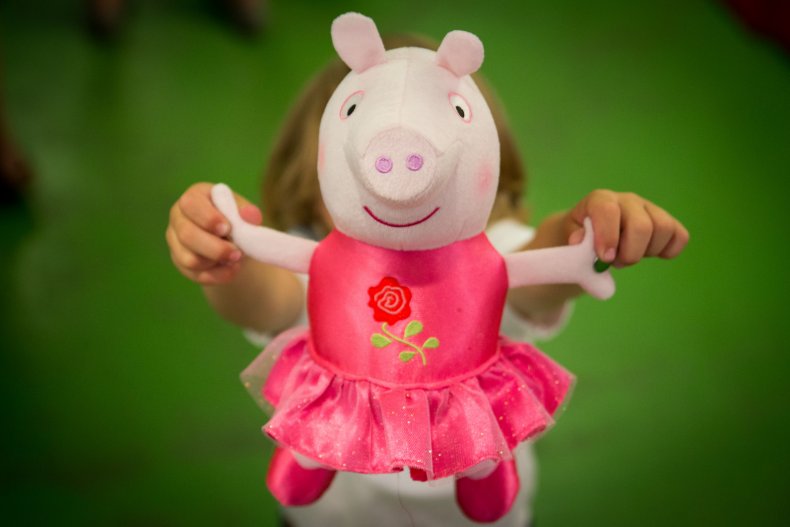 Peppa Pig, the long-running British television show for children, has become the chosen icon in some areas to represent the resistance of non-Muslim Indonesians against attempts by Muslims to enforce their mission to establish halal-based tourism.
Togu Simorangkir, one of the pig festival activists, said people are invited to participate in activities such as competitions to catch pigs, guess pigs' weight, clean pig stalls and also to have selfies with pigs. There will be a prize for the best pork steak, as well as stand-up comedy and a music festival.
.