515,000 Pounds of Pork Recalled After Anonymous Tip-Off Reveals Company Did Not Go Through Inspection
Approximately 515,000 pounds worth of raw pork is being recalled after the U.S. Department of Agriculture's Food Safety and Inspection Service (FSIS) received an anonymous tip-off, revealing a company was producing products without going through the official inspection process.
A recall notice issued by the USDA on November 21, 2019 affects more than 40 pork products produced by Morris Meat Packing between November 25, 2017 to November 9, 2019, and sent to distributors and retailers in Illinois.
A full list of the meat products affected has been published on the USDA website. They can also be identified by the establishment number "EST. 18267," which is found on the inside of the USDA mark of inspection.
There have been no reports of illness or injury from eating the meat but the USDA has announced a Class 1 recall. This means it is considered a "health hazard situation where there is a reasonable probability that the use of the product will cause serious, adverse health consequences or death." Anyone concerned by any health problems is advised to speak to a medical professional.
According to the recall notice, the FSIS "is concerned that some product may be in consumers' refrigerators or freezers."
"Consumers who have purchased these products are urged not to consume them. These products should be thrown away or returned to the place of purchase."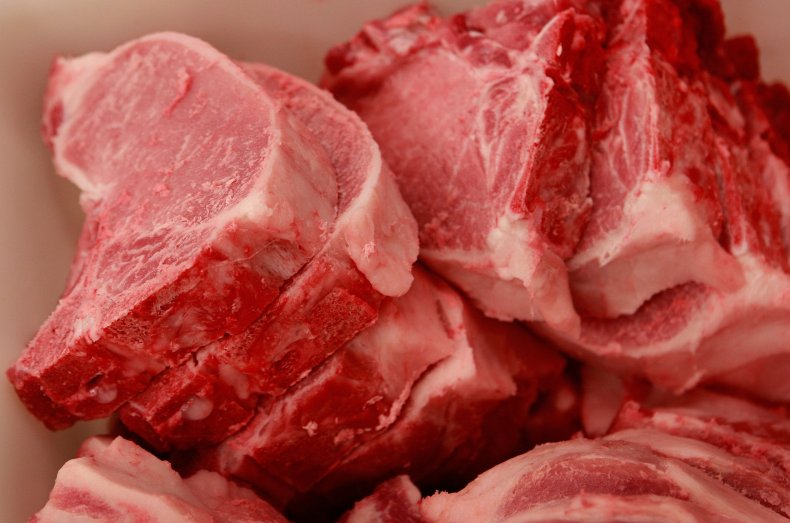 According to FoodSafety.gov, 1 in 6 Americans will become ill with food poisoning in any given year. That is roughly 48 million people—128,000 who will be hospitalized and 3,000 who will die as a result.
Children aged 5 or younger, adults aged 65 or older, pregnant women and those with a weakened immune system are the most at risk.
Raw and contaminated meats are one of the most common ways of contracting a foodborne illness, such as salmonella, E. coli and Yersinia.
A study published by the U.S. Centers for Disease Prevention and Control (CDC) in 2018 found pork was responsible for 10 percent of foodborne outbreaks between 2009 and 2015—the second highest of any food type. Chicken was highest, responsible for 12 percent.
Sickness-causing bacteria can be killed by cooking meat and poultry at a high enough temperature.
The CDC also advises storing leftovers in a refrigerator at temperatures of 40 degrees Fahrenheit or cooler within two hours of preparation. Despite instructions in some recipes, meat eaters are advised against washing raw poultry and other meat as this can spread harmful bacteria to other surfaces.