Portland Protesters Sing 'Happy Tear Gas to You' As Riot Declared Outside Mayor Wheeler's Home
Portland Police have declared a riot as hundreds of protesters gather outside Mayor Ted Wheeler's home on his birthday, calling for his resignation.
Demonstrators were seen wearing party hats, dancing to music and setting off fireworks as part of the 'celebration' for Wheeler's birthday on Northwest Glisan and 10th Avenue on Monday.
Several fires were lit on the street, with protesters smashing the windows of a dental office and breaking in to steal items including a chair to add to the blaze.
Video posted on Twitter shows several protesters singing "Happy tear gas to you, happy tear gas war crimes Wheeler" to the tune of "Happy Birthday" as part of the demonstrations.
Around 11:15 p.m. on Sunday, Portland Police declared that a riot was taking place and demanded people vacate the area.
"All persons must immediately leave the area by traveling to the west," the department tweeted.
"Failure to adhere to this order may subject you to arrest, citation, or crowd control agents, including, but not limited to, tear gas and/or impact weapons. Criminal activity has been observed, including fires set. The area is closed to allow [Portland Fire and Rescue] personnel access to put out the fires."
The demonstrations occurred as several groups called for Wheeler's resignation in the wake of a fatal shooting in Portland on Saturday when a caravan of vehicles, including suspected far-right groups, arrived in the city.
"These conditions have been created because there's been a lack of leadership, a lack of vision," Bobbin Singh, executive director of the Oregon Justice Resource Center, said in a statement.
"We can no longer move forward with the current leadership that's in place in Portland."
The shooting occurred amid violent clashes between Donald Trump supporters and counter-protesters.
Police said they responded to shots in the area of Southwest 3rd Avenue and Southwest Alder Street, where they found a man with a gunshot wound to the chest.
The victim was identified as 39-year-old Aaron J. Danielson of Portland.
Oregon Governor Kate Brown blamed the violence which broke out on the far-right Patriot Prayer group and other extremists who arrived in the city.
"The right-wing group Patriot Prayer and self-proclaimed militia members drove into downtown Portland last night, armed and looking for a fight," Brown said.
"Every Oregonian has the right to freely express their views without fear of deadly violence. I will not allow Patriot Prayer and armed white supremacists to bring more bloodshed to our streets.
"Time and again, from Charlottesville to Kenosha to Portland, we have seen the tragic outcome when armed right-wing vigilantes take matters into their own hands. Gun violence is never, ever the answer."
Joey Gibson, leader of Patriot Prayer, who have staged several demonstrations in Portland down the years which have been met with violent counter-protests, paid tribute to Danielson following his death.
"We love Jay and he had such a huge heart," Gibson wrote on Facebook. "God bless him and the life he lived."
Wheeler has been contacted for comment.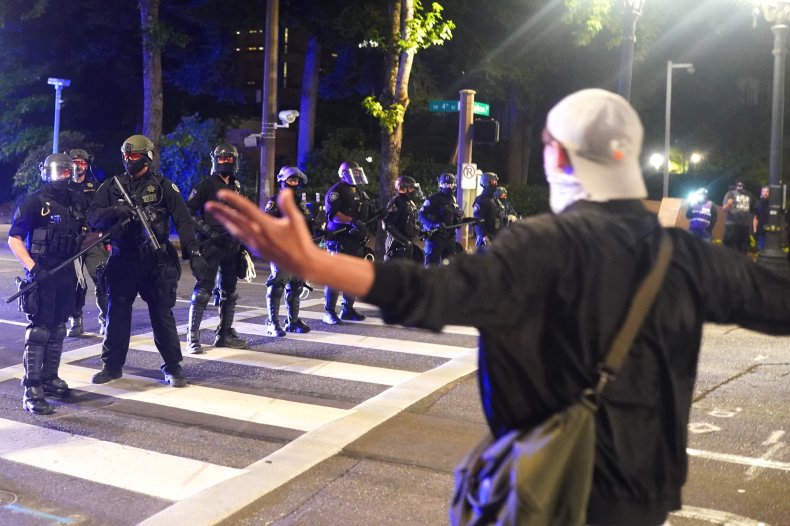 Correction 9/1/20: This article has been updated to correct the spelling of Ted Wheeler's name.