The Porn Industry Has Proven Itself Incapable of Verifying Consent | Opinion
Over the last year, the most mainstream and "legitimate" pornography website in the world, Pornhub, was revealed to be infested with sex trafficking, child sexual abuse, rape and non-consensually shared pornography.
But if this mega-corporation with some of the highest profits in the industry can't keep non-consensual material off its platform, can any pornography site?
The first survivor of Pornhub's sexual exploitation whose voice received international attention was Rose Kalemba. Her harrowing experience of brutal sexual assault at age 14 was uploaded to Pornhub—where it remained despite her telling the company she was underage and being raped in the video. This theme of survivors asking Pornhub, which was profiting from their exploitation, to remove sexual assault videos—often without success—is ubiquitous. The New York Times profiled several other survivors of similar abuse, noting the lifelong trauma victims experience knowing their abuse videos live on and can resurface at any time. The rape never really ends, and Pornhub profits from it. As one survivor stated, "Pornhub became my trafficker."
The Times column spurred two significant developments. First, Visa, Mastercard and Discover rightly stopped processing payments for Pornhub. And then, a Canadian parliamentary committee launched an investigation. It unveiled possible criminal conduct when it questioned executives at MindGeek—the owner of Pornhub and more than 300 other pornography websites which have yet to be investigated for identical problems. MindGeek is headquartered in Canada, with offices in Los Angeles and London. These hearings revealed that Pornhub failed to report child sexual abuse materials (i.e., child pornography) to U.S. or Canadian child protection agencies from 2008-2019. Any corporation's failure to report such materials is a crime in Canada.
When Pornhub received emails from countless young women and girls like Rose, it not only ignored their requests to remove the rape or child abuse material, but also didn't contact any child protection agencies that could have intervened and saved them from continued sexual abuse.
More than 70 Canadian lawmakers have called for criminal investigations into MindGeek after these revelations. It is time for U.S. lawmakers to do the same.
The U.S. Department of Justice and American politicians should not buy Pornhub's token damage control efforts. The company deleted millions of "unverified" videos and claimed it would only allow "verified" content from now on.
But it's time to face reality: the pornography industry is not committed to, and not capable of, sufficiently stringent "consent verification" methods to keep sexual abuse content off its websites.
In fact, Pornhub has already "verified" pornography of a minor (aka child pornography) and even of sex trafficking victims. For example, 22 survivors have sued MindGeek for $80 million because one of the corporation's official partner channels—GirlsDoPorn—trafficked them into pornography. These women were recruited as models, lured to hotels, plied with alcohol and drugs, coerced and deceived into signing contracts to produce pornography. Even after this practice became common knowledge, and while there were active lawsuits against GirlsDoPorn, Pornhub kept the videos of these survivors on their platform for months.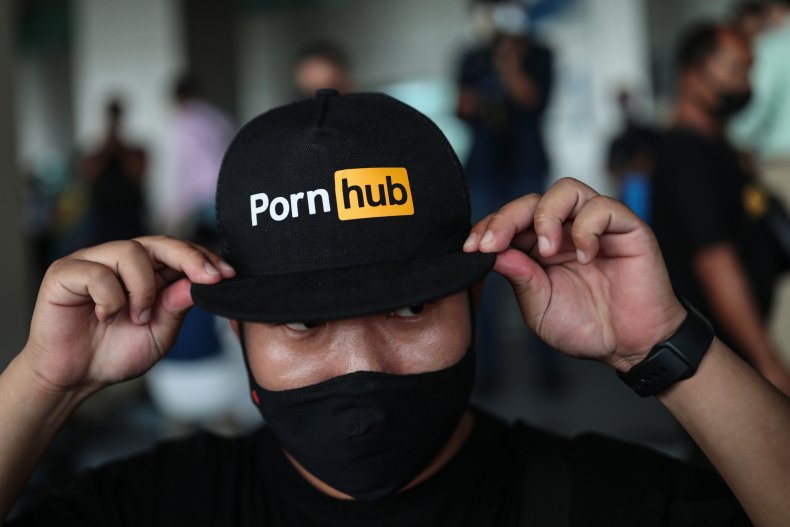 GirlsDoPorn was a verified content provider on Pornhub, ostensibly as "legitimate" a content provider as possible.
MindGeek is arguably the largest pornography corporation in existence. If abuse content is a problem in a company that spends millions marketing itself as mainstream and socially responsible, then it is a problem everywhere.
Consent verification methods in the pornography industry include anything from taking a photo with a username written on a body part, to taking a photo with a driver's license, to signing contracts to filming a short video saying you consent. But sex traffickers and pimps can and do manipulate—or simply coerce—people into all of these acts.
This coercion plays itself out around the world, and across the entire pornography industry.
For example, a French pornography website came under investigation by the Paris prosecutor's office last year for "rape" and "procuring." Multiple female pornography performers have spoken out that they were coerced and pressured into "extraordinary/abnormal and painful sexual acts" that they did not want. The website generates revenue, so this case meets the international definition of sex trafficking.
And in the Czech Republic, a pornography company called Czech Casting has been accused by police of human trafficking and rape to produce pornography. It manipulated women into signing contracts, and its victims have continued to experience mental and health problems due to the resulting trauma.
Deepening that trauma, some artificial intelligence algorithms have begun to produce realistic pornography of women who are not real, but are based on pornography of sex trafficking victims produced by Czech Casting and GirlsDoPorn. These videos extend the exploitation of those victims in perpetuity. How can a porn site verify that AI porn (a rising trend) was made based on consenting people? It can't. A recent story in Wired highlighted how pornography websites are refusing to take down non-consensually created deepfake pornography videos, some of which receive millions of views.
MindGeek, Pornhub and the entire pornography industry want us to ignore the abuse and exploitation behind the facade of normalcy and empowerment they have so carefully constructed. They now assure us that they're taking these issues seriously after decades of blatantly profiting from sexual exploitation.
The truth is, we can't trust an industry that has knowingly monetized rape to verify consent. We must recognize that reality now, rather than allow MindGeek to retain any veneer of legitimacy that enables it to profit from the sexual abuse of more people.
It's time for the U.S. Department of Justice to investigate MindGeek and shut it and all of its subsidiary sites down. It is time to #DismantlePornhub.
Haley McNamara is the director of the UK-based International Centre on Sexual Exploitation, and vice president of the National Center on Sexual Exploitation. Twitter: @TheICOSE; @NCOSE; @HaleyMcNamara
The views expressed in this article are the writer's own.