Protest Over Porn Ban at UK Parliament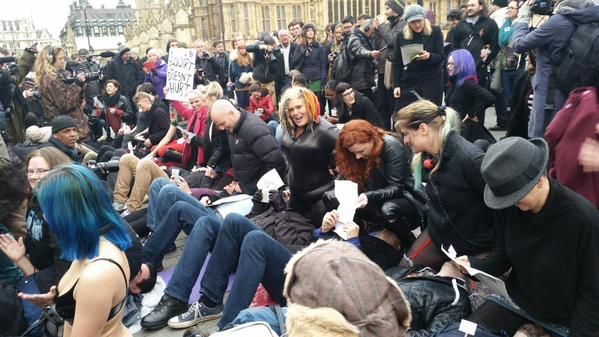 "Make sure you close your curtains at night when you put something on in your bedroom, because big brother is watching you," says Charlotte Rose, Sex Worker of the Year 2013, sexual therapist, political campaigner and the woman behind the mass face-sitting protest over new UK porn rules at Old Palace Yard in Westminster on Friday.
Face-sitting is just one of the sexual practices included on a lengthy list of acts that were banned from web porn sold in the UK on 1st December. Other actions now off the menu are spanking, caning, aggressive whipping, urinating in a sexual context, physical or verbal abuse, watersports, role-playing as non-adults, fisting, and perhaps most controversially, female ejaculation.
"This is what they are going to do," Rose told the crowd. "They are going to control you online just as they do on your phones. They will filter your computer so they know exactly what you're downloading, who you're talking to and where you are. So if you want to get vengeance on an ex-boyfriend, make sure you do it in person."
A statement released by The Audiovisual Media Services Regulations 2014, said that these bans had been imposed because that "content that is not acceptable". In the case of strangulation, fisting and face-sitting, the British Board of Film Censors says that they should be banned because they are potentially life-endangering."
"Female ejaculation is the most dangerous activity in the world," Rose shouted mockingly to the crowd, which included protestors energetically thrusting their groins into the face of a consenting partner. "Get a bit of that in your eye and oh boy, it's game over," she laughed.
But the message of the protest was more serious. "I am somebody who is passionate about their personal liberties, and that is what I am fighting for and am going to continue fighting for," says Rose.
Face-sitting, which gets 45,000 Google searches per month, has never resulted in any deaths, she points out. "Smoking however, results in hundreds every day. But the government doesn't ban that because it brings them money."
One campaigner, a middle-aged woman who didn't want to be named says she doesn't watch porn, but was there to campaign against the censorship.
"It's ridiculous. Why is it alright to watch Dexter and hacker movies, but not OK to watch a woman orgasm? It makes no sense."
Teagan, another campaigner with bright pink hair who was carrying a sign reading 'Squirt Doesn't Hurt' said: "Our country needs to be more sexually liberal. We need to talk about sex, not hide it.
"The banning of female ejaculation is completely sexist. It's been a taboo for so long, we don't educate our children about it. I personally didn't find out about it until I was in my 20s. And then now we have all accepted it's a real thing just as we ban it," she continued.
They completely haven't thought about this at all. Politicians are the worst of the lot, now they are telling us - consenting adults - what we can and can't do," she said.
Many of the campaigners who had chosen not take part in the face-sitting were carrying signs emblazoned with slogans like 'Fight For Your Right To Fist', and 'Life Will Be Fine If You 69'.
For some attending the protest, the incentive was more financial. One man standing quietly at the back who also did not to be named said that the new laws were going to destroy his business: "I produce films which they've decided now that none of them can be made. Now my business is gone. Everything they've said you cannot do is in my films.
"I've got two options - either I tone it down and nobody buys it, or else I move abroad where the laws don't apply."
The reasoning behind the laws, he said, didn't make any sense. "If you've got somebody face-sitting and they're banning that because they could choke - well if someone has their dick down your throat you could choke too.
"Anyway, there is much worse stuff on the TV than what goes into this porn," he added, citing the gruesome film Hostel as an example.
The timing of the protest coincides with a Commons motion, put forward by Lib Dem MP Juliam Huppert, to discuss over-throwing the changes. According to Huppert, the new rules mean that "all video on-demand services that originate from the UK can't show various acts, such as spanking".
"It seems to be to be very odd to say that this – assuming it is consensual – is acceptable for somebody to do in their own home, for them to photograph it, film it, but not to look at it online if it comes from the UK," he said.
"The case for banning things should be driven by issues around consent, and around genuine risk."