'Morning Joe' Host Responds to Jeanine Pirro, Trump and 'Biblical Prophecy': 'A Porn Star Will Be Born Unto You'
Morning Joe host Joe Scarborough had some choice words for Judge Jeanine Pirro, who claimed on her Fox News show that President Donald Trump had fulfilled a "Biblical prophecy" by moving the U.S. Embassy to Jerusalem.
Pirro, who was in Israel ahead of Monday's embassy relocation, claimed the president's decision to move the embassy to Jerusalem sent a "huge signal to Iran and Shiite Muslims that we stood with the more moderate Sunnis." The Fox News host said the move also sent Iranians a message to "reflect on their own history."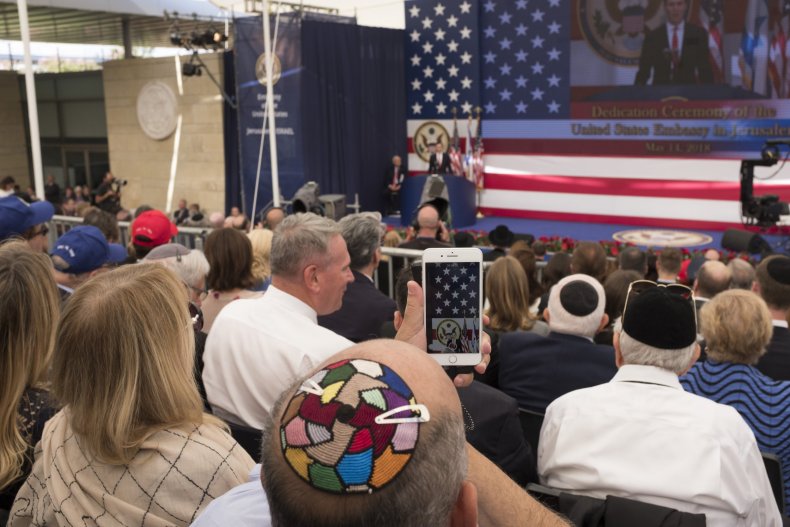 "It was the king of Persia who, 1,000 years before Mohammed was even born, that said Jerusalem is the capital of the Jewish people's country," Pirro claimed in her opening monologue Saturday.
She continued: "Donald Trump recognized history, he like King Cyrus before him, fulfilled the Biblical prophecy of the God worshipped by Jews, Christians and, yes, Muslims, that Jerusalem is the eternal capital of the Jewish state and that the Jewish people finally deserve a righteous, free and sovereign Israel."
Pirro's remarks were met with some criticisms on social media, and with a heavy dose of snarkiness by MSNBC's Scarborough.
"I think it is in Lamentations…the verse that she quoted after that, showing that truly these are Biblical times, that 'a porn star will be born unto you, and her name shall be Stormy "Stephanie Clifford" Daniels,'" Scarborough said, as his co-host Mika Brzezinski stared at the camera, seemingly confused.
Scarborough added: "When Jeanine Pirro is telling you about how Donald Trump is moving the embassy to Jerusalem is all talked about thousands and thousands of years ago—you know we have entered into special times."
The new embassy was formally relocated from Tel Aviv to Jerusalem on Monday, the 70th anniversary of the formation of Israel, The New York Times reported. The opening was met by massive protests by Palestinians at the Gaza border.
Palestinian Health Ministry officials reported at least 52 people have been killed during the demonstrations and at least 1,700 Palestinians were reported wounded. According to The New York Times, Monday was the bloodiest day in a series of demonstrations that began seven weeks ago against Israel's economic blockade of Gaza.
'Morning Joe' Host Responds to Jeanine Pirro, Trump and 'Biblical Prophecy': 'A Porn Star Will Be Born Unto You' | U.S.