Porn Website Pulls Democratic Congressional Candidate's Ads Over Abuse Allegations
Updated | An Illinois Democratic congressional candidate calling for the legalization of marijuana has had his ads pulled from the website Pornhub after he was accused of abuse by an ex-girlfriend.
Benjamin Thomas Wolf, a former FBI and State Department employee, was accused by his former girlfriend and campaign intern Katarina Coates of physical and emotional abuse in an interview with Politico Wednesday.
"We have instructed our ad network, TrafficJunky, to pull all of his ads in light of these allegations," Corey Price, Pornhub's vice president, confirmed to Newsweek in a statement following the accusations. Cancellation of the ads was first reported by Gizmodo.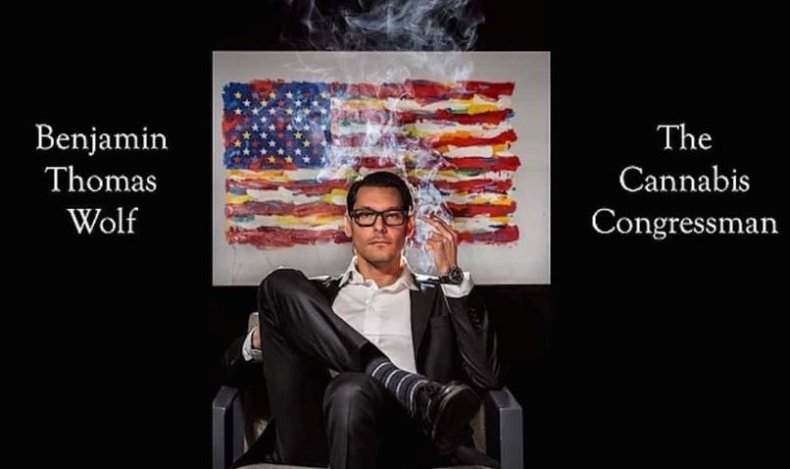 The porn website ran Wolf's campaign to "legalize it" in which he appears to be smoking a joint. "I'm proud to be the first ever political ad on adult content," Wolf tweeted Tuesday, announcing the ad.
Wolf has appeared in an online video in which he criticizes the AR-15 assault rifle, a weapon used in last month's massacre at a Florida high school. "There is no place in American modern society for this type of weapon," he says in the segment.
Yet Coates said Wednesday that Wolf is no stranger to violence. "He actually hit me, threw me to the ground, put his foot on my chest. He was really angry. He grabbed my face," she said, describing one alleged incident of abuse. After that, she said, "he went and took me for chocolate cake. I kind of associated it with his caring."
Read more: Who is Benjamin Thomas Wolf? Former FBI agent smokes weed in Illinois congressional campaign ad
"There were times I would ask him, Do you ever regret hitting me?' she said, and that Wolf replied: "'No, but I'm relieved when you put your head down so I don't have to do it again.'" She alleges Wolf abused her physically at least six times and published her name and home address on Twitter, Instagram, and Facebook.
Wolf's campaign did not immediately respond to Newsweek 's questions about Coats's accusations, but he denied the claims of abuse in an interview with Politico and accused Coates of harassment. Wolf and Coates both said he filed police reports against her for harassment.
DePaul University in Chicago has banned Wolf from its campus, according to its assistant director of public safety, Michael Dohm.
Wolf is running in Illinois' 5th Congressional District against incumbent Chicago Democrat Rep. Mike Quigley. The state's primary is set for March 20.
Updated: This story has an updated quote from Pornhub Vice President Corey Price. An earlier version of this story also mistakenly referred to Ben Wolf as a "former FBI agent and Iraq War veteran," based on his own recurring statements to this effect. It has been corrected to reflect the fact that Wolf was only employed by the FBI in a non-agent capacity, and has not served in Iraq in a military capacity.