'Pornland': How Porn Has Hijacked Our Sexuality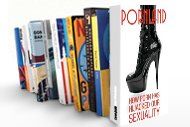 Gail Dines
204 pages | Buy this book
Profits, not pleasure, drive the porn industry. Indeed. Playboy logos adorn backpacks and Miley Cyrus looks like a stripper dancing on a pole. Yes. Female porn stars are simultaneously dehumanized and exalted. All of it is quite familiar, but recited together, as Dines has done in her book, it's a sobering reality check. And if, as Dines argues, porn really is becoming a celebrated, completely commonplace facet of American life, this voice railing against the sex-saturated machine testifies to some pretty miserable sexual values infiltrating the culture.

What's the Big Deal?
Pornographers are no longer in the business of making love, Dines says. Now, they're making hate. With more than 370 million Internet sites, that means it takes something pretty shocking to stand out. The result? Dines argues that aspiring producers are turning out more and more "gonzo porn," which is extreme, is graphic, and was once relegated to the fringes. Now it is mainstream, and undermining the ways men and women approach sex.
Buzz Rating
Andrew Sullivan and a few papers have talked up the book, but Pornland hasn't gained much traction. Sex sells, for sure. But saying the sex we have is harmful—that's a tougher story to market.
One-Breath Author Bio
Gail Dines is a professor of sociology and women's studies at Wheelock College in Boston, where her research investigates the hypersexualization of the culture. No shortage of case studies there.
The Book, in Her Words
"Porn is not something that stands outside of us: it is deeply embedded in our structures, identities, and relationships. This did not happen overnight, and there is a story to tell about how we got to the point that mainstream Internet porn has become so hateful and cruel" (xxix).
Judging by the Cover
Titillating possibilities abound, even if they would directly contradict the arguments inside. The super-stiletto latex boot atop the book's red-lettered title hints at naughty sex without showing any flesh. While Dines specifically criticizes depictions of women as a "series of interchangeable parts," a disembodied leg sure beats the alternative.
Don't Miss These Bits
1. More pain, frightening gains: the majority of pornography is now based on either on women's humiliation (encouraging coeds to flash on Girls Gone Wild) or their degradation (the work of Max Hardcore, a pornographer now spending time in jail for obscenity), and the "women of porn world seem to enjoy having sex with men who express nothing but contempt and hatred for them, and often the greater the insults, the better orgasms for all involved. This is an uncomplicated world where women don't need equal pay, health care, day care, retirement plans … It is a world filled with one dimensional women who are nothing more than collections of holes" (xxiv). And that world, now, Dines says, is everywhere: more rapes and sexual assaults, more feelings of inadequacy and shame, and less intimacy and equity among men and women.

2. Does porn creates pedophiles? Dines cites a psychotherapist who counsels child molesters, many of whom became attracted to children after too much exposure to adult pornography left them desensitized. "Research on pedophilia does not point to a model of two clearly defined groups (pedophile and nonpedophiles); rather, there is a continuum: some men are clearly situated at either end, but others are scattered at various points" (160). That much of gonzo porn re-creates the techniques used by pedophiles only heightens her concern.

3. Research: porn message boards. Much of the book's arguments are bolstered by the anonymous comments of men on sites with topics like "Painful Anal." Members (with names like Virgin Surgeon, Nunsploitation, Eyeballs a Bleeding) discuss the, um, ins and outs of their favorite scenes in shocking and poorly spelled detail. The comments are so filled with bile and misogyny that it's almost impossible to find one suitable for reprint, but they make great fodder for Dines's point: that modern porn culture both desensitizes users to women while also making porn seem like a an acceptable option for girls.
Zeitgeist Check
Google "pornland" and you'll find—wait, on second thought, don't Google "pornland." (Especially not at work.) But the copious numbers of adult content sites that search would return speaks to the author's point. In fact, the governing body of the Internet just approved .xxx as a separate domain for adult-only content.
Swipe This Critique
Clearly something's changed, but the chicken-and-egg question remains unsettled: is the availability of extreme porn influencing mass culture, or is the permissiveness and misogyny of mass culture allowing for more extreme porn? Porn has existed throughout human history, and while the Internet has exploded the form, it remains unclear that eliminating porn would make society a friendlier one to women. It's also unclear if porn is the symptom or the disease: if women were treated more equitably by employers and educators, would men be less amenable to women being depicted as harshly used sex objects? Answers would have made Dines's study break newer ground.
Gradebook

Prose: Unflinching. No sanitized language here. As a result, there's no way to hide from how harsh and hateful the culture has become.
Scholarship: Dines pulls together a lot of studies, sources, and anecdotal evidence. But they never feel greater than the sum of their parts.

Overall: An important book, but its strengths lie more in description than argument.