Was Pornographic Book Found in Minnesota School Library? What We Know
A discussion at a meeting of a Minnesota school board has been picked up by right-wing media after a mother complained that a book containing graphic descriptions of sexual acts had been included in a school library.
In the discussion, held on January 23, the mother—identified in a livestream of the event only as Kelsey—read out several passages from the book, which left members of the Sartell-St. Stephen ISD 748 school board reeling. Members quibbled about the process for its removal.
School boards and public officials have frequently looked to prevent books deemed inappropriate for children entering schools. Earlier in January, Virginia's Madison County School Board removed 21 titles from libraries, citing adult content.
In the meeting, Kelsey—who was misidentified as Maria Pangerl, the school board secretary, by several right-wing outlets including Infowars—read several passages of Him, a 2015 novel by Sarina Bowen and Elle Kennedy.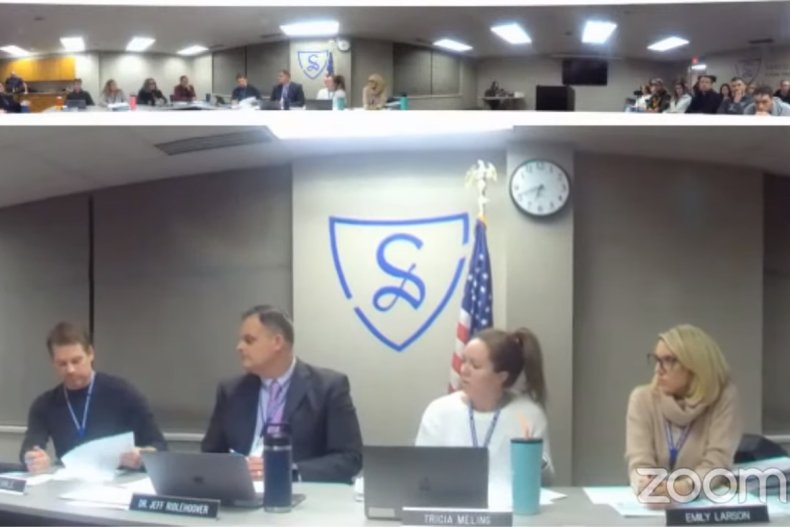 Of the passages read out, Newsweek was able to verify that the following are included in the book:
"I sucked him deeper into my mouth, almost to the base. And just when he moaned, I released him, gliding my tongue along the long, hard length of him, until his d**k was glistening."
"F**k yeah, Canning's hips began to rock as I took him in my mouth again. I licked the crown of his c**k, teasing, savoring, then taking him deep again."
"I tease and caress for several long moments before slipping my finger inside. My other hand grips his erection. I'm selfish, but I don't want him to come until I'm very deep inside him. So I don't take him in my mouth or jerk him as hard as I know he wants. Slow, feather-light strokes is all he gets as I work my finger into his tight hole. When a second finger joins the party, his brows draw together. Beads of sweat break out on his forehead. Mine too. Loosening him up is one of the hottest thing I've ever done. It takes all my concentration."
"I want to know how and why this book was ever allowed in our school," Kelsey told members of the meeting, adding that the book could be checked out of room Heinz 104. "I hope these examples serve as a wake-up call to many other parents and community members in this district, and let me be the first to ask you again: who, how, when and why?"
The Amazon description of the book includes a warning that it "contains sexual situations, hotties on hockey skates, skinnydipping, shenanigans in an SUV", and is described as an adult romance novel.
It is unclear whether the book is, in fact, part of a Sartell-St. Stephen's school library, or what has happened to it following the discussion. Newsweek has contacted the school board for further comment.
A discussion had originally arisen about whether the school board should consider the matter, as there was already a policy in place for parents to flag objectionable books that are used for learning with school officials.
At the outset of the meeting, Matt Moehrle, the school board chair, noted: "Typically, the board doesn't get involved in that decision until after a decision is made at the district level on that particular work that is being objected to."
However, other members suggested that the policy was for objecting to material involved in teaching and learning, not necessarily library books.
Following the reading of the passages, Emily Larson, the school board's clerk, said: "If this is material for learning and teaching, per this form that has been sent... that would be something where there would need to be some sort of intervention, because that can't be [available] for learning and teaching in our school."
She added: "What was read was disgusting. I have never felt so uncomfortable my entire life. Never again will I ever want to hear any of that as an adult. It should be as simple as 'go get the book.'"
Newsweek has contacted Bowen for comment.