Ukraine Leader Accuses Moscow as '15,000 Russian Soldiers Join Separatists'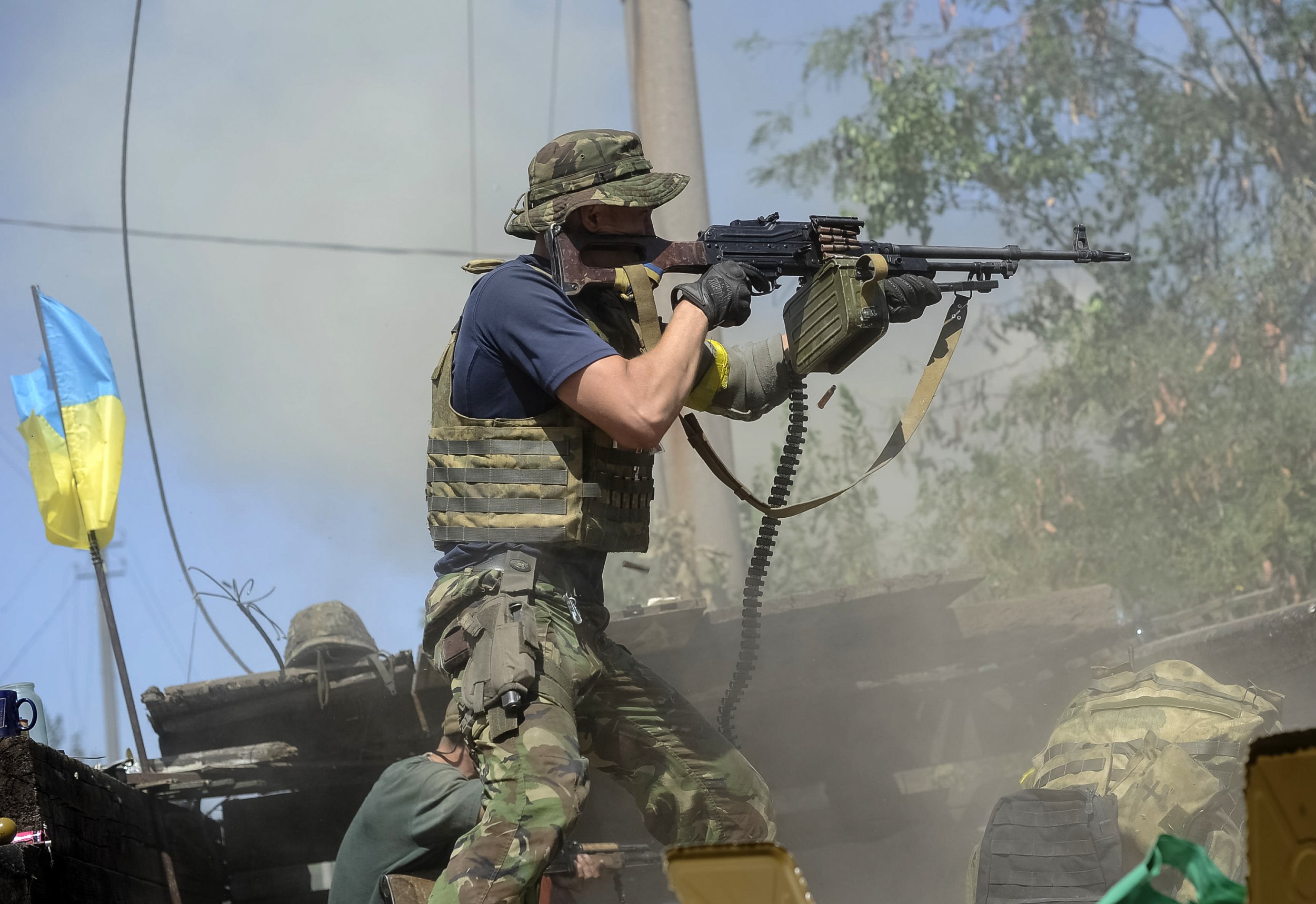 Ukrainian President Petro Poroshenko said that Russian forces had been deployed in Ukrainian territory amid claims that around 15,000 Russian soldiers have been sent to the Donetsk region. Poroshenko cancelled a visit to Turkey and called an urgent meeting of the Ukrainian Defence and Security Council over what he called the "rapidly deteriorating situation" in Eastern Ukraine.
The 15,000 estimate was made by Russian organisation Soldier's Mothers which establishes contact between military personnel on duty and their families.
"The total number of is around 15,000," Valentina Melnikova, a spokesperson for the organisation told Russian Independent TV Channel Dozhd this morning, in reference to the number of Russian soldiers fighting alongside Ukrainian separatists.
Soldier's Mothers frequently files compensation claims on behalf of dead soldiers families due to the lack of state services in the country to ensure this is done.
"How many of those officers have been sent without documents, as contractors or under the pretence of being on leave it is difficult to say," she added, noting her organisation had been alerted to investigate the situation by the families of servicemen who have been missing in action in Ukraine.
"Currently it is not clear how many officers are dead," Melnikova said, arguing some Russian personnel are being sent in action to Ukraine under the guise of volunteers or are recorded as undertaking military training.
Russia has publicly maintained that it is not involved in the Ukrainian conflict in any military capacity despite numerous eyewitness reports of Russian vehicles and troops.
Donetsk separatist leader Alexander Zaharchenko also confirmed in a press conference today his separatist Donetsk People's Republic has "never denied" there are Russian servicemen fighting alongside rebels in Donetsk.
This morning he estimated there are between 3,000 and 4,000 Russian soldiers fighting in eastern Ukraine but maintained that they are not doing so in their official capacities.
"We have many former Russian servicemen fighting by our side who consider this their duty," Zaharchenko said.
"We also have Russian soldiers here who would rather spend their holidays not on the beach but fighting for the freedom of their brothers," he added.
However, Zaharchenko was insistent the Donetsk rebels did not have Russia's official support, reiterating the Russians fighting in eastern ukraine "were and are volunteers from Russia".
Reports of intensifying Russian military activity on its border with eastern Ukraine have increased in the last 12 hours with Reuters reporting spotting two Russian military armored columns near the Ukrainian-Russian border, one of them firmly on Ukrainian territory, the other driving back into Russia with wounded soldiers.
As fighting has intensified, the Ukrainian town of Novoazovsk was captured by separatist forces this morning according to the Ukrainian Defence and Security Council's social media.
All Ukrainian military from the town of Novoazovsk have been moved to the port city of Mariupol, which sits between the Russian held territory of Crimea and rebel forces in Donetsk and Luhansk.
Donetsk rebel leader Zaharchenko has said his forces would be advancing on the port city soon. "Taking Mariupol, the second biggest town in Donetsk region, will allow us to expand our units by another five or seven thousand," Zaharchenko said.
The Ukrainian Defence and Security Council is holding an urgent meeting, as President Poroshenko has cancelled his diplomatic visit to Turkey.
"I made the decision to cancel a working visit to the Republic of Turkey in connection with the rapidly deteriorating situation in Donetsk region," a statement from Poroshenko on the presidential website read, "in particular in Amvrosiyivka and Starobesheve, as Russian troops have actually been brought into Ukraine."