Poroshenko Is Targeting Ukraine's Anti-corruption Campaigners
The anti-corruption posters at Kiev's Borispul airport, reminding passengers and staff that bribery is a criminal offense, look dated and cynical.
They're supposed to be a declaration of the authorities' public commitment to end Ukraine's rule by oligarchy. They're designed to look good for visiting tourists and businesspeople.
But after fours years of unmet government promises after the popular protests that brought down the corrupt regime of Viktor Yanukovych, the official PR campaign against corruption seems tired and toothless.
Reforms have stalled or gone into reverse as Ukraine's oligarchs fight back hard.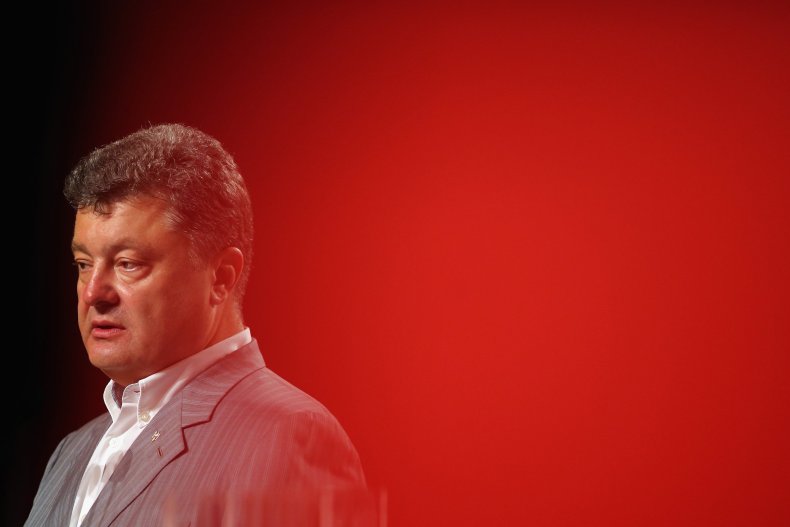 The long awaited and vital anti-corruption court has still not been established. In recent weeks, political attacks by those supporting powerful business interests have undermined NABU, the National Anti-Corruption Bureau, Ukraine's only independent anti-corruption institution created after Maidan.
Foreign governments correctly see these assaults on NABU as alarming indicators of powerful hostility against reform.
But the oligarchs are also aggressively pushing another, underreported, line of attack. It's not just the new official anti-corruption institutions that are being targeted.
In recent months, anti-corruption activists and NGOs have been visited and threatened by various government officials. Ukraine's security service, the SBU, has brought criminal charges against the Anti-Corruption Action Center (AntAC) and other leading reform groups.
In March 2017 a law was passed specifically aimed at activists who work against corruption, requiring them to publicly declare their assets. Exposing government fraud is increasingly dangerous, and in recent months activists have been smeared in the media, harassed, physically attacked, and warned to stop their work.
This is not what President Petro Poroshenko promised when he was elected after the Euromaidan revolution. He was supposed to lead a reform program to tackle the country's deep-rooted corruption.
But officials in his administration are now dragging Ukraine back to the dark days of a decade ago, when government threatened and intimidated civil society.
Victories against bribery won in the last few years are now under threat as criminals find ways around the new rules.
Some NGOs successfully fought to bring down the price of medicine by opening government tenders to international bidders. While this new centralized process scored real wins, regional procurement of drugs remains wide open to abuse.
A report released by AntAC last month reveals that regional oncology centers and state institutions are paying up to 400 percent more than international organizations for the same prostate cancer drug. The price differences are the result of kickbacks to doctors, distributors and officials of tender committees.
The government's failure to properly tackle corruption, and its attacks on those who are trying to, is making the public angry again. Large scale street protests are back.
While recent international press attention has focused on the dramatic arrest of political opposition leader Mikheil Saakashvili, and the clashes between his supporters and the police, popular discontent is far wider than that coalescing around Saakashvili.
A few weeks ago, 300 cars in Kiev joined a drive-in to the house of Prosecutor General Yuriy Lutsenko to protest at his part in the targeting of NABU. The motorcade echoed the car rallies to Yanukovych's house four years ago, a key part of the Euromaidan movement.
Large-scale demonstrations against corruption are bigger than at any time since 2014, and could escalate to crisis point well before the next scheduled elections in 2019.
Ukraine and its international allies can't afford more disabling volatility. The war with Russia's proxies in Donbas is debilitating enough, and corruption is fast decaying the country from the inside.
As U.S. Secretary of State Rex Tillerson says, "It serves no purpose for Ukraine to fight for its body in Donbas if it loses its soul to corruption. Anti-corruption institutions must be supported, resourced, and defended."
The attacks on civil society are a dangerous signal that the oligarchs intend to exert full control. It will take more than a public poster campaign at airports to win this struggle and convince investors that Ukraine's economy is a sound and stable bet.
It's time for Ukraine's allies to take immediate action to help steer Ukraine's institutions onto the path of real reform.
They should push for an independent court system to judge top officials accused of corruption. Judicial reform until now has been weak, with too many old judges still in jobs, some of whom sentenced activists to jail for their part in Euromaidan.
What's needed is for international experts to have a decisive role in the selection of new judges to deal with anti-corruption cases. Too many cases of corruption uncovered by NABU lie moribund in the court system without hearings.
The U.S. and other governments who want to end this dangerous spiral should publicly call for the repeal of laws targeting anti-corruption activists, and impose visa bans and asset freezes on Ukraine government officials and their cronies credibly linked to corruption.
Oleksandra Ustinova is a board member of the Anti-Corruption Action Center. Brian Dooley is Senior Advisor at Human Rights First and author of a new report: Democracy in Danger, Ukraine at a Crossroads Four Years After Euromaidan.