Porsche Crashes Into Mall After Police Chase, Bursts Into Flames and Destroys Multiple Businesses
Businesses in northeast Atlanta were engulfed in flames Friday morning after a Porsche crashed into a shopping plaza.
Atlanta fire Battalion Chief Douglas Hatcher said he believed the Porsche Cayenne crashed into a finance building in the Piedmont Pointe plaza near the intersection of Piedmont and Cheshire Bridge roads, according to the Associated Press. The sports car caught on fire, and the flames quickly spread to the surrounding businesses in the strip mall.
Atlanta fire crews responding to the fire were able to extinguish many of the hot spots by 6 a.m. The crews used a defensive strategy to extinguish the blazes in order to limit the spread and damage of the fire. The flames were doused with water from aerial attacks from above the strip mall. Fire crews were working to safely remove the car from the building after the flames were extinguished.
"There was a substantial amount of fire," Hatcher said, according to The Atlanta Journal-Constitution. "Structural damage to the building, some sagging of the roof—that's why we haven't sent anybody back inside at this point."
The flames from the accident overcame many of the stores in the strip, leaving some buildings burned and completely gutted. A Papa John's pizza restaurant was one of the charred buildings.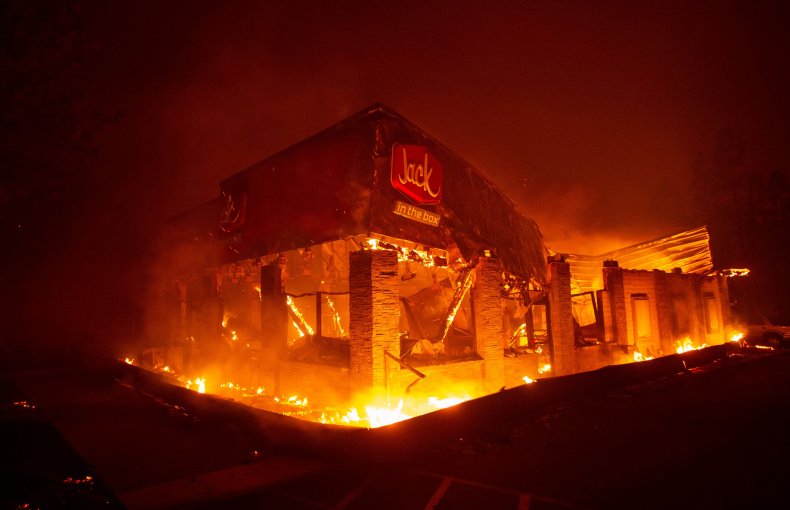 Many of the foundations and support beams remained intact after the fire. Hatcher said store owners should not be worried about the structural integrity and safety of many of the affected businesses.
The driver was identified by police as Theodore Merchant, 21, of Virginia Beach, Virginia, according to the Journal-Constitution. Merchant was transported to Grady Memorial Hospital after the crash to be treated for minor injuries. Merchant is in police custody and will be booked into the Fulton County Jail.
Anita Ford, the owner of the Piedmont Pointe plaza, said the driver was involved in a police chase with the Georgia State Patrol (GSP) when the car veered from the intersection and into the building. "It's not the first time a car has run into the building from that corner, but it's the first time that caused this much damage," Ford told the Journal-Constitution.
The GSP confirmed to the Journal-Constitution that the Porsche was speeding down the 55 mph street at 105 mph. The GSP pursued Merchant as the car drove over the concrete island at the intersection and into the plaza.
The accident and subsequent fire caused major delays in traffic to the intersection of Piedmont and Cheshire Bridge roads.
Newsweek reached out for comment to the GSP but did not hear back before publication.