Porsche Design Huawei Watch GT 2 Review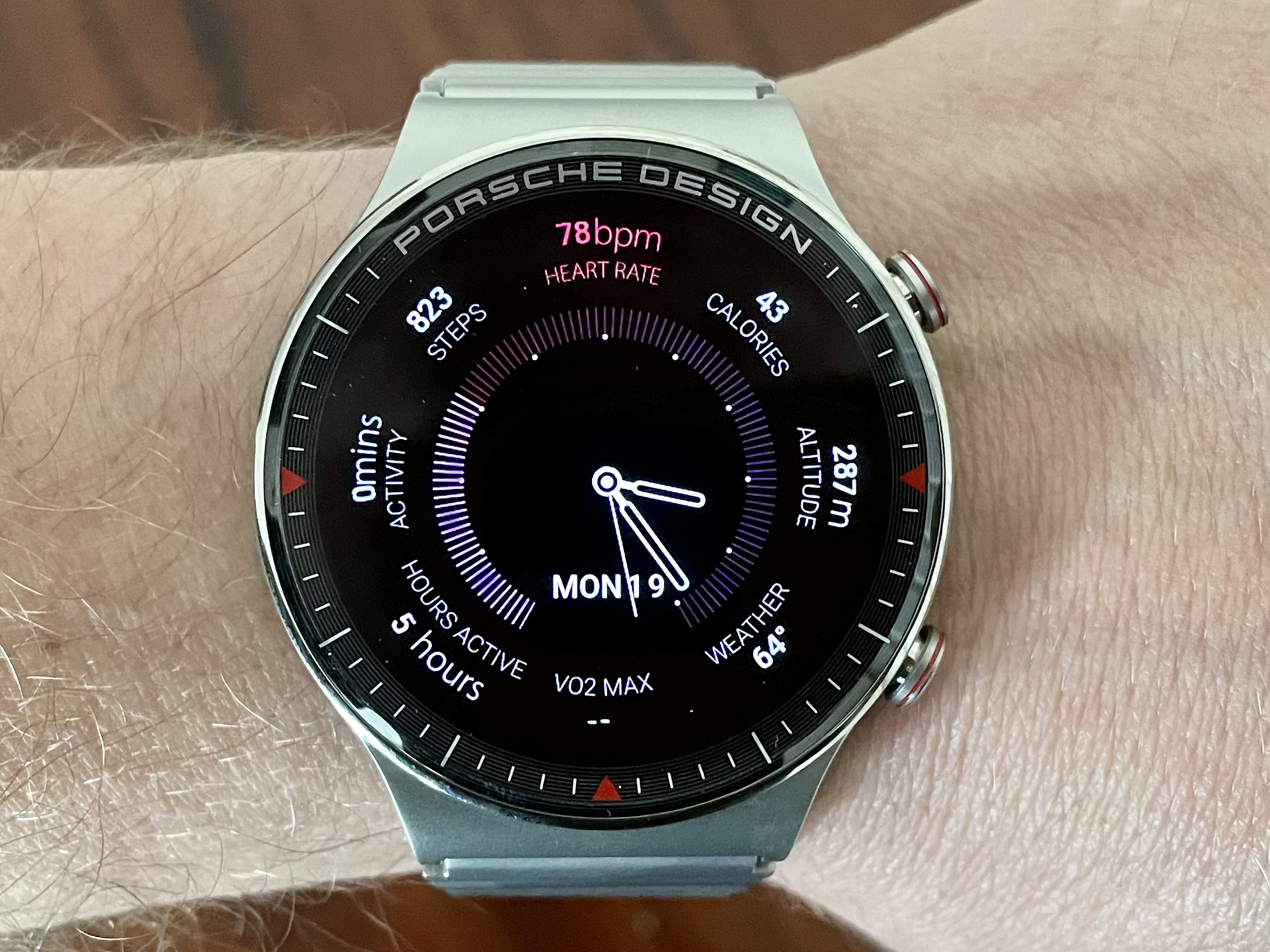 The Porsche Design Huawei Watch GT 2 is a special collaboration that brings a premium look and feel to a popular Huawei smartwatch.
This special edition of the GT2 smartwatch includes a sapphire glass display cover and a titanium band. The watch features Porsche Design branding on its face and a stylized logo on its clasp.
You can use this watch with the iPhone on iOS 9 or higher, and an Android phone running Android 5.0 or higher. I tested it with the iPhone 12 Pro running iOS 14.
The Porsche Design Huawei Watch GT 2 smartwatch is available in China and in the U.K. (for £625, or approximately $874).
Design and Style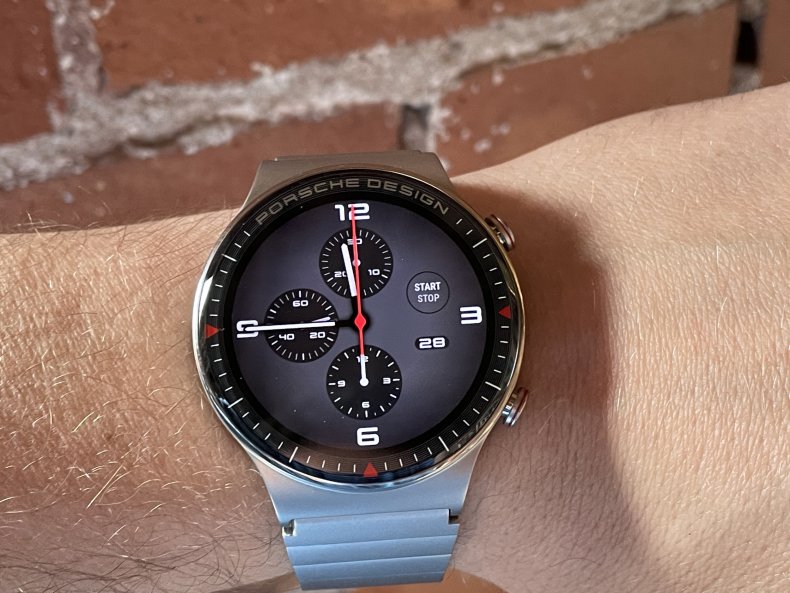 The Porsche Design style is eye-catching, and the large circular face is a welcome break from the squared-off smartwatches I typically test and wear. The style caught the attention of friends and fans of traditional watches.
The Porsche Design logo on its face is prominent but not overdone, and it blends nicely into the overall design of the face. The light color of the titanium body and strap accentuates the dark edge of the watch's face.
I found the preset watch faces offered a nice mix of style from formal and active to information-dense options. There are a range of complications, the proper name for the different sections of information on the watch, and on some faces you can tap to see additional information on the main screen. The sapphire glass face held up well to bumps against doors and even brick without leaving a mark. My Apple Watch Series 6 doesn't hold up that well to similar abuse.
The titanium band is easy to adjust to fit, thanks to the ability to remove links without needing to go to a jeweler. The band held up well to wear for the extended test period, though it did start to show a little mark from where it rubs against my MacBook Air. The watch also comes with a band that's designed for working out. It's effortless to switch bands.
There are two buttons on the right side of the watch face to control the watch, and you can also use the touch screen to scroll through menus and make selections.
This watch has a 5ATM water-resistance rating and designed for activity and workouts for swimming, skiing and more. The 5ATM rating means that the watch can withstand pressure similar to being under 164 feet of water, but it's designed with swimming or splashes in mind, not water sports or diving.
The watch charges with an included wireless charger that you set the watch on.
Features and Specifications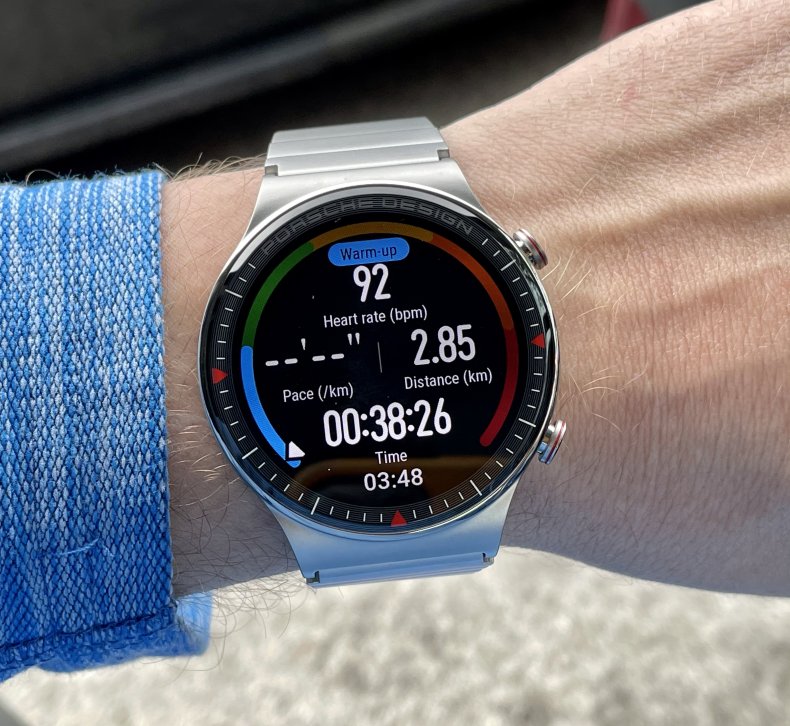 The Porsche Design Huawei Watch GT 2 is compatible with both iPhone and Android. It connects by Bluetooth to your phone, and it can act as a speakerphone for taking calls over Bluetooth, but you cannot buy one with a cellular connection built in.
I rely on the watch for notifications, which mirror those on the iPhone. This allows me to view messages, Slack notifications, social media alerts, to see who is calling me and more. The Huawei Health app allows you to customize some of the notifications, but the control isn't as deep as with the Apple Watch and the iPhone. You cannot respond to most notifications without getting your phone out of your pocket. The ability to answer a call is handy, and the speaker is sufficiently loud, but I still stick to headphones or my phone for any call that lasts longer than a minute or two.
This is a smartwatch geared toward working out, and there are over 100 workout options on it. I mainly tested those for walking and running, but you can select cycling, swimming, driving range, snowboarding, skiing, belly dancing, fishing and many others. If you can think of a workout type, there is an excellent chance that this watch can track it with this smartwatch.
Other features include GPS, SPo2 monitoring, sleep monitoring, heart rate monitoring and air pressure measurement. Other important features and specifications include:
1.39-inch AMOLED touch display
Dimensions: approximately 1.84 inches by 1.84 inches by .45 inches
Weight: 52 grams without strap
Kirin A1 + STL4R9 processor with 4GB memory
Bluetooth 5.1
GPS
5ATM water resistance
The watch's battery life is rated at 14 days on a charge, which feels accurate based on my use. This is a great watch if you don't like the idea of charging a smartwatch every night or every other night. If you plan to listen to music directly from the watch or take many calls on it, the battery life will drop.
One downside to this watch is that you cannot add new apps or watch faces through an app store. All the apps and features are part of the operating system that Huawei includes.
Should You Buy the Porsche Design Huawei Watch GT 2?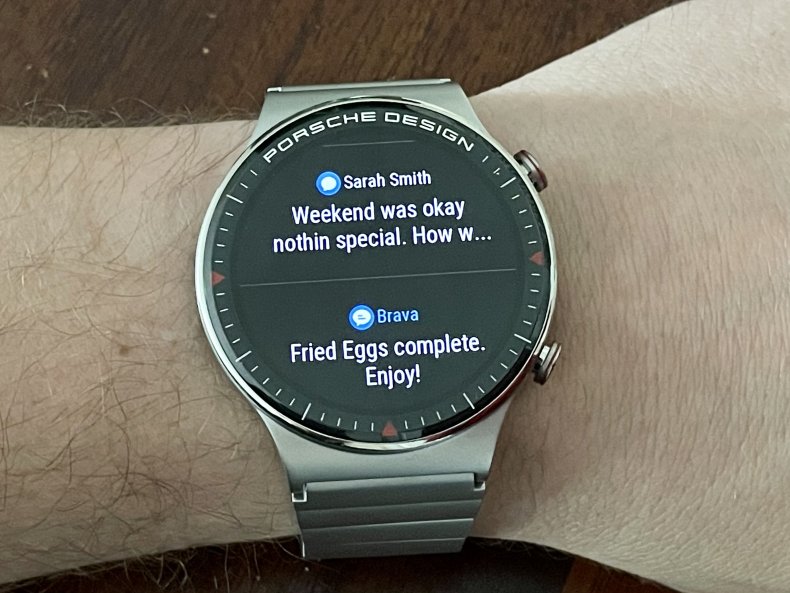 The Porsche Design Huawei Watch GT 2 is a great watch for buyers looking for a stylish smartwatch that stands out in looks, includes almost any imaginable workout and long battery life.
If you want to install apps on your watch and reply to notifications from your wrist, this is not a great option.
Like other Huawei products, the Porsche Design Huawei Watch GT 2 is not available for sale in the U.S.
Buy at Huawei and Porsche Design.
Newsweek may earn a commission from links on this page, but we only recommend products we back. We participate in various affiliate marketing programs, which means we may get paid commissions on editorially chosen products purchased through our links to retailer sites.