Video: Portable Toilets Spiral Into The Sky As Colorado Park-Goers Hide From Windstorm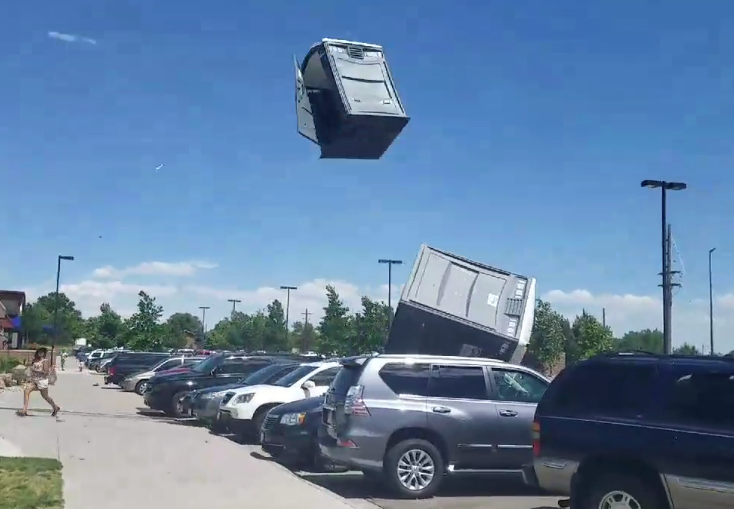 Sudden high-speed winds in Commerce City, Colorado, knocked down tents and blew port-a-potties throughout the sky in video that has since spread rapidly across social media.
Commerce City resident Gabriel Flores uploaded the video last week, which shows an otherwise sunny, clear sky day at a city park becoming chaotic as balloons, garbage bags and large trees can be seen getting whipped around by the dust devil winds. But in perhaps the most jarring part of the video, people can be seen ducking away from full-sized portable toilets swirling through the air above them.
The video shows the intense wind bursts tossing small and large items throughout the park as dozens of parents can be seen protecting their children and laying on the ground. The wind gusts die down after just slightly more than one minute later.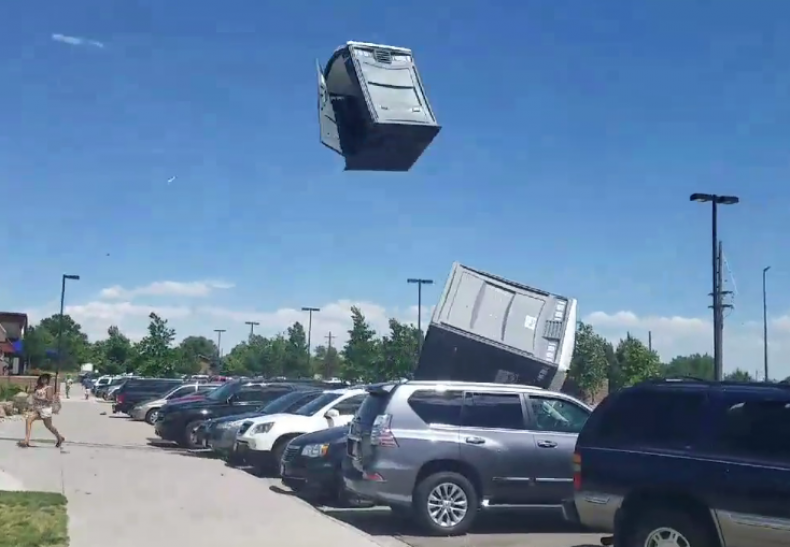 Two United Site Services portable restrooms are slowly wedged out from underneath an awning before wind bursts their doors open and sends the nearly 300-pound toilets swirling into the clear sky above the shocked park-goers. Liquids can be seen spraying from the white top of one portable toilet as it spirals higher and higher into the air. But suddenly, the sky-high toilet turns over and spills out more liquids before it slams back into the ground. A third toilet appears to break apart as it is blown over several vehicles and discarded into a parking lot as toilet paper can be seen streaming out of the open temporary restroom.
Dust devils are typically short, high-speed bursts of swirling air that are vertical and cylindrical in shape. They are rarely major threats to people and property, but are comparable to tornadoes in that they are a vertically oriented rotating column of the wind, the American Meteorological Society writes on its website.