Portland Antifa and Patriot Prayer Counterprotest Erupts Into Violence, Four People Arrested
Four people were arrested after violent clashes between antifa activists and members of the far-right group Patriot Prayer broke out in Portland, Oregon.
The Patriot Prayer rally held in Terry Schrunk Plaza, Chapman and Lownsdale squares, on June 3 was met with counterdemonstrations from antifa members dressed in black with their faces covered.
Portland police said that throughout the event, members of the competing protest groups were seen deploying pepper spray and throwing projectiles, including fireworks, bottles, rocks and ball bearings.
Officers advised localj residents to leave the area as they were "at risk of getting caught in between violent clashes and any law-enforcement actions or arrests."
In a separate tweet, police warned there was continuing "violent assaultive behavior" in downtown Portland which officers were observing.
Patriot Prayer, a far-right group whose leader, Joey Gibson, is running as a Republican candidate for U.S. Senate in Washington state, organized the "freedom march" for Tusitala "Tiny" Toese, a longtime member who is moving away from Oregon, reported the Portland Mercury.
The rally took place almost exactly one year after a similar demonstration organized by Gibson and Patriot Prayer at the Terry Schrunk Plaza in 2017, which also saw violence and arrests after it was met with counterdemonstrations.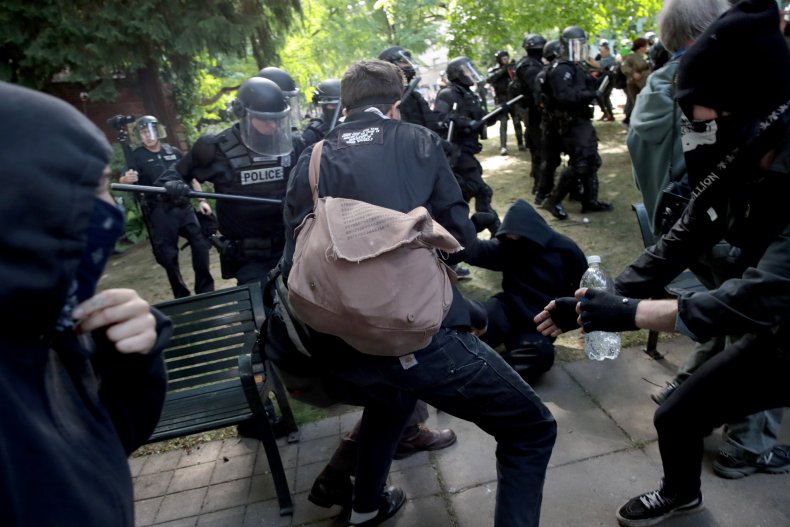 In a Facebook event organizing another protest, the Rose City antifa group described Gibson as a "magnet for violent white supremacists and bigots."
It continued, "The time between then and now has only reinforced our resolve, and the evidence of Patriot Prayer's racist ties has accumulated to undeniable quantities."
Portland Fire and Rescue was on the scene to provide medical evaluations to several people as a result of the clashes; no one required serious medical attention.
Neither group had a permit to hold a rally in the city, police confirmed. The four arrests were made at a number of locations for alleged offenses including disorderly conduct and failure to comply with a lawful order. All four individuals will be arraigned in Multnomah County Court on June 4.
"The intent of our presence today was to provide a safe environment for all participants, nonparticipants and community members while ensuring the peaceful exercise of the First Amendment," said Chief Danielle Outlaw.
"The Police bureau attempted to communicate directly with group organizers through the use of social media, a loud-hailer, and person-to-person communication in an effort to encourage an environment in which Portland community members could safely practice their right to free speech and assembly.
"Bureau members attempted to intercede by separating and arresting people on occasions when people's safety [was] in jeopardy."