Portland Attorney Says Feds Did Not Read Her Rights, Identify Themselves
An Oregon lawyer says she was arrested by federal agents who refused to identify themselves or read her her rights during protests in Portland on Tuesday.
Attorney Jennifer Kristiansen, 37, was arrested after participating in a protest outside a federal courthouse in Portland, as city officials continued to demand the agents leave the area.
Kristiansen was at the protest as part of the "Wall of Moms," a group of mothers who are attempting to act as a human shield blocking officers from assaulting protesters participating in ongoing Black Lives Matter demonstrations against police brutality and racial injustice.
Kristiansen said that the agents who arrested her wore badges that read "Police DHS" but refused to provide any other identifying information. She later reportedly discovered that the agents were from the U.S. Marshals Service.
After being arrested, Kristiansen was criminally charged with assaulting an agent and failing to obey their orders, while also being issued an order to not return to the protest area. She pled not guilty to the charges, saying that an assault did take place but insisting she was the victim rather than the perpetrator.
Kristiansen said she was injured and left badly bruised when she was assaulted physically, and possibly sexually, by one of the agents arresting her. The arrest happened shortly after she placed her arm between a different agent and fellow protesters claims the agent was attacking with a baton.
"He pushes me up against the wall, facing the wall, and uses his left hand to cup my right breast," Kristiansen told Heavy, referring to the agent she claims assaulted her. "And his right hand to flip up my skirt and grab my right butt cheek."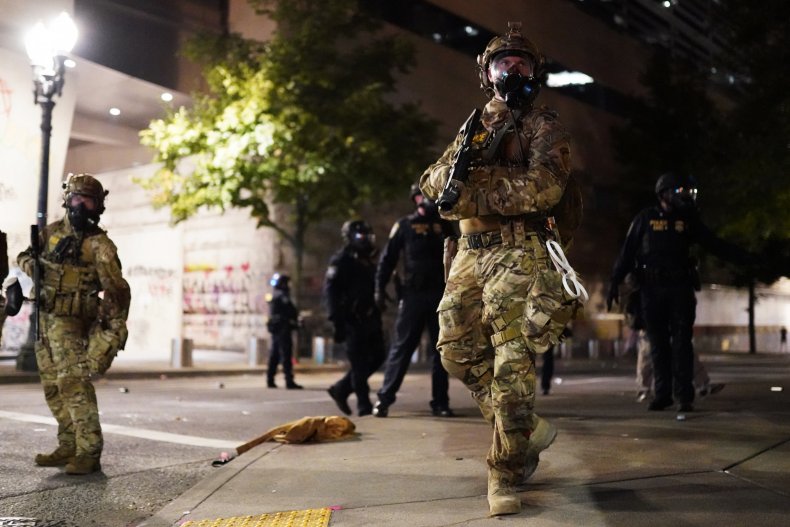 She was then taken into the federal courthouse. Kristiansen said officers would not tell her why she was being detained, read her rights, or even inform her if she was under arrest. While being swarmed by five officers in an elevator, one reportedly told her to "stop resisting" before she said, "I'm 100 pounds, I'm not resisting." The officer then loudly told her to "shut up."
Kristiansen claims the agents attempted to question her but never recited her rights and would not allow her to contact an attorney. She declined to answer their questions.
President Donald Trump ordered the agents to go Portland to restore "law and order" at the ongoing demonstrations. Local officials have demanded they leave, while the state has sued the Trump administration. Other groups including the American Civil Liberties Union have also filed lawsuits aimed at stopping the federal agents from attacking and arresting protesters.
Oregon Governor Kate Brown has said the agents are worsening the situation and described their presence as a political ploy by Trump to win favor among his base in hopes that it will improve his standing in the upcoming presidential election.
Newsweek reached out to the U.S. Marshals Service and the Department of Homeland Security for comment.