Portland Bans Local Police From Cooperating With 'Federal Occupiers'
Portland authorities passed a ban on local police forces working with federal officers, as well as protections for journalists covering the demonstrations on Wednesday.
The two resolutions introduced by Commissioner Chloe Eudaly were unanimously endorsed by the Portland City Council as thousands of protesters against police brutality gathered in the Oregon city last night.
Portland Mayor Ted Wheeler also voted in favor of the moves to curb local law enforcement cooperation with officials described as "federal occupiers" of the city by local authorities.
The Oregonian reported that the ban on working with federal law enforcement agents referred to an "unprecedented and unconstitutional abuse of power" by President Donald Trump's administration.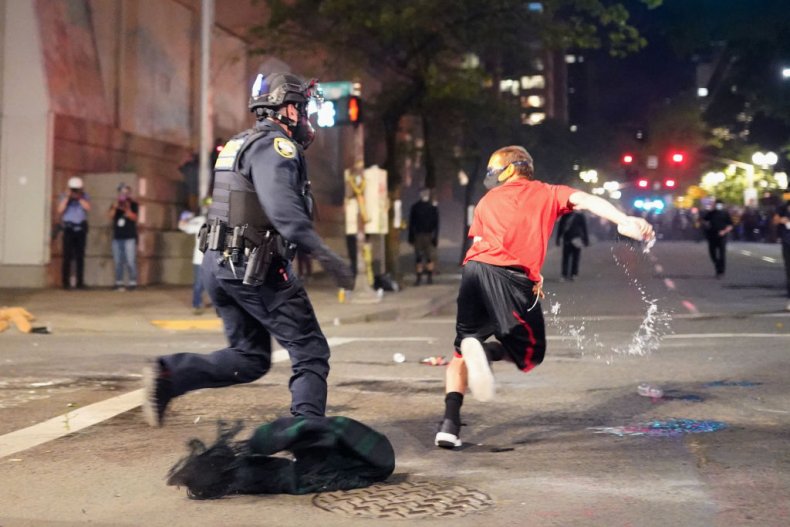 Issuing remarks on the resolution yesterday, Commissioner Eudaly said: "Not only is the Trump administration violating the constitutional rights of Portlanders, but they are also attempting to use Portland as a proving ground for fascism, and they plan to invade cities across the country, cities that are political targets of the President.
"This resolution serves as a statement of our opposition to their presence in our city, direction to our police bureau, a template for policies that other cities can advance, and a national call to action."
Portland passed the measures on the same day Mayor Wheeler appeared to be teargassed by federal officers after he spoke with a crowd of protesters in the city.
In a video posted by The New York Times correspondent Mike Baker, Wheeler said: "I'm not going to lie, it stings, it's hard to breathe, and I can tell you with 100 percent honesty, I saw nothing which provoked this response."
He later added that he was "not afraid" of the situation, but that he was "p***** off" in the wake of the teargassing.
As the mayor approached demonstrators earlier on Wednesday evening to engage in a "listening session" with the crowd, he was met with chants of "f**k Ted Wheeler," and at least one call for his resignation.
One protesters also appeared to dump a bag of tear gas canisters at his feet ahead of his talk with protesters.
"I want to thank the thousands of you who have come out to oppose the Trump administration's occupation of our city," the mayor told demonstrators.
"It is an unconstitutional occupation. The tactics that are being used by our federal officers are abhorrent, they do not act with probable cause, people are not being told who they are being arrested by, and they're being denied basic constitutional rights."
The crowd largely drowned out his opening speech at the "listening session" with chants, jeers and other shouts. At one point, protesters projected a list of four demands on the building behind Wheeler.
The demands included defunding the Portland Police Bureau by at least 50 percent, the release of all protesters in jail, and the resignation of the mayor, according to footage posted by KGW8 reporter Mike Benner.