Portland Stabbings Are Reminder of Oregon's Long History of White Supremacy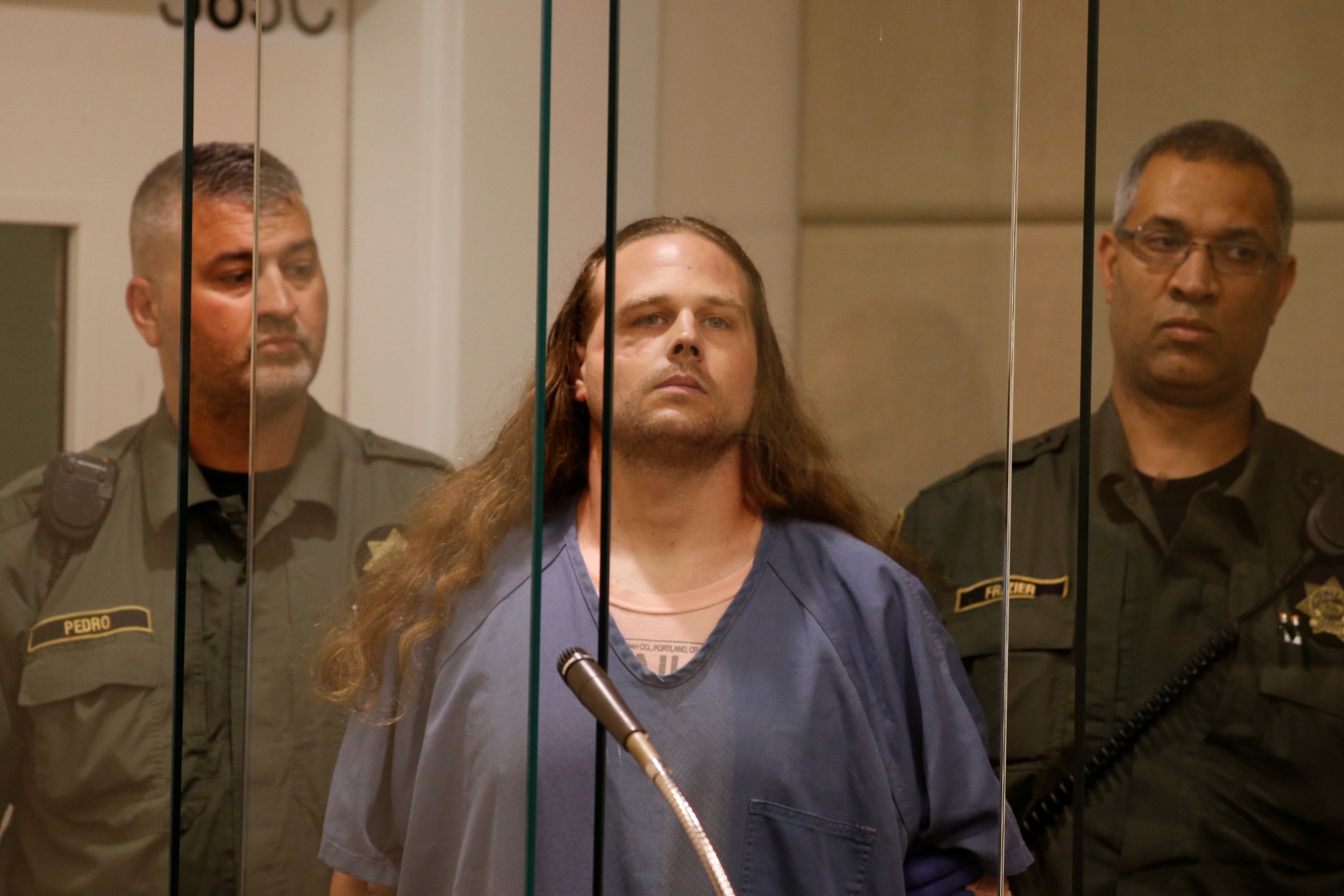 A vicious double murder of two men who came to the aid of a Muslim passenger on a commuter train has shaken the city of Portland, Oregon, to its core. Famed as a haven for liberals and hipsters, Portland has always seen itself as a stronghold of progressive values.
On Saturday, dozens gathered to remember the victims, Taliesin Myrddin Namkai-Meche, 23, and Rick Best, 53, at a candlelight vigil, during which Portland mayor Ted Wheeler said: "These two men died heroes as a result of a horrific act of racist violence."
The man accused of the stabbing, 34-year-old Jeremy Joseph Christian, was a known white nationalist, who had taken part in 'alt-right' rallies in the city where he was photographed by local media giving Nazi salutes. On Facebook, Christian expressed racist and anti-Semitic views.
But Karen Gibson, a professor of urban studies at Portland State University told Oregon Public Broadcasting network after the attack on Friday that the city has not always been a liberal hub. Early settlers in Portland were from the south and when Oregon joined the union in 1859, it was the only state to bar African Americans from living within its borders.
"The idea that Portland is so liberal supersedes this dark, hidden secret about racism," she said.
Those attitudes persisted into the 20th century. In the early 1920s the state had the highest per capita Klu Klux Klan membership in the country, Walidah Imarisha, a Stanford academic who previously taught at Portland State University's Black Studies Department, told the Atlantic
Oregon one of only six states that refused to ratify the 15th amendment—which extended suffrage to African Americans—after the Civil War and it did not do so until 1959. Even today, Portland is one of the whitest cities in America, with a population that is 72.2 percent white and only 6.3 percent African American.
White nationalist groups have long been active in the state, with racist skinhead groups established a presence in Portland in the mid-1980s. That began a wave of racist attacks that culminated in the murder of Ethiopian Mulugeta Seraw in 1988.
Despite the state passing groundbreaking laws to track hate crimes in the wake of the murder, racist groups have continued to thrive.
In 2014, "Operation White Christmas" uncovered a web of white supremacist groups working with outlaw motorcycle gangs in the Portland area involved in arms and drugs trafficking, robberies kidnappings and assaults. Almost 60 suspects were arrested as part of the operation.
And only months before last week's train killings, a brutal racist murder shocked the state.
In August, black teenager Larnell Bruce was mown down by an SUV driven by white supremacist prison gang leader, Russell Courtier, in Gresham, just outside Portland.
Video shows Bruce fleeing for his life on foot after being attacked by Courtier outside a local 7-Eleven. Egged on by his girlfriend, Colleen Hunt, Courtier pursued Bruce in the vehicle and struck him. Bruce died from his injuries.
The recent killings have stirred debate in Portland over the legality of rallies of the kind attended by Christian, where protesters reject attempts to stifle their views as an assault on free speech.
In a Tuesday Facebook posting, Mayor Wheeler called on the federal government to revoke a permit for an alt-right rally planned for June 4, and revoke another planned on June 11.
"Our City is in mourning, our community's anger is real, and the timing and subject of these events can only exacerbate an already difficult situation," he said.
"I am calling on every elected leader in Oregon, every legal agency, every level of law enforcement to stand with me in preventing another tragedy."
Randy Blazak, chairman of the Oregon Coalition Against Hate Crime, told NPR though that long entrenched attitudes and policies would be difficult to uproot.
"There has been an attempt to redress or at least acknowledged some of its history, but it's kind of woven into it up into the modern-day issues around gentrification where we see minority people being pushed out of neighborhoods to make room for incoming moneyed whites.
"I mean it's sort of this long story that's been told that has many chapters. And this unfortunately is just the latest chapter in our history."