Portland Mayor Calls for 'Cease-fire' Meeting with Trump Administration
Portland's mayor called for a meeting with Acting Homeland Security Secretary Chad F. Wolf to discuss the removal of federal agents from the city on Monday night.
Mayor Ted Wheeler said he wanted "immediate" talks to begin with Wolf after clashes between federal law enforcement and protesters continued in the Oregon city over the weekend.
The mayor also indicated that he wanted to discuss a "cease-fire" with the acting DHS secretary amid the ongoing scenes of violence in the city, which have led to a number of injuries.
Posting on social media last night, Wheeler said: "Commissioner Jo Ann Hardesty and I are calling for an immediate meeting with Department of Homeland Security leadership on the ground in Portland and with Acting Secretary Chad Wolf to discuss a cease-fire and the removal of heightened federal forces from Portland."
Newsweek has contacted the Department of Homeland Security for comment. This article will be updated with any response.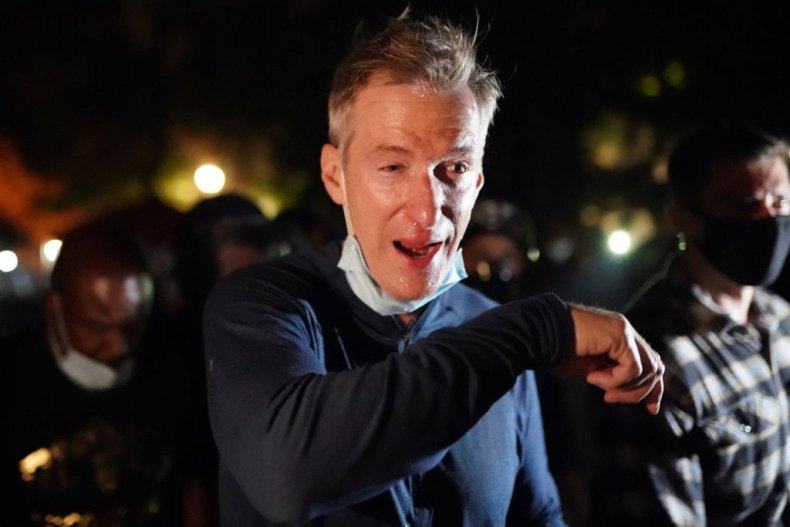 The Portland mayor called for cease-fire talks in the city a day after local police discovered a bag containing Molotov cocktails and loaded rifle magazines on Sunday night.
Officers posted a picture of the two Molotov cocktails and four rifle clips on Twitter in the early hours of Monday, adding that a person had pointed officers to a bag containing the weapons.
"The origin of this ammunition and these destructive devices is under investigation," police said at the time.
On the same night, a federal agent in Portland was filmed kneeling on a woman's back as she told officers she was struggling to breathe amid wider clashes between police and demonstrators.
In a video of the incident posted to social media by a Blaze TV reporter, a woman identifying herself as Noelle Mandolfo could be heard saying: "Get off of me! Why? Why are you doing this?"
Reacting to the scenes in Portland over the weekend, President Donald Trump took aim at protesters and the "Fake News Media" coverage of demonstrations in the city.
"The Fake News Media is trying to portray the Portland and Seattle 'protesters' as wonderful, sweet and innocent people just out for a little stroll," Trump said.
"Actually, they are sick and deranged Anarchists & Agitators who our great men & women of Law Enforcement easily control, but who...would destroy our American cities, and worse, if Sleepy Joe Biden, the puppet of the Left, ever won."