Portland Newsroom Postpones Newscasts for On-the-Job Stress Seminar
A television news station in Portland preempted its planned news programming on Monday so newsroom staff members could participate in a stress and trauma management seminar.
The decision to take a break from the day's news and focus on mental health came at a time when many journalists across the country have left their jobs, citing burnout amid the speed and persistence of the industry as news events such as the ongoing coronavirus pandemic, the 2020 election cycle, the demand for an end to systemic racism and more captured the attention of local, national and international audiences.
Mike Warner, a photojournalist with the Portland-based KATU news station, tweeted a reminder to audiences Sunday night that the station's typical Monday programming would not proceed as scheduled.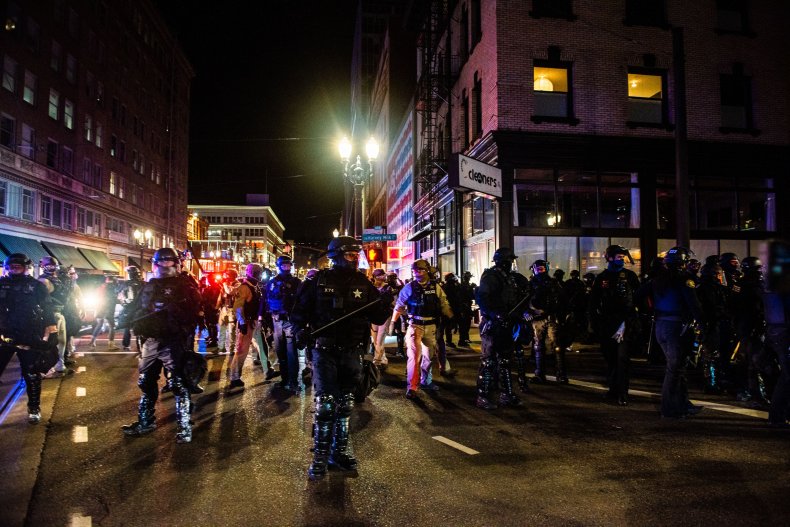 "NO NEWS MONDAY... just a heads up, the @KATUNews morning and afternoon shows have been preempted and will NOT air on Monday, Sep. 27th. The entire news team is attending a seminar to help deal with on-the-job stress and trauma," Warner said in a thread on Twitter. He wrote that in his 25 years in the industry he has "never seen a newsroom do this."
"But it's been a crazy time filled with a raging pandemic, out of control violence, political unrest, riots, and ongoing death & destruction. Personally speaking, seeing bodies daily gets to you," he added.
The station was expecting a visit from individuals with the Poynter Institute for Media Studies, a nonprofit based in St. Petersburg, Florida, that defines itself as a "global leader in journalism." The Poynter Institute offers training for journalists interested in sharpening their skills on a broad array of topics, ranging from fact-checking to encouraging evolution within the newsroom.
Warner said the visitors from the Poynter Institute would lead a seminar "designed to help journalists cope with on-the-job stress and trauma."
Warner retweeted his Sunday evening Twitter thread on Monday morning. That retweet was shared by the station's Twitter account, and an executive producer at the station also shared Warner's Twitter thread and wrote, "We're really happy to be taking this step at KATU."
When a viewer asked one of the anchors about the station's missing morning news program, she responded by directing the viewer to Warner's earlier Twitter thread and added, "I'll see you tomorrow morning!"
On Monday morning, TheWrap reported on KATU's planned seminar, noting a handful of journalists around the country from news stations like WCNC in North Carolina, KCPQ in Washington and WLWT in Ohio were praising KATU for participating in the seminar.
Newsweek reached out to the Poynter Institute for comment and will update this article with any response.