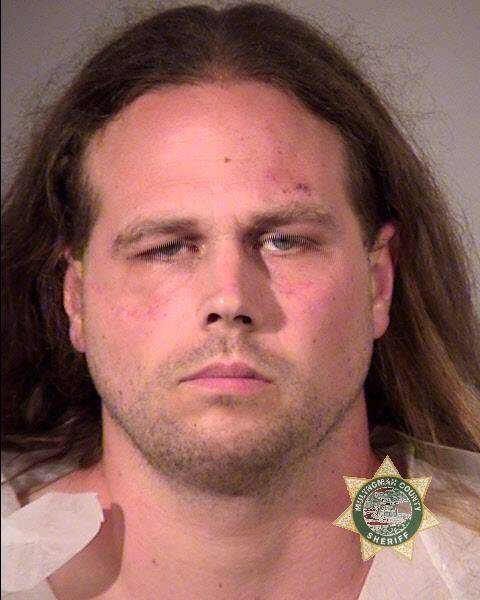 The man arrested for the fatal stabbing of two train passengers who attempted to intervene in an Islamophobic verbal attack was a known white supremacist, according to reports.
Jeremy Christian, 35, is accused of killing army veteran Ricky Best, 53, and Reed College graduate Taliesin Myrddin Namkai Meche, 23, on Friday as they came to the defense of a pair of Muslim passengers on an MAX commuter train, police said.
The women were allegedly being subjected to verbal abuse by Christian, and one was believed to be wearing a hijab — or Muslim veil — police said. The women left the scene of the attack but police have said they have since made contact with them.
A third victim of the attack, Micah David Cole Fletcher, 21, remains in hospital with serious but not life-threatening injuries.
Portland mayor Ted Wheeler in a media conference Saturday called the attack "a horrific act of racist violence".
According to online records, Christian, 35, is being held without bail at the Multnomah County Detention Center without opportunity for bail. He's facing charges of aggravated murder and attempted murder.
On Saturday, it emerged that Christian had appeared at a Portland 'alt-right' rally in April draped in an American Revolutionary War flag, where he yelled racist slurs and gave a Nazi salute, according to the Portland Mercury and Williamette Week.
Police had earlier that day confiscated a baseball bat he was carrying.
On Christian's Facebook page, he expresses support for far-right causes, and expresses racist and anti-Semitic views.
On 9 May, he claims to have challenged Nuremberg prosecutor Ben Ferencz to a debate, in which "I will defend the Nazis."
He reposted a meme on April 28 calling for mosques to be destroyed as a response to 9/11, and criticizing the removal of Confederate era statues in southern U.S. states, as well as memes attacking activists who have confronted alt-right protesters at rallies.
Renn Cannon, the special agent in charge of the FBI office in Portland, told reporters Saturday :
"It's too early to say whether last night's violence was an act of domestic terrorism or a federal hate crime."
Christian is scheduled to appear in court Tuesday.
The attack came on the eve of the Muslim holy month of Ramadan.
On Sunday, Muslim organizations had raised $189,000 for victims of the stabbing and their families, with almost 5,000 people offering donations.
Southern Poverty Law Center Intelligence Project Director Heidi Beirich told NPR that the attack comes amid a rising number of Islamophobic incidents.
"We have seen since the latter parts of the Obama administration an incredible rise in the frequency of attacks like this, hate crime attacks and domestic terrorism attacks," said Beirich.
"And the targets of those hate crimes have tended to be those populations demonized by the Trump campaign and now Trump administration."
In the wake of the attack, the Council on American-Islamic Relations called on President Trump to denounce "rising bigotry" and acts of violence against Muslims.
"President Trump must speak out personally against the rising tide of Islamophobia and other forms of bigotry and racism in our nation that he has provoked through his numerous statements, policies and appointments that have negatively impacted minority communities," CAIR National Executive Director Nihad Awad said in a statement.