Portland, Oregon, Police Clear 'Autonomous Zone,' Arrests Made
Portland, Oregon, police officers cleared Lownsdale Square Park on Thursday, hours after demonstrators once again attempted to establish an autonomous zone.
Demonstrators started erecting tents in Lownsdale Square on Tuesday night, dubbing the area the "Chinook Land Autonomous Territory." The crowd dissipated early Wednesday morning but returned that night, prompting officers to once again clear the area early Thursday morning.
People in the area were given a 10-minute warning to disperse, according to the police department, after which they were subject to the use of force and arrest for trespassing. The police department "made some arrests," but it has yet to release details.
One video posted on Twitter by Dan McCarthy, a reporter with KATU, showed officers pushing a man off a bicycle and detaining the person on the ground.
Both Chapman Square Park and Lownsdale Square Park were closed and will remain closed to the public until "needed repairs are made."
Newsweek reached out to the Portland Police Department for comment but did not receive a response in time for publication.
The Multnomah County Sheriff's Office assisted Portland officers with clearing the area, according to Sheriff Mike Reese. He posted photos of the parks on Twitter and said they were "badly damaged and will need extensive restoration."
On Tuesday, officers said a group of a couple hundred people gathered at Revolution Hall and marched through downtown Portland to Pioneer Square. Some demonstrators then went to the Justice Center, located adjacent from the Chapman and Lonsdale parks and set up barricades in the streets using kitchen appliances, road blockades and flashing traffic signs.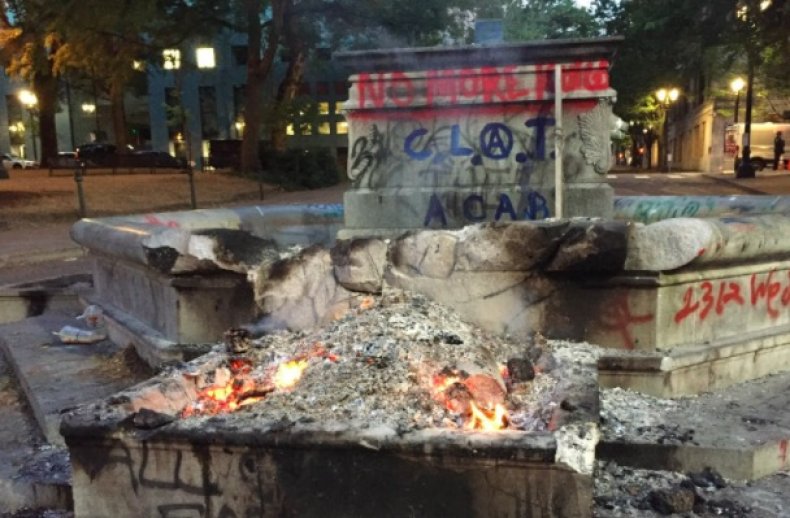 Around 1 a.m., demonstrators abandoned the barricades and walked to the Central Precinct one street over "in an attempt to disrupt officers as they walked in from the end of their shift," the department said. Officers removed some of the barricade about 20 minutes later, which protesters rebuilt, but the crowd dispersed over the "next several hours."
Portland police moved in to clear the area on Thursday after the city of Portland issued a temporary closure so much needed repairs and maintenance could be conducted. People broke into closed public restrooms and vandalized them to the point that they are no longer functional, the Parks & Recreation Department told KPTV. Grass, benches, artwork and other amenities were also "severely vandalized and need immediate attention."
This isn't the first time protesters in Portland have attempted to establish an "autonomous zone." In June, they took over an area they believed to be surrounding Mayor Ted Wheeler's apartment. It was short-lived, though, as Portland police officers cleared the area within hours.
Autonomous zones, such as the ones established in Seattle and Washington, D.C., drew the ire of President Donald Trump, who urged local officials to act swiftly to curb the movements. On Thursday, acting Customs and Border Protection Commissioner Mark Morgan told Fox News the people who set up barricades in Portland were "criminals," "not protesters."