Kettling, Pepper Spray Used By Portland Police to Detain Protesters
Portland police officers formed a perimeter to detain around 100 demonstrators during a night of protests in Oregon's biggest city.
It was the first time that the city's officers, who have been dealing with frequent demonstrations since last spring largely over racial inequality and police brutality, have used the tactic, also known as "kettling."
The action followed a call on social media for an "autonomous demonstration" against Department of Homeland Security (DHS) officers in the city and a demand for police accountability regarding racial violence.
The group, which started from 8.30 p.m. on Friday on Northwest 11th Avenue and Johnson Street in the Pearl District, grew in size as it began marching in the streets around half an hour later.
Portland Police issued a series of statements on Twitter urging people to move off the street and onto the sidewalk. Protesters were then threatened with arrest, "or the use of force including, but not limited to, crowd control munitions and/or impact weapons."
At around 9.20 p.m., officers set up a perimeter around the group. Portland Police tweeted: "To everyone inside the perimeter: you are being detained for investigation of a crime. You are not free to leave. You must stay where you are and comply with officers' lawful orders."
"Failure to comply may result in force being used against you to include, but not limited to, crowd control agents, impact weapons, or tear gas. If you attempt to leave the area, you are subject to arrest," the department added in the tweet.
Police later described the measure as "a temporary detention," and that "we will be removing you one at a time." An officer said over a loudspeaker: "You are not free to leave. You must stay where you are and comply with officers' lawful orders," FOX 12 Oregon reported.
People surrounded the detained protesters with some shouting "let them go" and others shouting, "lock them up."
At around 10 p.m. livestream footage showed two people outside the perimeter being pepper-sprayed by officers. The outlet also said that officers pepper-sprayed another protester at around 11.30 p.m.
When contacted for comment, Portland Police referred Newsweek to its press release in which it said 13 people were charged with crimes.
"As the event unfolded, groups formed on the outside and physically challenged officers. Some threw rocks and full cans of beer at officers," the statement said.
"Officers deployed some OC (pepper) spray and one impact munition. Arrests were made, including two suspects carrying firearms, wearing body armor and helmets," it added.
Friday's action was the second night in a row that police in Portland had to respond to protesters. On Thursday night, federal officers used tear gas during clashes with protesters outside the Hatfield U.S. Courthouse which was vandalized.
Portland Mayor Ted Wheeler had previously told Oregon Live: "If kettling is to be used as a technique it has to be well-planned and well-trained for."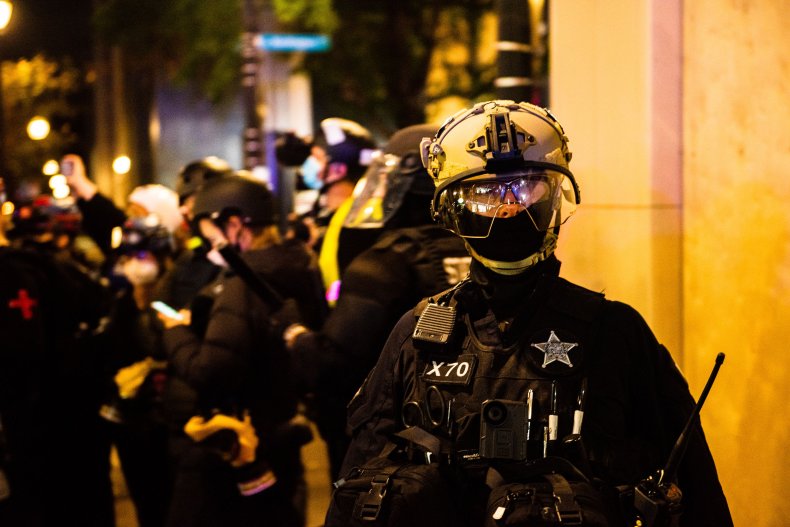 This story has been updated to include a response to Newsweek from Portland Police.