Portland Photojournalist Arrested During Protests Describes Abuse by Federal Agents
A photojournalist who was arrested in Portland has said that federal agents abused her and other detained protesters—including by slamming their heads into walls.
Grace Morgan told Newsweek that she was held by officers with the U.S. Marshals Service inside the Mark O. Hatfield United States Courthouse for more than five hours on Monday, before being released without charge.
The federal courthouse in downtown Portland has become a flashpoint during protests in Portland, which has been rocked by 61 consecutive nights of protests since the death of George Floyd, a Black man, in Minneapolis police custody in May.
In recent days, federal agents deployed to the city to quell unrest and protect federal property have clashed with protesters, firing tear gas and riot munitions to disperse crowds on numerous occasions.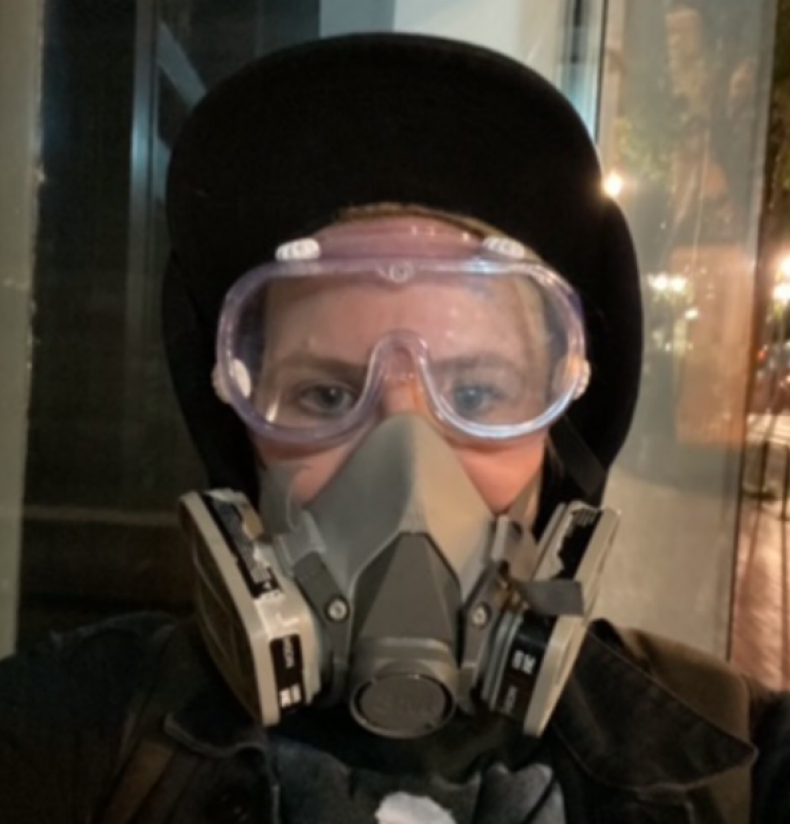 Early Monday, federal agents fired tear gas, flash bangs and pepper balls at protesters, The Associated Press reported, after some protesters had climbed over a fence erected to protect the courthouse, while others reportedly shot fireworks, banged on the fence and projected lights onto the building.
Morgan, 32, said federal agents had emerged from the courthouse at around 1 a.m. and formed a riot line. Moments later, Morgan said they "targeted and rushed" Noelle Mandolfo, a 30-year-old yoga teacher from Denver, Colorado.
Morgan filmed as federal agents pinned Mandolfo to the ground, adding that they had a "hard time" arresting her because they were immediately surrounded by other protesters and reporters.
"Eventually, they got her up and started to march her back to the courthouse, still surrounded and followed by at least 50 people yelling and filming," she said.
Morgan said as Mandolfo was being taken away, tear gas was fired.
"They detonated tear gas to disperse the crowd following them," she said. "A live canister rolled right to my feet and started gassing. I kicked it away from my body and then was tackled from behind by two U.S. Marshals agents and arrested."
She and other arrested protesters were taken off the street and to the courthouse's parking garage and told to face a cement wall while they were searched and hancuffed, Morgan said.
"They then took us back to the parking garage of the courthouse and shoved our faces into the wall and searched us and took our things."
"Officers then turned us around and took pictures of our faces in the parking garage, then we were taken upstairs and searched again. Repeatedly, we were told to 'face the wall' and then an officer would put his hand on the back of our heads and slam our face into it."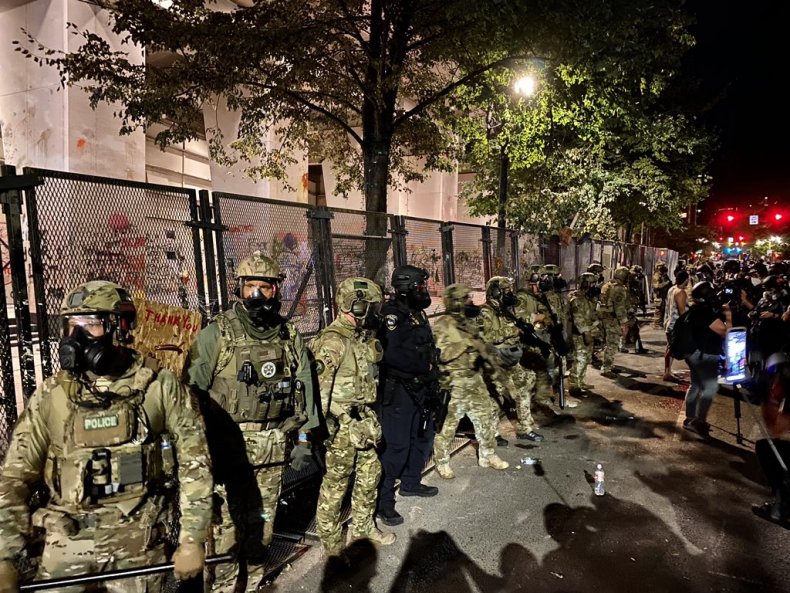 She added: "From there we were taken to several different floors and walked around, made to stop every so often and 'face the wall.' Each time an officer put his hand on the back of my head and hit it against the wall. Sometimes harder than others.
"I had gotten maced so I couldn't see my surroundings at that point. We were shackled and cuffed and then put in a holding cell for five hours."
Morgan added that "at no point were any of us told why we were under arrest."
Eventually, Morgan said she was told that the video footage she had captured had been reviewed and she was free to go.
"They told me that my footage had been reviewed and the Attorney General had decided to drop all charges and release me, so I was given my things back and sent back outside. They did destroy a lot of my stuff unnecessarily."
Morgan said she has been documenting the protests in Portland almost every night since they started.
"I've been out almost all 61 nights except for a few nights I had to take off when I was injured," she said, before heading out again on Monday night.
"The feds slashed the straps on my gas mask last night, so I'm out here with basically nothing tonight and can't go to the front lines," she wrote in a tweet.
"It's been incredibly scary and also powerful and amazing," she said. "It's been incredible to see Portland protesters evolve and become more organized and complex in their defense tactics, and also not back down to the occupation of our city.
"But also, we are routinely shot at and gassed every single night for exercising our First Amendment rights. What is happening in the streets here is absolutely a revolution, but also terrifying."
The U.S. Marshals Service has been contacted for comment.