Portland Police Accrue Millions In Extra Costs Amid Protests As City Cuts Budget
Portland's police chief estimates overtime pay for officers assigned to the city's ongoing protests, coupled with material expenses and damage repairs, has cost the law enforcement bureau at least $6.2 million over the last four weeks.
The number was announced by Portland Police Chief Chuck Lovell, who called the amount "staggering" and noted it was only a baseline calculation.
"The full realized costs for the demonstrations are more than $6.2 million at this time. This does not include yet to be determined costs, including straight time paid to sworn and professional staff members who are on-duty, but reassigned to these demonstrations," Lovell said. "This is a staggering sum, especially when we know many of us would rather those funds be used for the reinvestment so many truly desire."
The large price tag comes after the Portland City Council approved a $15 million budget cut for the police department for the 2020-21 fiscal year, local news outlets reported.
This will mark the first decrease in annual funding to Portland police in recent years, although the final number drew criticism from activists who pushed for cuts of $50 million. The next fiscal year begins in July.
Portland's police bureau is expected to receive roughly $229 million between July 2020 and June 2021, down from roughly $244 million received over the last year. A report published by local news station KGW after Portland's new budget passed said city police units previously assigned to schools, public transit systems and gun violence investigations will be disbanded.
Newsweek reached out to the City of Portland and Portland Police Bureau for more information but has not received a reply. This story will be updated with any response.
Portland protestors have demonstrated every day for close to one month, gathering to rally against police violence and systemic racism in the aftermath of George Floyd's death in custody of Minneapolis police officers on May 25.
His death sparked demonstrations across the world, in addition to global conversations about the pattern of abuse by white police officers against people of color. The movement has ushered in widespread calls for substantive reform to law enforcement agencies, primarily through cuts to funding.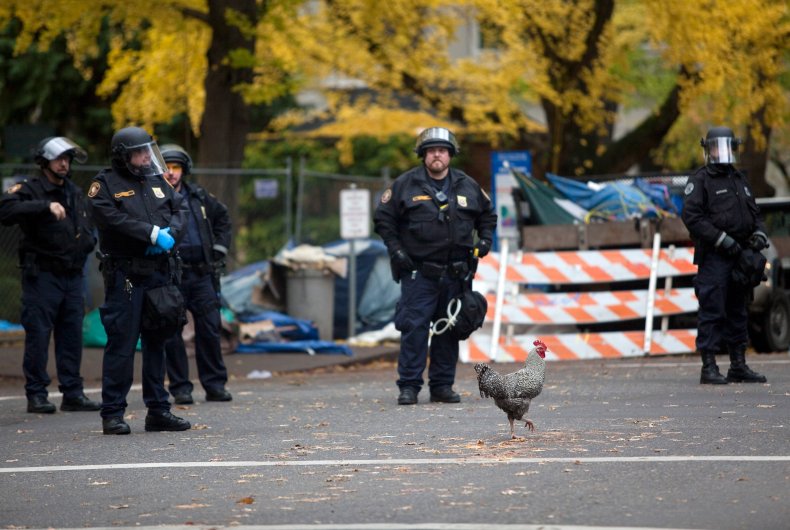 Protestors have clashed with Portland police amid the city's ongoing rallies. Last Wednesday, demonstrators locked police officers inside one of the bureau's precinct buildings with rope originally attached to a flagpole outside.
"The front door to Central Precinct was locked from the outside with the u-lock. It had to be cut off from the outside so those inside could leave," the police bureau wrote on Twitter. "The rope was taken by protestors from the flag pole and tied to the roll-up doors on the Southeast corner of the building."