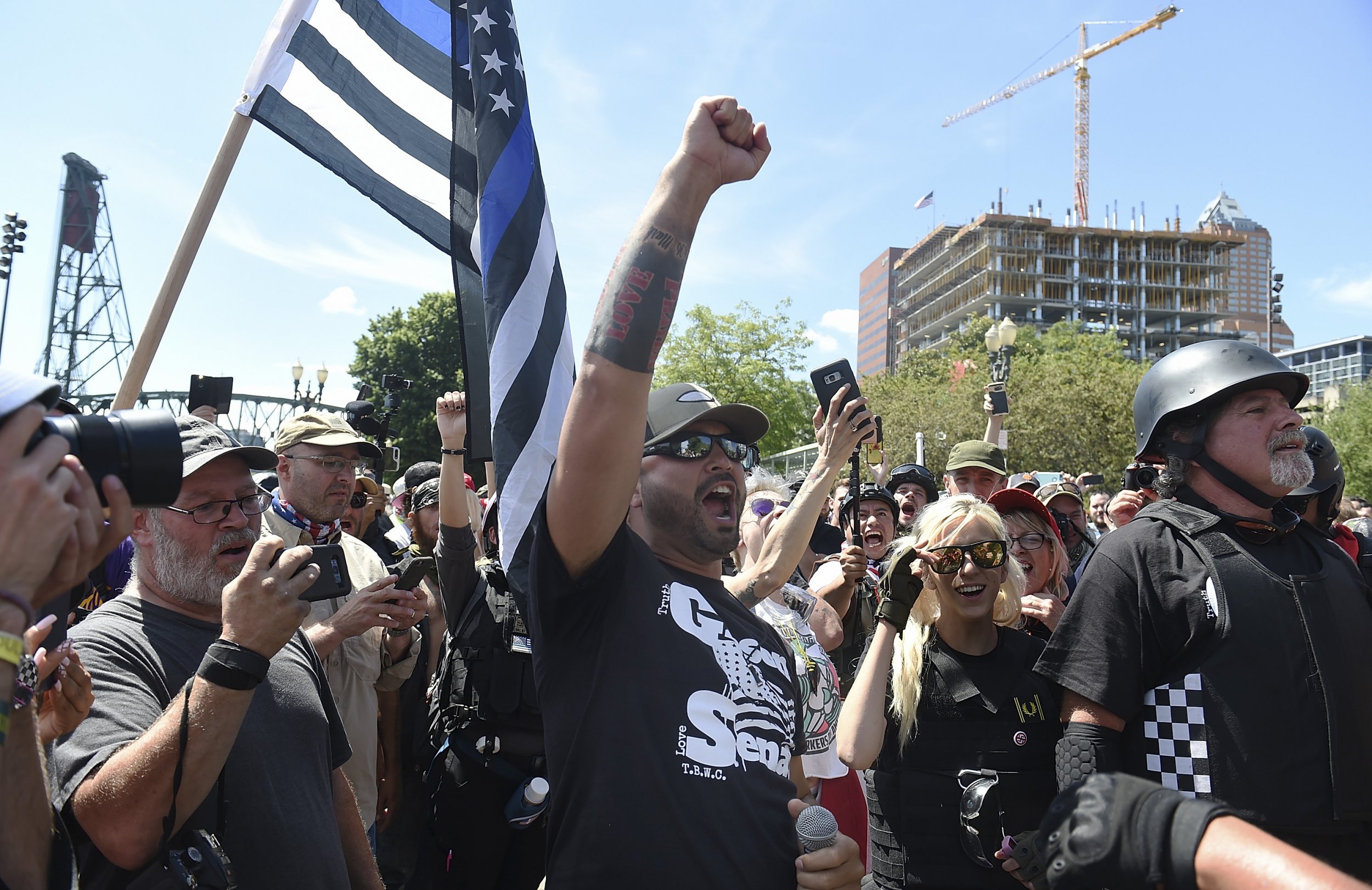 Police in Portland, Oregon, are facing backlash after a news report showed that an officer had friendly communications with the leader of a far-right group that has been involved in multiple violent clashes.
On Thursday, Willamette Week published an article detailing the rapport between police Lieutenant Jeff Niiya and Joey Gibson, the leader of Patriot Prayer.
The texts showed communication about left-wing protesters, and one exchange appeared to show Niiya advising Gibson about how to help Patriot Prayer member Tusitala "Tiny" Toese avoid arrest. At the time, Toese had an active warrant and had previously been arrested by police. The report noted that Niiya leads the department's team that patrols protests.
"Just make sure he doesn't do anything which may draw our attention," Niiya wrote. "If he still has the warrant in the system (I don't run you guys so I don't personally know) the officers could arrest him. I don't see a need to arrest on the warrant unless there is a reason."
The Willamette Week report said that "Portland police officers attempt to reach out to all groups the bureau knows plan to demonstrate in Portland."
"The Portland Police Bureau has strong organizational values that encompass integrity and accountability. We have also pledged transparency to our community," said Chief Danielle Outlaw told Newsweek in a statement. "I have directed an internal investigation to review the context of these communications and determine if any Bureau directives were violated. If anything is identified that is deemed outside of our values and directives, it will be addressed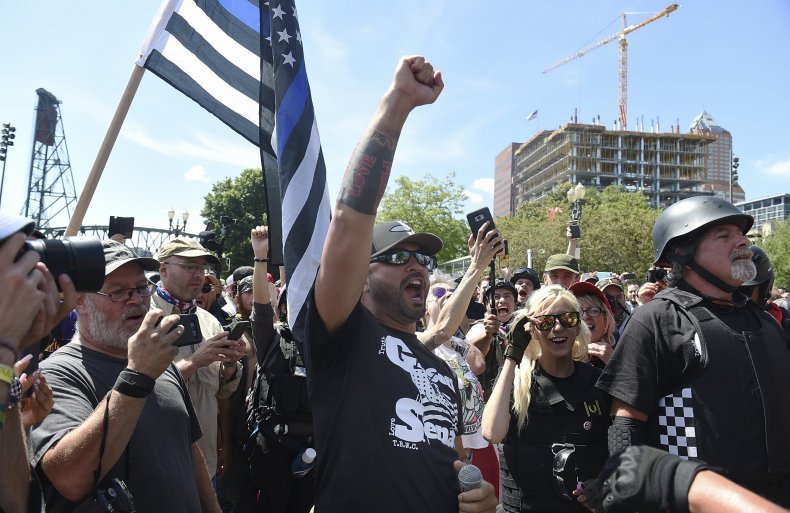 Rallies for Patriot Prayer have been protested by anti-fascist demonstrators and regularly ended in violence. In November, Portland, police arrested six people after clashes an event held by Patriot Prayer. The November incident followed clashes at Patriot Prayer events in October, August and June.
"I am not shocked, and I am not surprised at today's reporting of Lt. Jeff Niiya's collaboration with Patriot Prayer leader Joey Gibson over text to provide aid and support for their hate marches," Portland City Councilwoman Jo Ann Hardesty said, according to the Associated Press.
"This story, like many that have come before it, simply confirms what many in the community have already known — there are members of the Portland police force who work in collusion with right-wing extremists."
Portland Mayor Ted Wheeler, who last month received a death threat from a man who frequently attends Patriot Prayer events, called for an investigation into the communication, according to Oregon Public Broadcasting.
Gibson called his relationship with Niiya "sweet" in the report. The far-right leader released a statement on Thursday criticizing Wheeler.
"His job was to talk with as many activist as possible to be able to predict what the protests will be like. His main goal was to prevent conflict as much as possible. The only time he told me the locations of other groups was when I was trying to avoid them and the conflict. He was literally doing his job and the mayor throws him under the bus like he usually does to the police," the statement said, according to local television station KVAL.
Thursday's report comes after previously accusations from left-wing activists that Portland police favor far-right groups.
Similar accusations have been levied at law enforcement personnel in California.
Reporting from The Guardian has detailed how California law enforcement worked with neo-Nazis to prosecute left-wing protesters after clashes between anti-fascists and far-right figures at a 2016 event in Sacramento.