Portland Police Oversight Board Members Resign, Say There Is No Accountability
Three members of a volunteer police advisory board in Portland have resigned within 24 hours, citing failed commitments within the agency tasked with police accountability.
The three members have rescinded their place in the 11-person Citizen Review Committee, which serves as a volunteer advisory board to the Independent Police Review—the city's police oversight agency that investigates complaints made against police officers.
"The events of this past weekend were a tipping point for me," wrote member Adam Green in his Wednesday resignation letter.
Last weekend, a Portland resident called Aaron J. Danielson was shot and killed when supporters of President Donald Trump clashed with protesters against police brutality.
Following the shooting, protesters gathered outside of Portland Mayor Ted Wheeler's home and called for his resignation. On Monday, video emerged of a police officer repeatedly punching a protester on the ground while trying to detain him.
"We continue to witness excessive force used by officers on the streets. Members of the media continue to be threatened. Armed Trump supporters are allowed to parade through downtown Portland while pointing guns at people that aren't wearing Trump gear."
"These are just a few examples of a failed system with failed leadership. I can no longer support this system in any way," Green, who was appointed as a recorder at the Citizen Review Committee in April of this year, said.
The other two members that have resigned were Hillary Houck, appointed to the committee two years ago, and Carol Johnson, an attorney and director of civil rights at Oregon Labor and Industries.
Portland's City Council has referred a measure to the November ballot asking citizens to scrap the Independent Police Review and replace it with a new model supported by Portland City Commissioner Jo Ann Hardesty.
In the meantime, chair of the CRC Candace Avalos, who supports the overhaul, said the Independent Police Review has stopped recruitment for the oversight board at a time when both agencies are due to see their workload rise.
Portland has been an epicenter of protest since the killing of George Floyd in Minneapolis in May. The city has seen more than 90 days of consecutive demonstrations.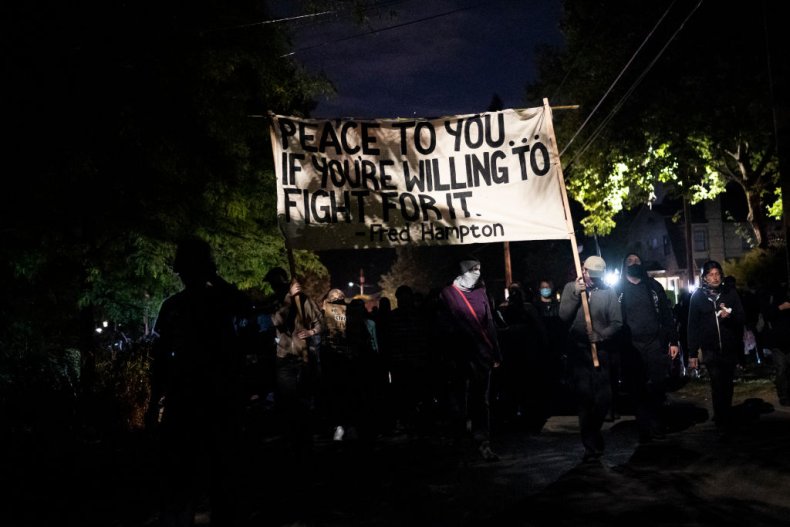 Both President Trump and his election rival Joe Biden have commented on the city's situation. Biden condemned all violence "unequivocally (...) whether on the left or the right" in a statement on his campaign's website, while Trump blamed the violence in the city on its Mayor.
"Ted Wheeler, the wacky Radical Left Do Nothing Democrat Mayor of Portland, who has watched great death and destruction of his City during his tenure, thinks this lawless situation should go on forever. Wrong! Portland will never recover with a fool for a Mayor," Trump tweeted.