Portland Protester Kneeled on By Federal Agents Speaks Out After 18-Hour Ordeal
Noelle Mandolfo didn't know why federal agents in Portland suddenly tackled her, with one seen kneeling on her back as they pinned her to the ground.
Videos widely shared on social media show the petite 30-year-old yoga teacher yelling "I can't breathe!" and repeatedly asking the officers "Why?" as they pinned her to the ground outside the Mark O. Hatfield United States Courthouse in the early hours of Monday morning.
Now, Mandolfo has told Newsweek that her arrest was just the start of a grim 18-hour ordeal, recalling how she was "basically hog-tied" in a cell for hours, denied medical attention and only given one small meal that was "like dog food."
Mandolfo said she was about to leave the protest and the city when she was grabbed and suddenly thrown to the ground by federal agents.
She was taking a road trip around the Pacific Northwest, she said, because the lease on her home in Denver, Colorado had ended. After the trip, she was planning to head down to California to stay with her father.
But before that, she decided to stop in Portland to join the Black Lives Matter protests that have taken place in the city for more than 60 consecutive nights since the death of George Floyd in May.
"I was only supposed to be there for the evening," she told Newsweek. "I was literally heading away from the building towards my car… when I was tackled and assaulted. I was so confused and overwhelmed, which is why I kept asking 'Why?'"
Mandolfo said the woman seen in videos stepping in to try and help her when she was being detained is called Maureen.
"She was a mom and she saw what was happening and she was screaming, 'Leave her alone, get off of her! You're hurting her!' She was very upset," Mandolfo said.
"At one point, she came up to me and lifted my head, and moved the hair out of my face. The feds pushed her on the ground and she flailed and screamed in disgust and fear. They arrested her too. Her name hasn't been mentioned, but her bravery deserves a name."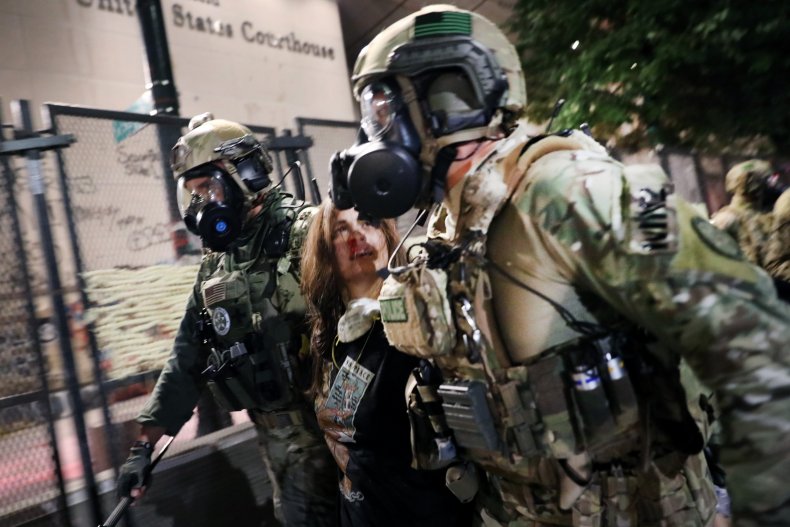 Mandolfo was pictured with a bloodied nose as she was hauled away by federal agents a short time later—but she said it was 16 hours before she was actually processed and booked into the system.
"They locked us up in a chain around my chest and clipped me into handcuffs attached to the chain. I was basically hog tied… we had ankle cuffs on the entire time," she said.
Mandolfo said she, Maureen and Grace Morgan, a photojournalist who was also arrested, were supposed to be transferred to the jail in the Multnomah County Justice Center at around 6 a.m. on Monday.
"But instead, they released Grace and Maureen at about 5.30 a.m. and then 'forgot' to take the chest cuffs off of me for two hours," she said.
"I kept trying politely (excuse me sir) to get them off because it was so tight, I couldn't even remove my pants to use the toilet in the cell."
She added: "The only food they gave me was about 8 hours in, it was a small box of mushed up vegetables and ham.
"It looked like dog food and made me nauseous. I ended up using it as a heating pad on my womb because I was menstruating and it helped me fall asleep on the cold metal bench… there were no trash bins so I had to wear the same pad the entire 18 hours."
Mandolfo said she had requested medical attention when she was first taken into custody, but said federal agents "ignored me all day."
Sixteen hours in, she was finally booked into the system.
"When I was getting booked, I requested medical care again, this is when the agent told me that the Justice Center doesn't have medical supplies.
"It upset me that they detained me for so many hours, refusing to book me or bring me to the jail across the street where they have regular water fountains, better food, and medical care."
Morgan backed up Mandolfo's account, telling Newsweek shortly after she was released that Mandolfo had been left "bleeding on the floor and bench of the cell."
"She has cuts and bruises all over her face and arms and cracked fingernails. They gave her absolutely no medical attention," Morgan said.
She added that lots of people had been filming federal agents outside the courthouse and yelling, but they "targeted and rushed Noelle first."
Morgan also said that federal agents had been brutal with arrested protesters, saying they had been told to face a cement wall while they were searched and handcuffed.
"Repeatedly, we were told to 'face the wall' and then an officer would put his hand on the back of our heads and slam our face into it," she said.
Mandolfo added that she was never given a phone call or a public defender.
"What happened, thankfully so, was I was placed in [a] private cell while they added new women to the cell I had been in," she said.
"While sitting there, I overheard a public defender sharing a bunch of helpful information to another inmate in the adjacent cell.
"When they finished speaking I said, 'Can you help me too?' I know I have a guardian angel because he came in, said he didn't know my case, but helped me anyway. He helped me contact my father and the hotel I was staying at for the night."
Despite 18 hours in custody, Mandolfo was relieved to find her car had not been towed when she was released.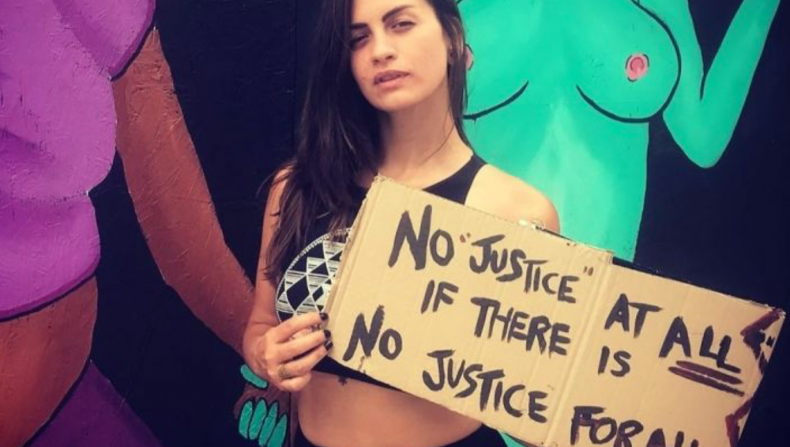 A GoFundMe page started by Ellen Tuohy, a friend of Mandolfo's, has raised more than $6,000 in a day to help cover the cost of her legal fees. "Anything remaining will be donated to organizations related to the cause," Tuohy wrote.
"This case and others like her are an attack not only on our communities but also our democracy," she added.
And while Mandolfo says she has now received medical treatment for her injuries, she is still feeling "really sore."
"I actually just got out of urgent care where they documented my injuries," she said. "My most concerning one is that I'm having difficulty breathing deeply which is from the brute force of kneeling. His positioning pressed down on my sternum which was collapsing my lungs.
"The streets were also covered in tear gas and mace. When they tackled me my mask went flying and so I had no protection from the gas, which resulted in nausea and trouble breathing.
"They also shoved my face into the street where many, many, many gas canisters were tossed… My whole face was red and burning from the gas."
Nightly protests in Portland have descended into violence on numerous occasions, with federal agents deploying tear gas and less-lethal ammunitions at protesters.
Some demonstrators have targeted the federal courthouse where federal agents are stationed, throwing rocks, fireworks and other projectiles, according to reports.
Mandolfo said it was only after federal agents had taken her to the courthouse's garage that she was told she was being detained for assaulting an officer with a laser.
A spokesperson for U.S. Attorney Billy Williams' office confirmed to Newsweek that Mandolfo is charged with assaulting an officer with a laser.
Mandolfo denies this, and said she had met other protesters who said they were also being falsely accused.
"When they got me in the garage they said I was assaulting an officer with lasers. I absolutely did not and told them this. They told me they had evidence of me doing so which I knew was a blatant lie," she said.
"A woman named Rebecca who was added to my cell later that day said the same thing happened to her. As I was leaving the courthouse, two other men who we're being released said the same thing about their reports."
The Department of Homeland Security and the U.S. Marshals Service did not respond to requests for comment.
This article has been updated to include additional comments from Mandolfo and information from the U.S. Attorney's Office.