Portland Protester Kneeled on by Federal Agents Left 'Bleeding on the Floor' in Jail
A Portland protester filmed yelling that she couldn't breathe as a federal agent kneeled on her back while arresting her was allegedly left bleeding on the floor while in custody.
Noelle Mandolfo, 30, of Denver, Colorado was seen in videos posted on social media being pinned to the ground by federal officers outside the Mark O. Hatfield United States Courthouse in downtown Portland early Monday.
"Get off of me! Why? Why are you doing this?" Mandolfo asked the officers as they told her to "stop resisting."
"I can't breathe," she said repeatedly as one officer was seen sitting on her back before shifting to kneel on her instead. Shortly afterwards, she was seen with a bloodied nose being hauled away by federal agents.
Grace Morgan, a 32-year-old photojournalist from Portland, told Newsweek that she spent five hours in a holding cell with Mandolfo after she was also arrested by U.S. Marshals on Monday.
"It should be noted that Noelle is 5'3, 120lbs, and being pinned and surrounded by a whole gang of men, fully suited and armed. She is carrying a water bottle," Morgan wrote alongside a video she captured of Mandolfo's arrest and posted on Twitter.
Morgan said she was arrested after filming Mandolfo being restrained on the ground by federal agents, who had emerged from the courthouse and formed a riot line at around 1 a.m.
"Lots of people filmed them [and] were yelling," Morgan said. "They targeted and rushed Noelle first, but they were having a hard time arresting her because they were immediately engulfed and surrounded by protesters and media. She was on the ground being held down for what seemed like a long time."
Federal agents had fired tear gas to disperse crowds as Mandolfo was being taken into custody, Morgan said. A live canister had rolled right to her feet, which she kicked away. Seconds later, she was tackled from behind by two federal agents.
Mandolfo was apparently tackled by U.S. Marshals because someone near her in Lownsdale Square Park had a laser, according to Morgan. "Her and that person were both targeted. She got tackled and arrested," she said.
When Morgan was released later on Monday morning without charge, she said Mandolfo was still being detained and had yet to receive any medical attention for her injuries.
"She has cuts and bruises all over her face and arms and cracked fingernails. They gave her absolutely no medical attention," Morgan said.
She added that Mandolfo "was bleeding on the floor and bench of the cell."
Mandolfo had "no way to wash her wounds, and no bandages... they just let her bleed on the floor," Morgan added.
Morgan also said that Mandolfo had been questioned alone and threatened by federal agents.
"She was questioned by U.S. Marshals alone and told me about it afterwards. They threatened her and intimidated her... told her she was going to prison for 5 years for assault on an officer," Morgan said.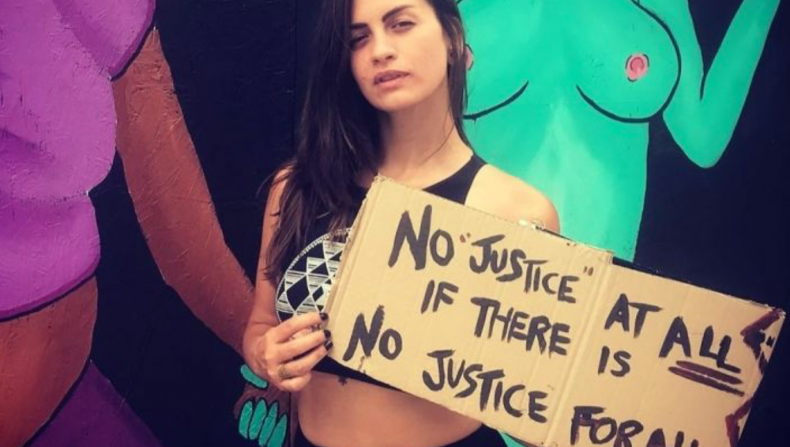 Mandolfo is among seven people charged with alleged criminal conduct during the protest that started on Sunday night and went into the early hours of Monday morning, U.S. Attorney Billy Williams announced in a news release.
It said deputies with the U.S. Marshals Service and officers from the Federal Protective Service, Homeland Security Investigations, and U.S. Customs and Border Protection working to protect the federal courthouse "have been subjected to nightly threats and assaults from demonstrators while performing their duties."
Mandolfo has since been released from custody and "is safe," her friend Ellen Tuohy told Newsweek.
Tuohy added that despite the charges, she knows Mandolfo "always stays peaceful at protests."
She has set up a GoFundMe page to help raise funds to cover her friend's legal fees. "Our beloved friend and comrade Noelle has been illegally detained by federal agents in Portland while peacefully protesting," Tuohy wrote on the page.
Mandolfo is an "avid activist, a holistic wellness coach, a yoga teacher, a writer, and a fierce defender of her fellow humans and environment," Tuohy added to Newsweek. "She is a longtime meditator and would never cause harm to any living thing."
Tuohy, of Longmont, Colorado, added: "I have attended protests with her before and she always stays peaceful because that's who she is.
"Her character is one of integrity, groundedness, and genuine caring. She is a loyal friend, a devoted sister, and is one of the most compassionate, loving and kind people I have ever had the pleasure of being in close contact with."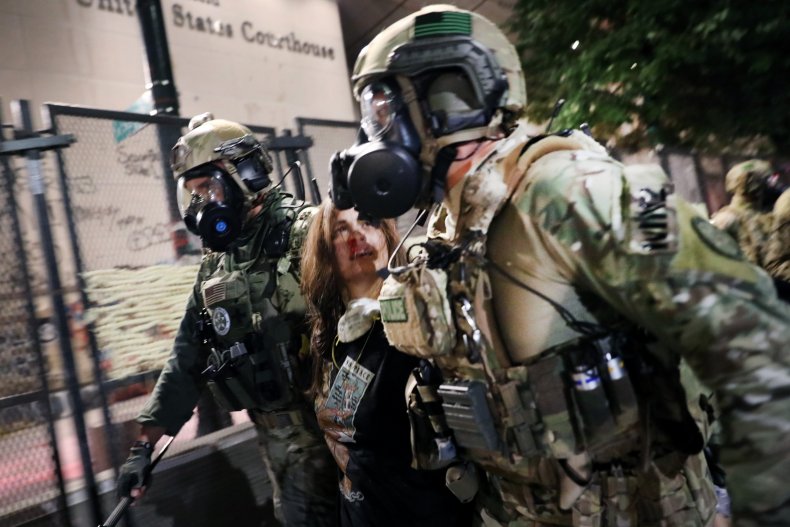 Mandolfo lives in Denver but had been on a road trip in the Pacific Northwest when she decided to join the protests in Portland a few days ago, Tuohy said.
The city has been rocked by 61 consecutive nights of protests since the killing of George Floyd, a Black man, who gasped that he couldn't breathe as a white Minneapolis police officer kneeled on his neck for eight minutes and 46 seconds on May 25.
In recent weeks, protesters have been clashing with federal agents, deployed to Portland by President Donald Trump to quell unrest and protect federal property, who have repeatedly fired tear gas and riot munitions at crowds.
Mandolfo has taken part in Black Lives Matter protests over the past few months, Tuohy added, including demonstrations calling for justice for Elijah McClain—a Black man who died in police custody in Aurora, Colorado last summer. McClain's case attracted fresh attention in the wake of Floyd's killing in May.
"She decided that she wanted to continue her allyship and show up at the Portland protests as she was passing through," Tuohy said.
"She went to Portland a few days ago and documented footage of tear gas grenades being thrown over these really tall gates at peaceful protesters," Tuohy said. "They were literally all just standing there and the federal agents were throwing over grenades for NO apparent reason.
"Noelle participated in Portland to be a white ally to the movement against police brutality rampant all over the country.
"Subsequently, she fell victim to police brutality herself for practicing her First Amendment rights to freedom of speech. Make no mistake, this and the hundreds of other cases like her is a direct attack to our democracy in the U.S."
The U.S. Marshals Service and the Department of Homeland Security have been contacted for comment.