Portland Protesters Throw Fireworks at Federal Courthouse
Protesters in Portland shot fireworks at the federal courthouse as demonstrations against police brutality and racism in the city entered their 56th night.
The incident took place after Mayor Ted Wheeler, a Democrat, was met with jeers when he arrived for what he called a "listening session" with protesters.
As he tried to speak over an angry crowd, some protesters down the street from Wheeler started throwing fireworks at the Mark O. Hatfield U.S. Courthouse, according to videos posted on social media.
Mike Baker, a correspondent with The New York Times, shared video of the moment several bangs can be heard in quick succession outside the courthouse. A fire can also be seen burning outside the building.
"Wheeler is still in the middle of the crowd talking to people," Baker tweeted alongside a video showing a throng of protesters surrounding the mayor.
"Meanwhile, protesters down the street have started shooting fireworks at the federal courthouse," he added in a follow-up tweet alongside footage of the fireworks going off.
Oregon Live reported that a large fence has been erected outside the federal courthouse, bolted to steel bars, to prevent protesters from gathering outside the building's entrance as they had done over the past few nights.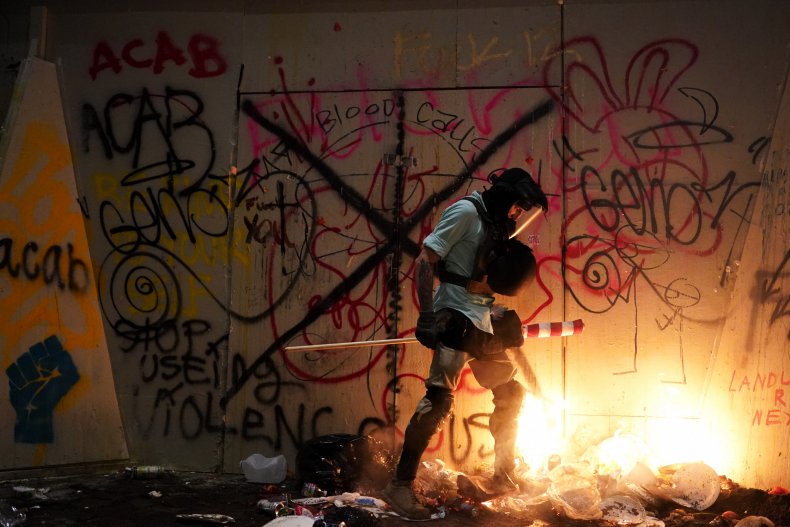 Portland Police on Twitter said that fires had broken out outside the courthouse due to flares and other objects that had been thrown over the fence.
"Multiple flares and other incendiaries have been thrown over the fence surrounding the federal courthouse which have led to fires in the portico between the fence and the structure," the tweet said.
In recent days, federal authorities have emerged from the courthouse to disperse crowds using tear gas and less-lethal munitions.
Tear gas and flashbangs were deployed on Wednesday night while Wheeler, wearing goggles and a face mask, was among the crowd of protesters near the fencing, according to posts on social media.
Oregon Public Broadcasting reporter Rebecca Ellis tweeted that Wheeler had described the moment as "Orwellian."
It came after attorneys for Oregon urged a judge to issue a restraining order against federal agents deployed by the Trump administration to quell protests that have been raging in Portland since the killing of George Floyd in Minneapolis police custody in May.
In a lawsuit filed by Oregon Attorney General Ellen Rosenblum, she accused federal agents of using excessive force and arresting protesters without probable cause before detaining them in unmarked vehicles.
Meanwhile, federal authorities have defended their response and said that officials in Oregon had been unwilling to work with them to stop the vandalism against federal property and violence against federal officers.
In a press conference on Wednesday, President Donald Trump announced a "surge" of federal law enforcement would be deployed to address crime in other U.S. cities.
Trump said saying that Chicago, Illinois and Albuquerque, New Mexico, as well as others will be added to the Justice Department program dubbed "Operation Legend."