Portland Protesters Tear Down Protective Barrier Outside Portland Police Association, Set Fire Inside
Protesters in Portland tore a hole through a barrier protecting a police union building and set a fire inside as the city saw another night of violent unrest more than a week after federal agents withdrew.
Around 400 people had gathered outside the Portland Police Association building, on N. Lombard Street, at around 10:30 p.m. on Saturday night, The Oregonian reported, after rallies that were held earlier in the day throughout the city.
The union building, about five miles north of the Mark O. Hatfield United States Courthouse which had been the target of nightly protests for several weeks, has become the scene of clashes between police and protesters in recent days.
Some people tagged the building, which was boarded up with plywood, with graffiti, and later, moved a dumpster to the middle of the street and set the cardboard inside on fire, according to the newspaper.
Videos on social media showed multiple dumpster fires in the street outside the building shortly after Portland Police warned on Twitter that "criminal activities including, but not limited to, vandalism, unlawful entry to the building, or fire starting" would lead to arrest, as well as the use of crowd-control munitions and/or tear gas.
At around 11 p.m., roughly 20 people turned their attention to the building's front door, according to The Oregonian.
Several videos posted on social media showed a fire burning inside the building after some people took down parts of the plywood put up to protect it.
A clip by Shauna Sowersby, a freelance reporter and photographer, showed people adding items to fuel the fire through a hole in the plywood and through the smashed glass of the building's door .
Another video by Oregon Public Broadcasting reporter Sergio Olmos showed cardboard burning inside the union building.
Portland Police declared a riot at around 11:30 p.m. and warned the crowd to disperse or face arrest or crowd control agents, including tear gas and impact weapons.
"A riot was declared after a group broke into the @PPAVigil offices, started a fire, and continued to feed the fire more fuel," police tweeted.
"This is a terribly dangerous situation. Officers moved the crowd so the fire could be extinguished before it could grow out of control."
Olmos tweeted that Portland Police and Oregon State Police were dispersing protesters using flash bangs and billy clubs.
Protests against police brutality and racism have taken place in Portland for more than 70 consecutive nights since the death of George Floyd in Minneapolis police custody in May.
Demonstrations over the past week have been smaller than the massive crowds that showed up nightly for weeks in July to protest the presence of federal agents sent to Portland by the Trump administration to protect the federal courthouse and quell the unrest.
There was a brief reprieve after federal agents started withdrawing from the courthouse, but tensions have flared again in recent days.
Police used tear gas on protesters for the first time since federal agents started leaving on Wednesday, according to the Associated Press, but didn't deploy any the following two days despite declaring protests unlawful assemblies.
Portland Mayor Ted Wheeler has said violent protesters were acting as unwitting political "props" for Donald Trump's reelection campaign. Wheeler, a Democrat, said: "You are creating the B-roll film that will be used in ads nationally to help Donald Trump during this campaign."
Trump, meanwhile, has repeatedly called the protesters "anarchists and agitators."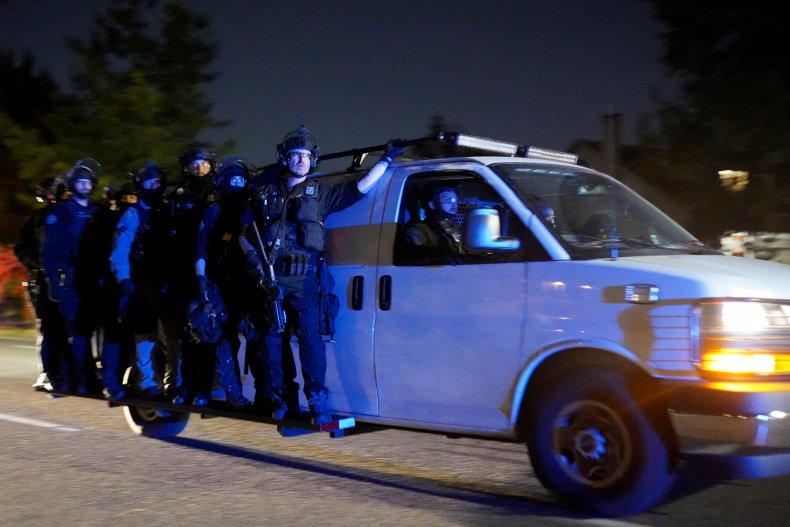 Portland Protesters Tear Down Protective Barrier Outside Portland Police Association, Set Fire Inside | U.S.