Portland Protester Says 'I Can't Walk' as She Is Carried Away by Police
Law enforcement officers in Portland made over two dozen arrests as it broke up a demonstration outside the police union headquarters in the north of the city on Friday night.
The gathering marked Oregon's biggest city's 100th day of protests sparked by the shooting death of George Floyd in Minneapolis. Protesters had marched from Kenton Park at around 9:45 p.m. and headed to the Portland Police Association.
During the action, police told demonstrators to stay off the road and warned they might use tear gas. The crowd mostly ignored the orders, KATU.com reported.
Police also ordered people to "stop throwing things at officers" and that those in the area of North Lombard St and North Campbell Ave building must immediately leave. Police tweeted that failure to comply with this order may mean "citation or arrest, and may subject you to the use of tear gas, crowd control agents and or impact munitions."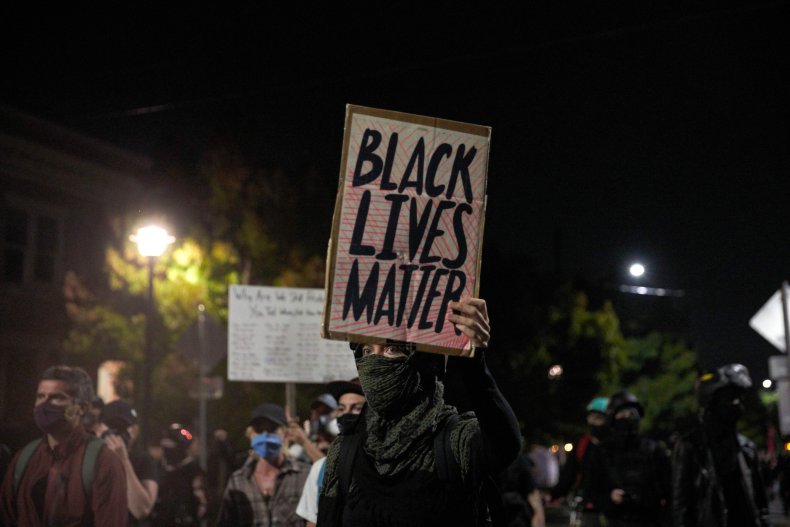 In a follow-up tweet, police said: "Officers will continue to make targeted arrests of those who fail to adhere to this order."
Footage of the tense scenes were shared on social media, with one video showing a woman with blood on her face, being carried away by officers, screaming: "I can't walk."
It is not clear from the footage if she was accusing officers of being responsible for her predicament, but the person who shared it on Twitter to more than 14,000 followers, tweeted: "This is the punishment for an unlawful assembly."
In a statement to Newsweek, Portland Police public information officer, Sergeant Kevin Allen, said that according to preliminary information the woman had been arrested and "was treated for an abrasion to her head and, as a precaution, loaded into an ambulance.
"As soon as the ambulance got a few blocks away, she said she no longer wanted treatment, jumped out of the ambulance, and walked away," he said. She has not been booked into jail or cited.
Andy Ngo tweeted video of the evening's scuffles between police and protesters, posting to his 689,000 followers: "Portland Police rush in to make arrests tonight in north Portland. Antifa rioters are taken to the ground. They scream and resist arrest."
Portland police said in a statement that many of the marchers heading to the police headquarters were "not planning to be peaceful" with some wearing helmets, gas masks and armored clothing and that when the crowd had arrived at the police association, many chanted "burn it down."
"That prompted a plan to proactively prevent fires from being started. Officers stood at the perimeter of the building to prevent the demonstrators from accessing the PPA office," the statement said. Police arrested 27 people.
Over the last three months, Portland has seen daily demonstrations calling for policing and social justice reforms.
These have spilled over into clashes between demonstrators and officers and between right- and left-wing groups.
On Thursday in Washington state, officers shot and killed Michael Forest Reinoehl, a self-declared anti-fascist activist as they tried to apprehend him for the fatal shooting of a right-wing protester in Portland.
Earlier on Friday, Oregon Gov. Kate Brown joined local elected officials in calling for an end to the violence in the city.
"We must be tireless in our pursuit of racial justice. We must be tireless in our pursuit of accountability for law enforcement. And we must also work together, with responsible law enforcement, to end violence, and arson, in Portland. And this must happen immediately," she said, The Oregonian reported.