Federal Agents Used Tactics Designed for 'War Zones' Against Portland Protesters, Lawsuit Alleges
A class-action lawsuit against the Trump administration alleges federal agents violated Portland, Oregon, protesters' Fourth Amendment rights when they tried to quell demonstrations by using tear gas and rubber bullets.
President Donald Trump deployed federal agents to Portland in the first week of July amid weekslong protests that erupted after George Floyd's death in Minneapolis police custody. The lawsuit alleges most of the agents were not adequately trained in First Amendment rights and failed to engage in de-escalation strategies or tactics to protect the right to assemble and mitigate violence.
Instead, the lawsuit said, the federal government unleashed "unprecedented, sustained violence and intimidation on the people of Portland."
Trump initially deployed agents to Portland to protect the city's courthouse, a move he said is part of his responsibility as president. Once stationed in Portland, federal agents and protesters clashed nightly, and the lawsuit states that agents deployed tear gas and impact munitions "well beyond the immediate surroundings of federal property."
State and local officials called for them to be removed from the city, lambasting the tactics used, including unidentified agents making arrests. Oregon Attorney General Ellen Rosenblum filed a lawsuit in July requesting a temporary restraining order against the tactic that had agents detaining people "without warning or explanation, without a warrant and without providing any way to determine who is directing this action." But a judge denied the request, saying the state provided only two examples of the alleged "numerous protesters being seized from the streets of Portland by unidentified agents."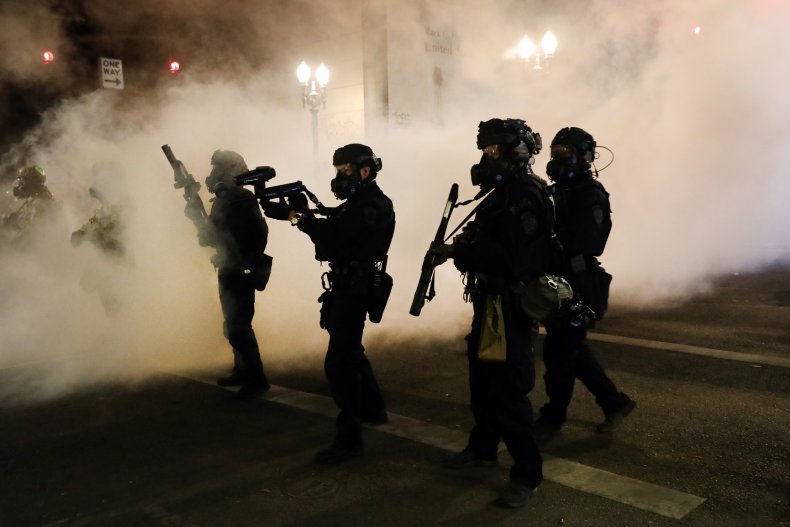 Monday's lawsuit was filed on behalf of Angelica Clark, Ellen Gass, Nathaniel West and Rowan Maher, four people who were exposed to tear gas at the July protests. It names acting Homeland Security Director Chad Wolf, Senior Official Performing the Duties of the Deputy Secretary of Homeland Security Kenneth Cuccinelli and 200 U.S. Marshals Service agents as defendants.
"These federal agents used chemical and impact munitions designed for war zones against American civilians," the group's lawyers wrote in the announcement of the suit, Portland TV station KGW reported. "Their actions resulted in hundreds of injuries to peacefully protesting women and men of all races, ages and walks of life."
Newsweek reached out to the Department of Homeland Security for comment but did not receive responses in time for publication.
David Sugerman, an attorney representing the plaintiffs, told Newsweek they filed the lawsuit to support Black Lives Matter, to protect free speech and defend the Constitution.
"Our Black neighbors have the right to live freely, without fear of deadly police violence. And peaceful protesters have the right to demonstrate without being attacked by federal agents," Sugerman said.
In July, Wolf described what was occurring in Portland as a "smaller example" of the civil unrest and attacks on law enforcement occurring around the country. He defended the presence of federal agents during an August 6 congressional hearing and drew a distinction between the nonviolent protests and the "violent criminals, violent opportunists and violent anarchists."
The Homeland Security Department supports people exercising their First Amendment rights to assembly and free speech, Wolf said, but the violent activity was "not associated with those protests." While the department's "preference" is to partner with state and local law enforcement, Wolf told members of Congress that "enforcing federal law is not by invitation."
Along with punitive damages, the lawsuit asks a judge to protect the protesters' free speech rights, which they plan to continue exercising, by declaring that "indiscriminate use of tear gas on peaceful protesters" engaged in protected acts violates their First Amendment rights.
This article has been updated to include comment from David Sugerman.