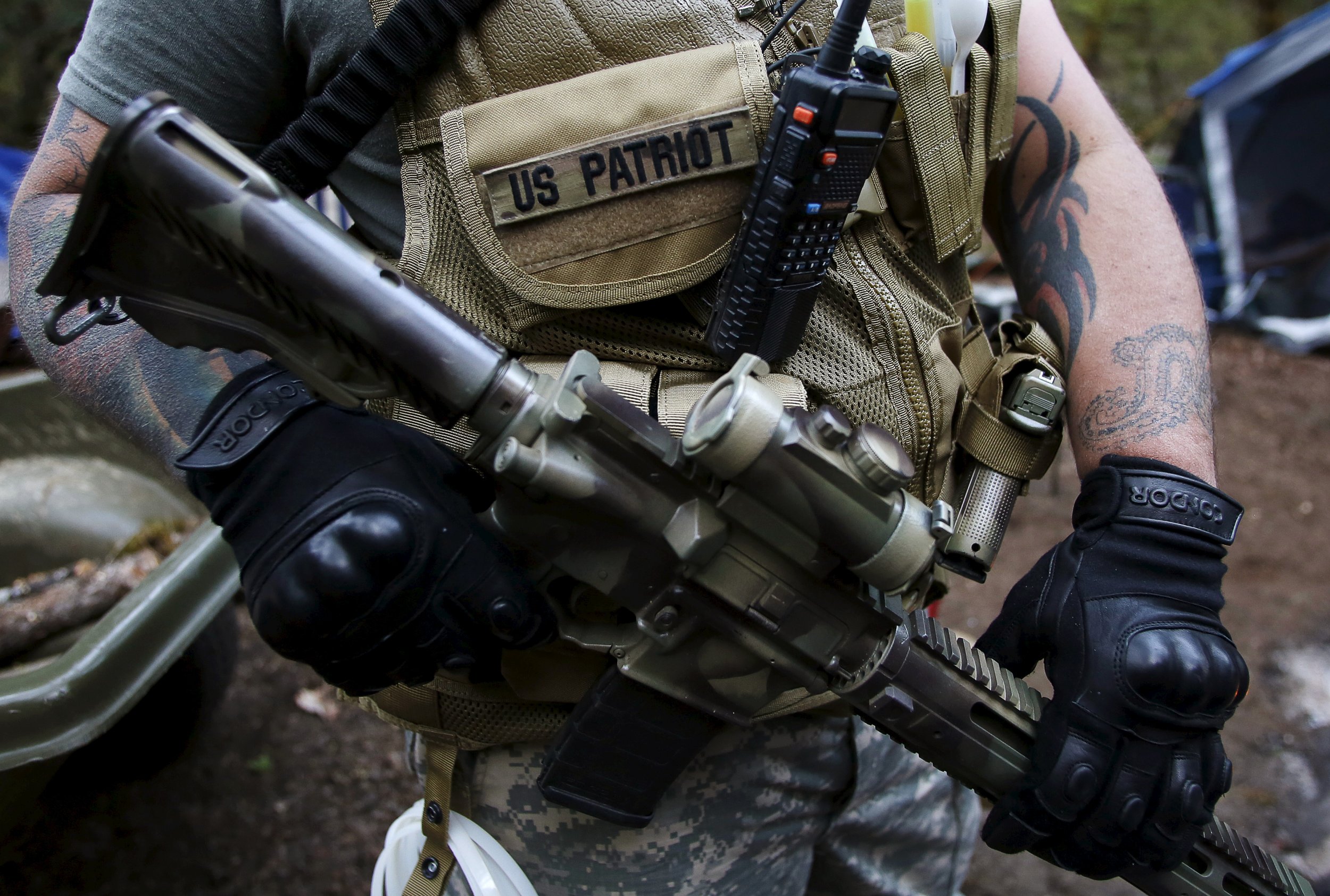 Divisions have opened between two senior politicians in the city of Portland, Oregon. On Monday, three days after a right-wing extremist killed two men and injured a third, Portland's Democratic mayor, Ted Wheeler, announced the city would not issue permits for two events planned by the so-called "alt right." Partly in response, James Buchal, GOP chairman for Multnomah County, told The Guardian that Republicans might need militia groups to defend them at public events.
Wheeler announced his decision to try to block the two alt-right events, scheduled for June 4 and June 10, in three notes posted to Twitter. But while his city won't issue permits for the rallies to go ahead, the federal government has authorized one for the June 4 demonstration, which will be held at a federally owned public park. Titled "Trump Free Speech Rally Portland," it has been organized by Joey Gibson, who is also responsible for the planned June 10 event.
The suspect in Friday's double murder, Jeremy Joseph Christian, attended another of Gibson's events on April 29. At the so-called "free speech rally," Christian was seen giving Nazi salutes, shouting racist slurs and approaching anti-fascist demonstrators armed with a baseball bat. Almost a month later, on May 26, Christian began verbally abusing two Muslim women while on a train in northeast Portland. When three men—Ricky John Best, Taliesin Myrddin Namkai Meche and Micah Fletcher—attempted to defend them, Christian stabbed the men, killing Best and Meche.
In his notes, Wheeler referenced Friday's attack as a reason to cancel Gibson's June events. "Our City is in mourning, our community's anger is real, and the timing and subject of these events can only exacerbate an already difficult situation," Wheeler wrote.
Buchal, it seems, does not agree. On the same day that U.S. President Donald Trump issued a belated statement about Friday's murders, Buchal said that he was beginning to think it was "appropriate" for Republicans to go out in the public square, after recent anti-fascist protests. "If [Republicans] need to have a security force protecting them, that's an appropriate thing too," Buchal added.
When prompted by The Guardian to ask if he meant Republicans wouldn't rely on city or state police, Buchal confirmed that he did. He also suggested that members of Oath Keepers and the Three Percenters—which the Anti-Defamation League describes as "anti-government extremist movement[s]"—could be suitable defenders. "There are now belligerent, unstable people who are convinced that Republicans are like Nazis," Buchal said.
His comments seem badly timed, given recent events in Portland. On his Facebook page, Christian had posted white supremacist material, included a promise to "defend the Nazis."
Buchal told The Guardian he began leaning toward engaging militia groups after Portland officials canceled the city's annual Avenue of Roses Parade, scheduled for April 29. (Gibson's "free speech rally," which Christian attended, was held to protest this.)
Organizers made the decision to cancel the Avenue of Roses Parade after receiving an anonymous email promising that left-wing protesters would intervene if Trump supporters and members of the Three Percenters were allowed to march.
At the time, Buchal issued a statement referring to a "cancer of lawlessness" in Portland, which city officials had permitted to grow. "The Parade is not only an American tradition, but also reflects the most fundamental constitutional rights of free speech and freedom of assembly," Buchal wrote.
On Monday, he told The Guardian that he supports Gibson's June 4 rally. "I think that for a long time there has been a closing of the mind and a censoring to a point where now people feel justified in using force to prevent the expression of opinions with which they disagree," Buchal said. "There is definitely something wrong if criminal gangs are essentially allowed to shut down normal and traditional activities of Republicans."
Wheeler has not yet commented on Buchal's interview, but Rose City Antifa, an anti-fascist group, has in a statement published by The Guardian. The organization said: "That the GOP need[s] to bring in private armed security rather than rely on Portland Police speaks volumes. These private security elements of the extreme right claim to be supporting 'free speech' when in reality their main goal is directing violence and hate speech towards anti-fascist protesters and activists while protecting white supremacists."