Portland Stabbing: Donald Trump Finally Responds Amid Public Outcry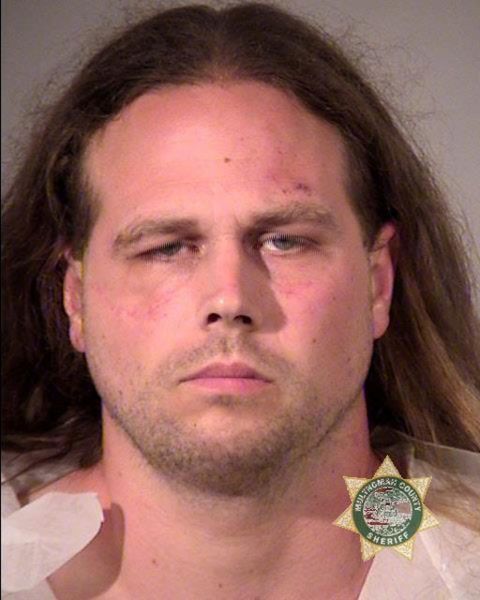 President Donald Trump acknowledged the deadly stabbing in Portland on Monday after journalists and the American public urged him to speak out about the incident.
"The violent attacks in Portland on Friday are unacceptable. The victims were standing up to hate and intolerance. Our prayers are w/them," Trump tweeted. However, he sent the message from the official presidential Twitter account, @POTUS, which has 18 million followers, rather than his personal Twitter account, @RealDonaldTrump, which has more than 30 million followers.
On Saturday, a man who allegedly shouted what "would best be characterized as hate speech toward a variety of ethnicities and religions" at two women, according to Portland police Sgt. Pete Simpson, stabbed people who were trying to defend them. The incident took place on a Metropolitan Area Express (MAX) light-rail train. Some of the alleged remarks were anti-Muslim in nature and directed towards a woman who was wearing a hijab.
The victims of the attack were remembered at a vigil in Portland on Saturday. One of the victims, Rick Best, 53, was a 23-year Army veteran and father of four. The other victim, Taliesin Myrddin Namkai-Meche, 23, graduated from Reed College last year. Micah Fletcher, 21, was hospitalized in the attack and wrote a poem while in hospital that reads: "This is what we must do for one another." He is receiving treatment for serious injuries. A crowdfunding page has been set up to pay for Fletcher's medical expenses, and a separate site has been established to help the families of all three men.
Dan Rather, the veteran journalist, penned an open letter to Trump on Sunday, urging to president to acknowledge the crime. "I wish we would hear you say these names, or even just tweet them," Rather wrote on Facebook. "They were brave Americans who died at the hands of someone who, when all the facts are collected, we may have every right to call a terrorist. A third brave man, Micah David-Cole Fletcher, was wounded in the knife attack."
Related: Man arrested for Oregon stabbing was 'known white supremacist'
Rather wrote that while the Portland attack "may not neatly fit into a narrative you pushed on the campaign trail and that has followed you into the White House," the incident is still "extremism."
"I do not blame you directly for this incident. Nor do I think other people should," adds Rather. "But what a President says, who he has around him, and the tone he sets can set the tone for the nation at large." The letter has been shared more than 150,000 times.
A tweet from Rob Davis, a reporter with the Oregonian, asking Trump for a comment on the attacks has been shared more than 100,000 times.
Trump has tweeted nearly two dozen times since the attack, including several times to commemorate Memorial Day. "Honoring the men and women who made the ultimate sacrifice in service to America. Home of the free, because of the brave. #MemorialDay," Trump tweeted on Monday. "Today we remember the men and women who made the ultimate sacrifice in serving. Thank you, God bless your families & God bless the USA!" he also tweeted. Trump said he is due to visit Arlington National Cemetery in Virginia later on Monday.
Jeremy Joseph Christian, 35, a suspect in the case, was arrested on aggravated murder charges, in addition to charges of attempted murder, intimidation and being a felon in possession of a restricted weapon. He is scheduled to to appear in court on Tuesday. Christian is allegedly a known white supremacist, and was involved in two separate incidents in the days before the stabbing. Last week, Christian threw a bottle of Gatorade at a black woman, and he was also recorded ranting about Muslims and Christians while riding a train.
Federal authorities are now trying to decide whether Christian will face hate crime charges.